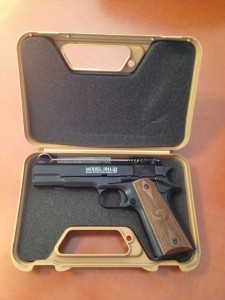 Chiappa is a relatively old firearm manufacturer but this is the first gun of theirs that I have seen and have had first hand experience with. The 1911 .22′s are becoming a new phenomenon in the gun industry and seem to be popping up everywhere. I noticed the Chiappa 1911 .22 because of it's price and decided to give my take on the gun.
Out of the box
The chiappa 1911 .22 comes with a 10 round magazine as well as instructions and a brush for the barrel, so nothing to crazy or special about that. I did notice that their was no standard lock that handguns usually come with. The gun is a polymer gun, both slide and frame are polymer, which some people look at as a negative. The polymer that is used on the 1911 isn't the same I'm used to seeing on the Glocks and other polymer framed pistols, it seems to be a weaker polymer substance.
Shooting
Upon first shooting the gun, it seemed to shoot well but it did feel extremely light and toyish (For lack of a better, actual word). I've probably only put about 100 or less rounds through this gun and in those first 100 I had a few jams. The jams consisted of the spent casings not fully ejecting and the slide closing on the casing. But I think after the gun gets broken in some that it will cease to have that problem. (This was the case with the GSG-5)
Final thoughts
This is clearly a plinking gun and I don't think the folks at Chiappa intended for it to be anything other then a fun gun to just go to the range and shoot a few rounds. I would never carry this gun as a protective weapon and to me is simply a fun gun to say I have.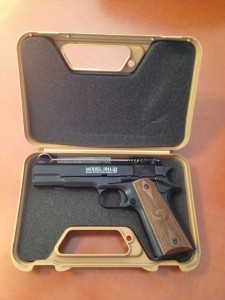 Specifications:
Caliber:
.22 LR
Sights:
Top three point sights
Length:
220 mm
Weight:
950 gr
Capacity:
10 Rounds
Frame:
Polymer
Slide:
Polymer