Well, start of Bird Season is closely upon us and it's time to get out the ole shotgun and start practicing. But what if you are in the market for a new shotgun for this season? Which one do you choose? Which one bests suits you? Semi-Auto or Pump?
Back in November 2015, I was on the prowl to try and find a new shotgun to take for an upcoming bird hunt trip in Missouri. I was researching online, asking friends, looking at YouTube reviews (which by the way, are pretty crappy when it comes to actual shotgun reviews) and just going into the local gun shops and picking up different makes and models of shotguns. I have always grown up on pump shotguns and there is nothing wrong with a pump shotgun, especially for bird hunting. I have been using my father's 1980's New Haven 600 12ga with the adjustable choke for quite some time now, but I wanted something different, something new. Plus, the wife said it was going to be my Christmas Present. One point for the misses!
So, I went out on the hunt for a new semi-auto shotgun. I looked at: Franchi, Stoeger, Benelli, TriStar, Mossberg, Remington, Weatherby, CZ-USA, and Beretta. I mean, when I said I was on the hunt, I was on the hunt. I went to the local big box chain stores and looked at each one of them. I shouldered each gun to try and see which one I liked best, which one had the best swing, best weight, and easiest to take-down. I know semi-auto shotguns can be real expensive. I told myself I wanted an entry-level to middle of the road shotgun. I picked the price range from $400-$900. I know that's a huge price range, but there are a lot of outstanding shotguns between those prices. So I had to narrow it down. I started off with the warranties. Most of the shotguns out on the market today carry a 1-3yr warranty. One company's warranty was at the discretion of the company if there was a problem. So the warranties eliminated some of the contenders. After about a month of searching, I ended up choosing the Beretta A300 Outlander, due to the feel and natural shouldering of the shotgun.
---
---
Specs:
Weight: 7.25lbs
Finish: Black, Realtree Max-4/Max-5 Camo, Wood
Action: Semi-Auto Piston Driven
Barrel Length: 24″ and 28″
Overall Length: 48.5″
Gauge: 12ga 2 ¾ – 3" Shells
Round Capacity: 3+1
---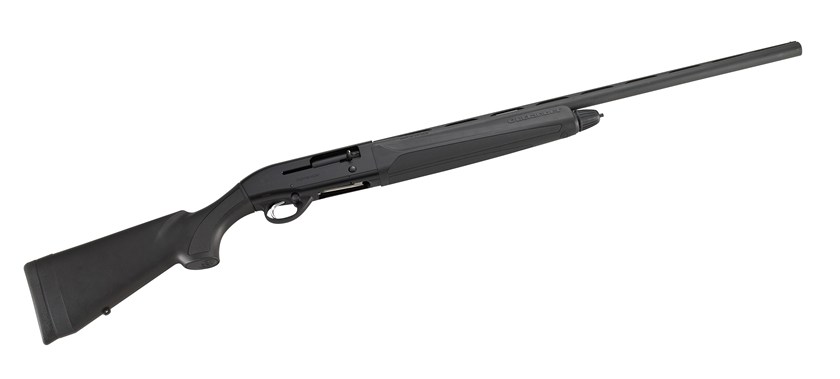 The Beretta A300 Outlander has everything I wanted in a semi-auto shotgun. First off, there are 4 colors to pick from: Black, Realtree Max-4/Max-5 Camo, and Wood. I ended up choosing the black model, honestly, because it was the cheapest out of all of them. With the MSRP of $875, and being sold locally for around $725 (and can be found on sale now for around $675), it made for an excellent buy. What really drew me to this shotgun was the overall feel and balance to the gun. Coming in at 7.25lbs, it feels a lot less than that. The design of the gun shares characteristics of its big brother, A400, without paying the A400 price tag. The main differences between the A300 and A400 are: the A300 can't shoot the 3 ½" shells, which in my opinion is not a big deal, and the A400 has a recoil system that really reduces the felt recoil by using shock absorbers. The 3" shells will do just fine for any bird game, to include turkey. And if you are hunting turkey, the Mobilchoke barrel makes changing out chokes a breeze. The Beretta A300 includes the Full, Modified, and Improved Cylinder chokes and tool to remove and install them. When I first shouldered this shotgun in the local gun store, I was in sure heaven. Out of the box, the factory length of pull was just right for me. The shotgun does come with adapters to adjust the length of pull from 13"-14.5", to fit the shooter. It also comes with spacers to adjust the drop and cast of the shotgun to fit the shooter as well. The 28" vent-ribbed barrel is an excellent length for hunting or for shooting trap/skeet. The swing of this shotgun felt so natural and I was controlling the shotgun, and not the shotgun controlling me. It does come with a single bead front sight, but I added a TRUGLO 2.6mm fiber-optic front sight for better sight acquisition.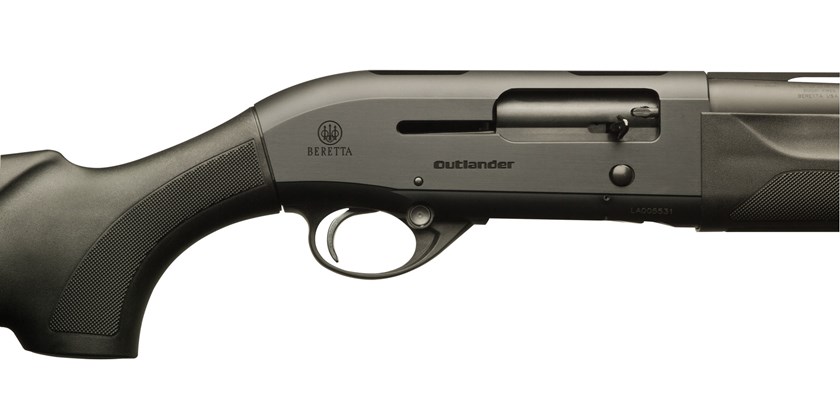 When you first open up the cardboard box, you will notice that this shotgun does not come in a nice plastic case like the higher quality Beretta's come in. That's not a deal breaker for me, but you can purchase the blue hard plastic carrying case from Beretta directly. When it's in the cardboard box, you will notice that this shotgun comes in 4 pieces and includes: the barrel, the receiver, forearm, and end cap. I love how simple this shotgun breaks down and cleaning is simple, especially if you need to clean it in the field. The Beretta A300 Outlander is a self-cleaning gas piston operating system, which makes it much easier to clean. Honestly, it takes me about 5-10min to clean this shotgun. There are videos on YouTube from Beretta that shows you how to disassemble the A300 Outlander completely, including the gas piston system and shows you where to place oil/lube at.
---
---
When I went out to the range to test fire this beautiful shotgun, I was really impressed. The almost non-existent recoil makes follow-up shots a breeze, especially for the trap/skeet loads. I was really impressed with the fast cycling of this shotgun. It cycled smooth and would fire as fast as I could pull the trigger. The trigger was smooth and the break is very clean and crisp. It does have a manual safety that is located at the front of the trigger-guard. If you are used to shooting other style shotguns, the safeties are usually in the back of the trigger-guard, so I had to get use to this one being up front. The safety is an over-sized safety, so when you are shooting with gloves, it's easy to engage and disengage. Also, the safety is reversible to accommodate left handed shooters. It changes out with an Allen wrench, which is not included.
We finally made it up to Missouri at the end of December 2015. We left out of North Carolina with temps of around 60 degrees with sunshine and made it to Plattsburg, Missouri with temps in the teens with 10" of snow on the ground. Unfortunately, the Canadian Honkers and Snow Geese had just started coming into where we were hunting and we were just at the tail-end of Duck Season. They were absolutely beautiful to see, but we couldn't get them to come in unfortunately. But no worries, there is always this year!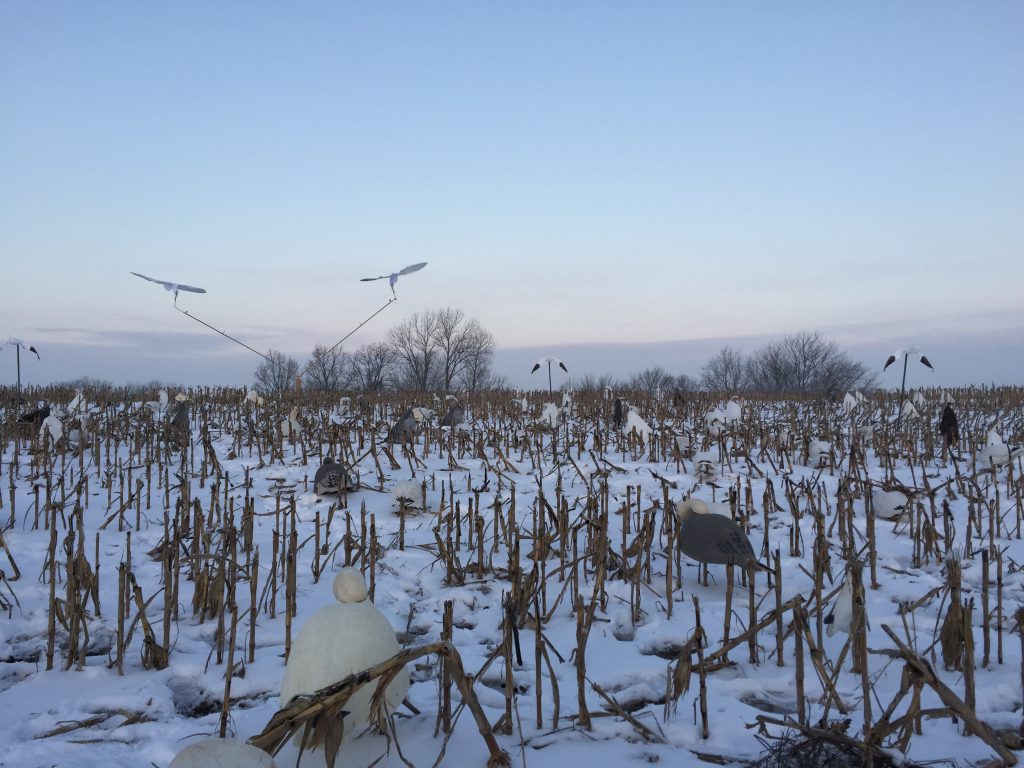 ---
When picking out a shotgun, remember you want the shotgun to work for you, not you working for the shotgun. Make sure your cheek is where you want it at when you draw that shotgun up. If you have to adjust your shooting style to fit the shotgun, then that shotgun is not right for you, or you may have to add some spacers/adapters to make it fit you. Your cheek should be the first thing that touches the shotgun, then your shoulder. When you pull the trigger, it shouldn't hurt your face. This shotgun is marketed as an entry-level shotgun, yet offers some of the same features as their top of the line shotguns. If you are dead set on shooting a 3 ½" shell, then the A400 Beretta would be the better choice, but if you are like me, and are okay with just shooting 3" Magnum loads, then get the A300 Outlander. Also, Beretta offers the A350 Xtrema in the Realtree Max-5 Camo pattern, that has most of the components as the A300, just giving you the 3 ½" Shell option. But with the price tag close to $1000 for the A350 Xtrema and the A400 costing around $1200, that $200 is a big difference, because you get a better gun for just a few bucks more. But if you are in the market for a quality, built in the USA (Maryland) shotgun without breaking your wallet, check out the Beretta A300 Outlander. You won't be disappointed.
As always, ya'll be good, be safe and happy hunting!