The Beretta PX4 Storm has been on the market since 2004 and used by Police Departments in the US and is used by the Canadian Border Service Agency. This pistol comes in three sizes, Full-Size, Compact, and Sub-compact and is being offered in 9mm, 40 S&W, and 45ACP.
Today, we're going to take a look at the Beretta PX4 Compact in 9mm. This DA/SA 15rd pistol is great for anyone looking for home defense and even EDC. With its rounded edges and overall weight coming in at 1.7lbs, it makes concealed carry fairly easy. The Beretta PX4 was designed after the Beretta 8000 Series of pistols using its same short recoil, rotating barrel and utilizes the same trigger and safety as the Beretta 92/96 Models. The safety in the rear acts as a decocker, which is very similar to the 92FS.
---
Specs:
Barrel Length: 3.27"
Overall Length: 6.8"
Overall Height: 5"
Overall Width: 1.42"
Weight Unloaded: 1.7lbs.
DA/SA Trigger Pull- 12.5lbs/4.5lbs
Round Count: 15rds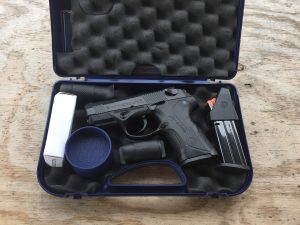 ---
I found myself really enjoying shooting this pistol. I was shooting very tight groups. I feel like this is coming from the 6R Rifling rotating barrel, which in turn reduces felt recoil, making follow up shots a breeze. I really like how this pistol can be custom tailored to fit you, as it offers interchangeable backstraps to fit your hands. Beretta also offers different parts to fit your needs. These parts include a slimmer slide catch that is ambidextrous and three different size magazine releases: standard, large, and combat (extended). Also, the magazine release is ambidextrous. The standard 3-Dot sights are great and Night Sights are available through Beretta or aftermarket companies. Holsters are readily available from Beretta directly and also available from BlackHawk, Fobus, Galco, DeSantis, Blade-Tech, Alien Gear, as well as custom Kydex Holsters. If you are running a light on the 1913 Picatinny Rail, be mindful that holsters may not be readily available unless it is a custom Kydex Holster.
---
---
With an MSRP of $650 and selling locally for around $500, it makes for a great buy. According to Beretta's Website, "Beretta firearms carry a One-Year Limited Warranty to the original purchaser for defects in materials or workmanship. If the original purchaser registers their firearm with Beretta, they automatically receive an additional two years of warranty coverage for a total of three years." If your local gun shop deals with Davidson's, Inc, you are in luck. Davidson's, Inc carries a lifetime warranty if you purchase one of their firearms. If you are in the market for a compact pistol, try looking at the PX4 Storm and see if it's right for you.
As always, ya'll be good and be safe!
**This particular pistol belongs to one of my buddies who really encouraged me to try it out and I would like to thank him for allowing us to test it out**.