I was in the market for a new EDC Blade and I knew I wanted an automatic. After looking online and scouring over different reviews, I found the Boker Plus Burnley Kihon, sold by Blade HQ Exclusively. Honestly, one of the main reasons I chose the Boker Plus Burnley Kihon was the price point. With an MSRP of $79.95 and being sold for around $50, it was a good buy. I know a lot of people will say that the best automatic knives out on the market are made by Benchmande, but honestly, I didn't want to pay $130-$200. I really wanted something that was budget friendly and still reliable. I personally own quite a few Boker Knives and they have held up great over the last 10 years.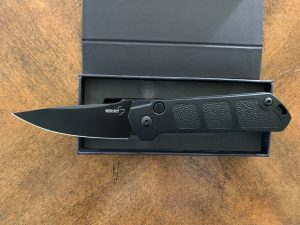 According to Blade HQ, "Designed by renowned knife maker Lucas Burnley, this push-button Boker Kihon is a Blade HQ exclusive model that's been tricked out with an aftermarket coil spring for hard-hitting automatic action! "Kihon" is the Japanese term for the basic techniques of several martial arts. With tactical aim and some far eastern flare, the Boker Kihon is worthy of its name. This tactical/EDC knife is destined to become a classic. The black coated AUS-8 blade has a sweeping edge that makes slicing a breeze. Designed with traditional Japanese swords in mind, the handle has a rayskin texture that provides a good grip while not tearing up the pocket."
Specifications
Weight: 3.6oz
Country of Manufacture: Taiwan
Color Body/Blade: Black/Black, Black/Stonewash, Green/Copper
MSRP: $79.95
---
When the Kihon arrived I was really excited and quickly started playing with it and getting a feel for it. After carrying it for about a month now, I have come to some conclusions about this knife. Let's break down the Pros and Cons:
Pros:
Price Point (Bought on Sale $39.95)
AUS-8 Blade
Drop Point
Light-weight
Strong Spring Action
Scales aren't too grippy, but comfortable
Great blade length for EDC
Sharp out of the box
Cons:
Short Pocket Clip
No lock
Button in a weird position – not natural in the hand when drawing
Button is very hard to push
Very narrow width wise
Blade HQ Exclusive, so only available through them
Non-reversible clip (Tip Up Carry Only)
Right Handed knife only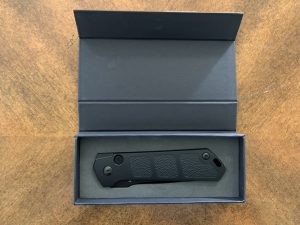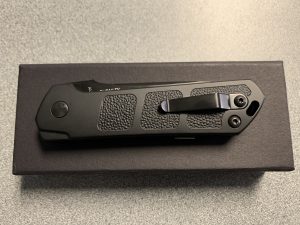 ---
So is the Boker Plus Burnley Kihon good for an EDC knife? Honestly, if we had to rate it, we would give it a 5/10. We would honestly like to see it with a deep pocket clip with the ability to change carrying either tip or or tip down, and be a bit wider in holding. But if you are new to automatic knives, then this would be a great entry level knife. We really like the price point and the nice drop point blade. If you are in the market for a new EDC, check this one out and see if it's right for you.
As always, ya'll be good and be safe!