We all knew that with Daniel Defense being the Host Company for SHOT Show 2017, that they would unveil something new and big…well they did just that! Around 845am today, they unveiled a new XFINITY Series racecar driven by Ty Dillon, grandson of legendary car owner Richard Childress. This is huge for NASCAR, as well as Daniel Defense and the gun community. We have all seen Brass Pro sponsors and other outdoors related sponsorship's, but nothing quite like this. Daniel Defense CEO and President Marty Daniel and Richard Childress himself were on hand to unveil the car and it was met with great enthusiasm and claps.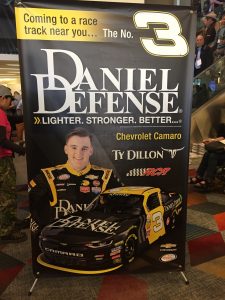 ---
---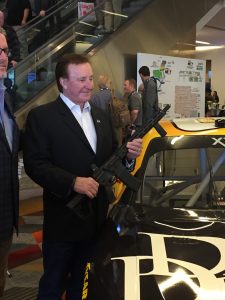 The Chevrolet Camaro will also bear the legendary No. 3 on the side and on the roof and will be Daniel Defense Yellow and Black. Ty Dillon will be driving this car at the start of the season and will pull double duty while racing in the Sprint Cup Series, so other driver's will fill in when Ty cannot be there. RCR is pleased to welcome this partnership and became quite close with Daniel Defense while both working with the NRA.
This racecar will greet everyone at SHOT Show at the entrance to the Sands Expo Center until Jan. 20, 2017.