Daniel Defense has quietly updated their product offering on their website, most notably is the DDM5v2. The only difference we noticed that was worth mentioning is the barrel on the v2 is 18″ and the v1″ is a 16″ barrel. It comes as no surprise that the gas system in the v2 is a rifle length where the 16″ model is a mid-length system.
---
---
Daniel went on to add two new colors their trademark Mil-Spec+ and tornado have been added to the v1 lineup. It does not appear that they will be added those colors to the v2 at this time.
Many people are talking about the MSRP increases on the website. It appears that Daniel Defense has bumped the prices on all their rifles on the website. However, I'm not sure how that will change on the consumer end, as guns are often sold under MSRP to gain business from customers. There is no doubt that an increase in price will be felt, but probably not to the tune of a few hundred dollars.
Here is the side-by-side of the two product descriptions:
DDM5v2
18″ Strength-2-Weight Cold Hammer Forged Barrel for optimal stiffness/weight ratio, improving accuracy and handling
Innovative 4-bolt connection system utilizing a unique barrel extension securely attaches free-floating CHF barrel and KeyMod handguard mounts securely to upper without barrel nut
Bolt and carrier designed with oversized cam pin, enhanced extractor geometry, and dual ejectors
Ambidextrous safety selector, magazine catch, bolt release, and configurable modular charging handle
Lower receiver features integral oversized trigger guard and flared magazine well for SR-25 type magazines
Geissele SSA 2-Stage Trigger with its smooth 2.5 lb take-up and clean 2 lb break
DDM5v1
16″ Strength-2-Weight Cold Hammer Forged Barrel for optimal stiffness/weight ratio, improving accuracy and handling
Innovative 4-bolt connection system utilizing a unique barrel extension securely attaches free-floating CHF barrel and KeyMod handguard mounts securely to upper without barrel nut
Bolt and carrier designed with oversized cam pin, enhanced extractor geometry, and dual ejectors
Ambidextrous safety selector, magazine catch, bolt release, and configurable modular charging handle
Lower receiver features integral oversized trigger guard and flared magazine well for SR-25 type magazines
Geissele SSA 2-Stage Trigger with its smooth 2.5 lb take-up and clean 2 lb break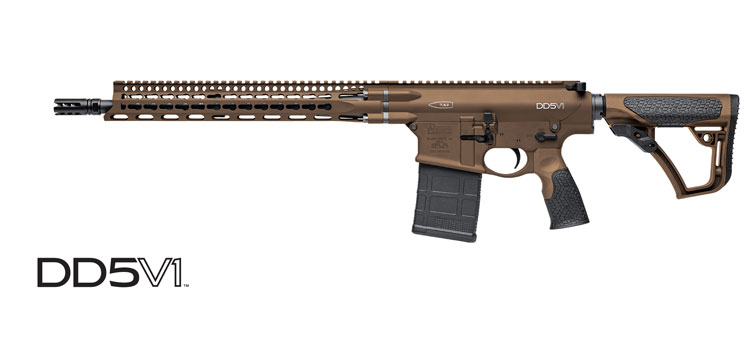 DDM5v2
Manufacturing # / SKU 02-155-07335-047-
Restricted Shipping Yes
Caliber 7.62 x 51mm / .308 Winchester
Muzzle Thread 5⁄8×24 TPI (Threads Per Inch)
Gas System Rifle
Barrel Length 18″
Profile S2W® [Strength-to-Weight]
Product Weight 8.6 lbs
Length 35 3/8″ – 39″
Magazine Magpul PMAG 20-Round
Case Daniel Defense Full-Latch Impact Plastic Case
Manufacturer Daniel Defense

DDM5v1
Manufacturing # / SKU 02-150-17029-047-
Restricted Shipping Yes
Caliber 7.62 x 51mm / .308 Winchester
Muzzle Thread 5⁄8×24 TPI (Threads Per Inch)
Gas System Mid-length
Barrel Length 16″
Profile S2W® [Strength-to-Weight]
Product Weight 8.3 lbs
Length 33 3/8″ – 37″
Magazine Magpul PMAG 20-Round
Case Daniel Defense Full-Latch Impact Plastic Case
Manufacturer Daniel Defense