EXUDE Illuminator- OD40 & OD50
They call it a "Direct Light Illuminator" and having received a couple of these lights from Optical Dynamics, we were anxious to put them through the test and compare them with other lights on the market.
The one thing you quickly realize is these lights are like no other. In fact it took us a bit to get used to the direct light as it's not like your normal flashlight. But when we think about it, the flashlight was invented over 100 years ago, so are these guys onto something great? Depends!
We tested two models, the OD40 & the OD50. Both are very similar, so its best to review both together. Both the OD40 and OD50 are long distance illuminators that project a true collimated, focused beam of high definition, clean light that has been created specifically for object and target identification. It creates a crisp, clean, clear, focused circle of light at long distances.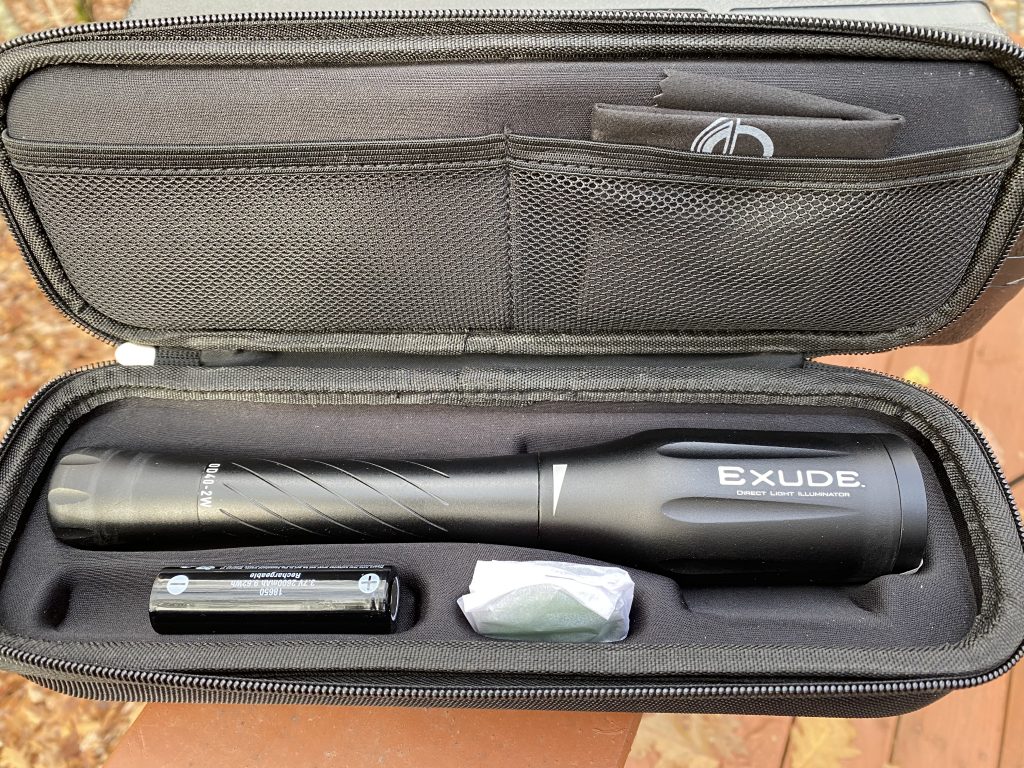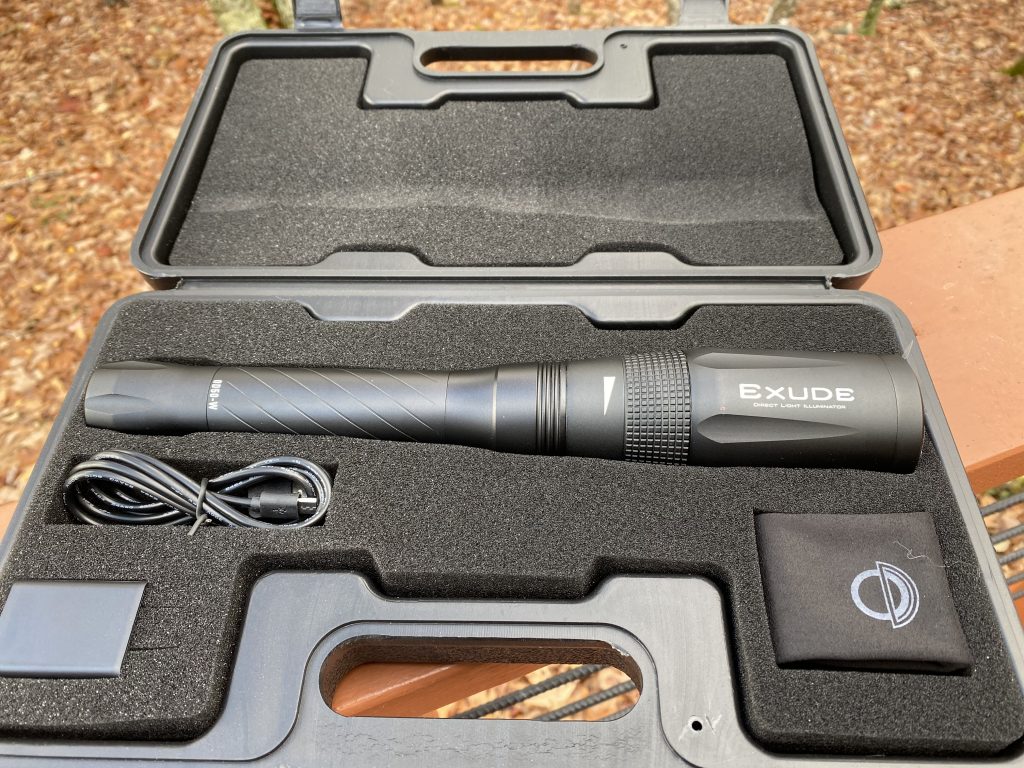 This is what took us time to get used to since we are familiar with the wide beam of light from a standard flashlight. These lights project a small, solid circle out to an impressive 235 yards for the OD40 and 400 yards for the OD50.
Optical Dynamics claim that animals don't flare from the harmonized light of the EXUDE. Living in the mountains surrounded by deer, we found that to be true. The EXUDE Illuminators come in at around 14oz with battery and is close to 10 inches in length for the OD4O and 12 inches for the OD50.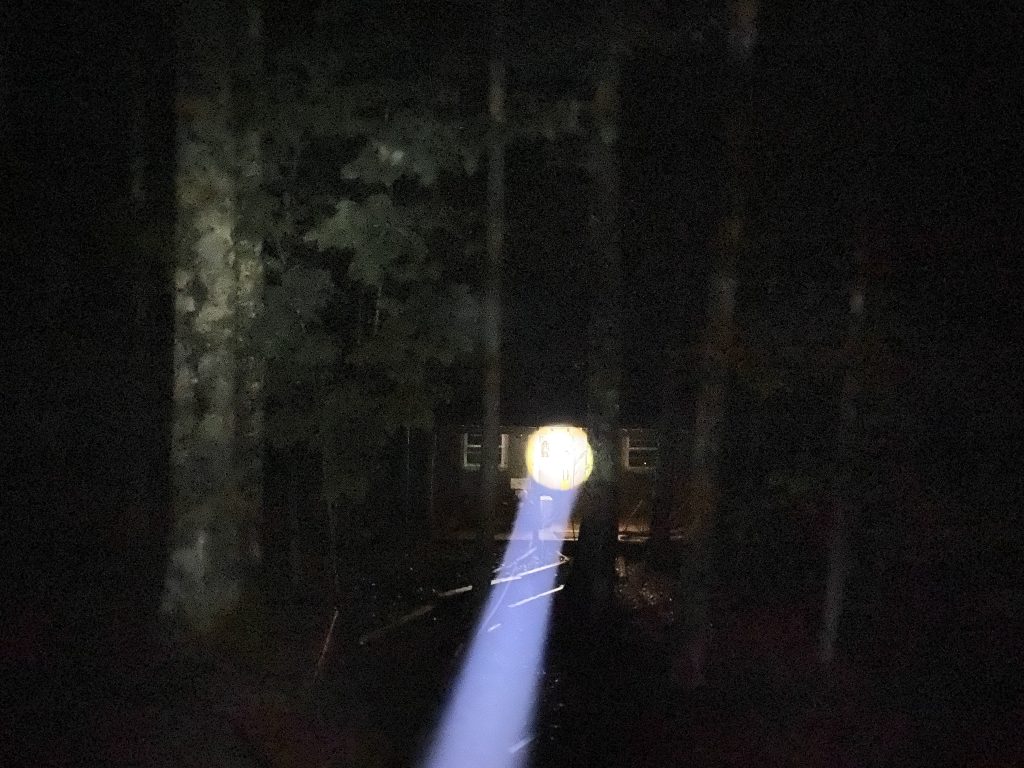 Optical Dynamics also provided us with a rifle mount that is an option, however on a standard AR we found to be to heavy and cumbersome.
All in all, both are extremely rugged and well built. They come with a red & green lenses, a solid case with standard and USB chargers as well as a rechargeable battery. One of the big advantages for these Illuminators is the direct focused beam, which for the first responder community is immensely important. Countless times on the dark road at 3am with a car over the side do I wish I could have had a better light. This for sure would be on my rescue.
Specs:
Max. LED Chip Output: 950 Lumens
ANSI Lumen Output: 85.76
Peak Beam Intensity: 4,460.89cd (candela)
IPX4 Rating: Water Resistant
Operating Temperature: -20℉ to 120℉
Weight: 13.696oz with battery
Battery Type: CR123A(x2) Batteries Included
Life of Diode: 100,000 hours
Color: White
Run Time: 2 hours
Target Identification: Up to 200 yards
Long Distance Beam: 235 yards/215.7 meters
Lens Diameter: 40MM
Direct Projection Technology — Patent Pending Collimated Amplified Lens System (CALS)
Narrow direct beam of optically pure, clean light
Beam Distance: 348 yds
Beam Distance with Aid of Optic: 400 yds
Four cluster ultra powerful CREE® XHP50 LED chips
Simple ring-turn focus makes crisp circle of light
State of the art, fully multi-coated optical lenses
Three brightness settings
Four cluster XHP50 LED chips
IPX7 Rating: Waterproof and Submersible
Run Time 10 hrs on high power, 12 hrs medium, 15 hrs low
USB Rechargeable – charger and USB cable included
Light projected at natural wavelength, doesn't scare animals
Machined aircraft-grade aluminum housing
Foam-filled hardshell carry case
Max. LED Chip Output: 2500 Lumens
ANSI Lumen Output: 250
Peak Beam Intensity: Low 6,090cd. Medium 18,557cd. High 25,325cd. (candela)
PROS
Solidly built
Super bright
Long range light
First Responder use
Search and Rescue use
Home Defense
Solid carrying case
Focus Adjustment
Three Light settings
CONS
Longer then the average flashlight
Heavy
Adjustment period
For more information, check them out at www.exudelight.com