By Travis Pike (SOFREP))
You may be looking for an excellent affordable gift for that special person in your life. If that person likes guns, gear, and preparedness, they'll enjoy the Gerber Ayako. The Ayako is a brand new knife from Gerber that falls into their budget line of blades. The Ayako has an eye-catching design that draws from a legacy of Japanese swords and knives.
The swept-back blade is very katana-like, and the handle is also similar to the famed Japanese design. It's very slick and lovely to the eye. That is what first drew me to the Ayako. I try to be practical in my gear and equipment selection, but sometimes something just looks cool and comes at the right price to make it an easy purchase.
Inside the Ayako
Its price is under 30 bucks. As far as knives go, that's a bargain for a half-decent knife. I know lots of guys who break and lose knives all the time and so they tend to stick with cheaper models. The most significant evidence that this is a cheap knife is the use of 7Cr17MoV stainless steel. This cheap Chinese steel isn't terrible. It holds a good edge, has excellent corrosion resistance, and is easy to sharpen. The downside is its overall durability and its tendency to dull faster than premium-grade steels.
Ayako's blade is a stout 3.5 inches long with a cutting edge of 3.625 inches. The belly is placed near the edge of the knife. This creates a point where your knife can really dig in and cut through thick materials and gives you the ability to start a cut at the tip of the blade and dive deep with ease. The blade cuts nicely considering its cheap steel. I have been using it mostly in the kitchen and to open Amazon boxes.
The blade features a consistent grind which makes sharpening easy. Some cheaper knives have questionable blade grinds, and this makes finding that good sharpening angle a hassle. This isn't the case with Ayako.
The Rest of the Ayako
Other than the cheap steel blade, the Ayako has a durable design. It features aluminum scale grips that are textured and feel great in the hand. The knife itself is very thin and convenient for pocket carry. The one thing about a thin handle is how much it feels like it digs when you are cutting through heavier materials. Wider grips are more comfortable in those situations. Will you run into this type of cutting in your daily life? That's a question worth asking as you choose an EDC knife. For most typical knife tasks, the Ayako will serve you well. The lightweight and thinner handle might be a good trade-off for convenient carry.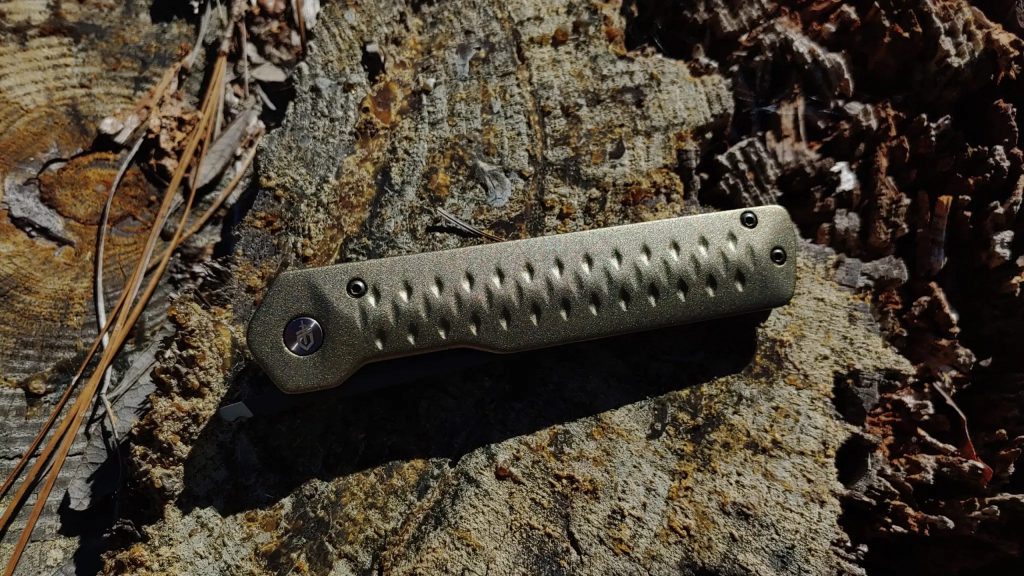 The Ayako does have a pocket clip, but it leaves modularity to be desired. You cannot reverse it or change its position. You are stuck with one means of carry and that is it.
The locking system is a simple liner locker. It springs into action with ease and locks the blade up nice and tight. A cutout in the grip makes it easy to disengage the liner lock and fold the blade out of action.
Throwing it into action is a bit slower. The Ayako has a flipper at the top, and a thumb hole as a backup to deploy its blade. It's not a fast deployment mechanism, and it won't spring into action like a switchblade. It's slow but, nevertheless, easy enough to use when needed.
Is it For You?
Is it for you? Or will it be a good gift? If you need an affordable knife that punches above its price tag, then the Ayako is for you. For daily tasks, it's a great little knife. I wouldn't take it to war, but I'll take it to work, camping, and to clean deer. The Ayako is a cool knife with an inspired look that just happens to be quite handy.
Travis Pike is a former Marine Machine gunner who served with 2nd Bn 2nd Marines for 5 years. He deployed in 2009 to Afghanistan and again in 2011 with the 22nd MEU(SOC) during a record setting 11 months at sea. He's trained with the Romanian Army, the Spanish Marines, the Emirate Marines and the Afghan National Army. He serves as an NRA certified pistol instructor and teaches concealed carry classes.