By Matt Hill (SOFREP)
As I promised in my most recent review of Nightstick pistol lights, today we'll look at the Nightstick SFL-13GL (better known as the Shotgun Forend Light with Green Laser) in greater detail.
The SFL-13GL (which I'll refer to as "SFL" from here on out) is a weapon light that is as robust as it is useful. After unpacking the light, I quickly found that I liked the over-molded rubber grip area and the firm grip it provided on the fore-end. Nightstick also makes a similar model for the 870/TAC-14 named the SFL-13WL, which possesses the same high-quality 1,200 lumens LED light, but doesn't include the green laser. In this review, though, we'll be discussing the SFL-13GL that includes both the LED and the green laser.
What's Included in the Box
The Nightstick SFL comes with the following items included:
Glass-filled Nylon Polymer fore-end with 1,200 Lumen LED/Green Laser
Nylon Hand Stop/Safety Strap with Mounting Hardware and Allen Wrench
Action Tube Nut Wrench (for removing factory-installed castle nut and pump handle fore-end)
Optional Action-Tube Spacer
Two CR123 Batteries (can be upgraded to li-ion rechargeable batteries, if preferred)
Allen Wrench for adjusting the laser's Windage and Elevation
Battery Carrier


Nightstick SFL 13-GL Included Parts. (Nightstick)

Installati0n

The Shotgun on which I decided to install this light was a Remington Model 870 Tactical. While the 870 Tactical is a fairly heavy shotgun (7.5 lbs.), I like it for its included options, such as the XS Ghost Ring Sights, the sling swivel studs, and the sight rail that accepts additional optics. In my opinion, the Nightstick SFL complements this shotgun perfectly in both function and aesthetics. This model SFL can, however, fit on any Remington 870 or TAC-14 12-Gauge shotgun. Nightstick also makes shotgun weapon lights (with or without the green laser) that fit a Mossberg 500/590/Shockwave and a less-lethal orange fore-end that fits both the Remington and Mossberg platforms; again, with or without the green laser.

Installation of the Nightstick SFL was straightforward; though I had to think for a minute to remember how to take apart my 870…it had been a while. Once I shook out those cobwebs, though, the installation was quick and painless. Once installed, I did a quick function check of my 870 and I was good to go.

For a detailed explanation of installation, click HERE for the instructions.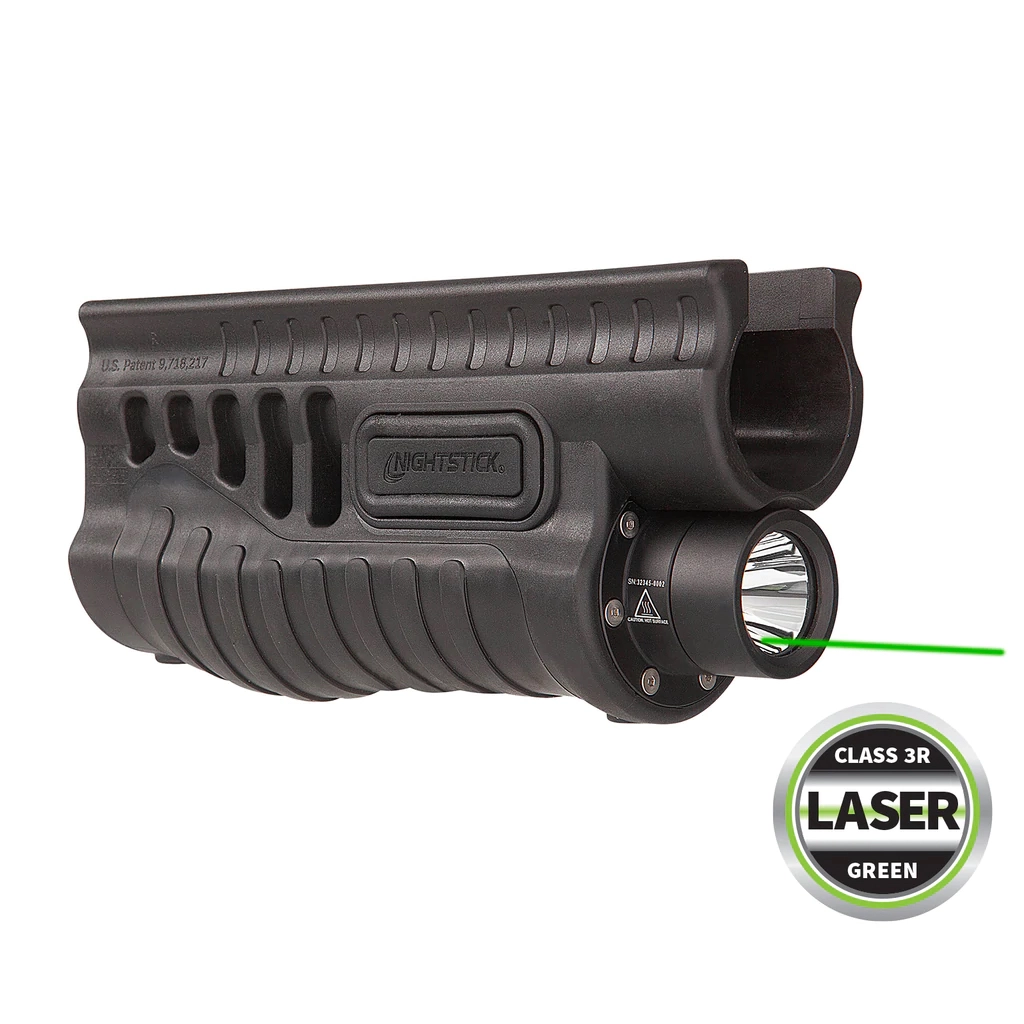 Features
The SFL features a 1,200 lumen LED light that is rated for an hour and a half of runtime. Additionally, Nightstick states the light is "Designed around a high-efficiency deep parabolic reflector," which allows the beam to have a 203-meter distance. 203 meters should be more than enough range for someone using the weapon for self-defense, and if utilizing birdshot in the shotgun, it is enough range by more than about 190 meters!
The rubber grip on the fore-end has raised rubber ridges across its length and has what I would call a hand-shaped depression (Nightstick calls it a "palm swell design") near its center to help ensure a firm grip. I also chose to install the included (but optional) nylon hand strap, which gives the user a further positive grip on the fore-end when firing shots in rapid succession or when you just find yourself drenched in sweat with an 870 in your hands.
From the box, the SFL illuminates the light and laser simultaneously upon activation (which is my preferred setting). If, however, you'd like to use either of those two items individually, the SFL also offers the option to utilize either the white light or the green laser. To change between modes, simply hold down one side of the ambidextrous on/off controls and toggle the opposite side control between the modes. Once your preferred mode is chosen, simply release both buttons and the SFL will remember that configuration until the user decides to alter it.
The SFL also has ambidextrous light/laser activation switches, a momentary-on or constant-on light function and it is IP-X7 waterproof.
Performance Test
Once installed and ready to use, I first took the 870 and the attached Nightstick SFL to what has become my illumination corner for my reviews – which is simply a pitch-black corner in my basement. I've come to like using that particular spot to test flashlights and weapon lights because it always has the same amount of ambient light (none) and it shows readers exactly what lighting and/or laser system looks like in areas where users would likely find them deployed (like dark areas in or around their home).
I positioned myself near said corner and illuminated the SFL. The SFL's 1,200 lumen light and laser exploded light into that deep corner and would have quickly illuminated any bad actor present. The brightness of the light would have no doubt temporarily blinded anyone hiding in the corner and the laser provides near-instant target acquisition if offensive measures were required.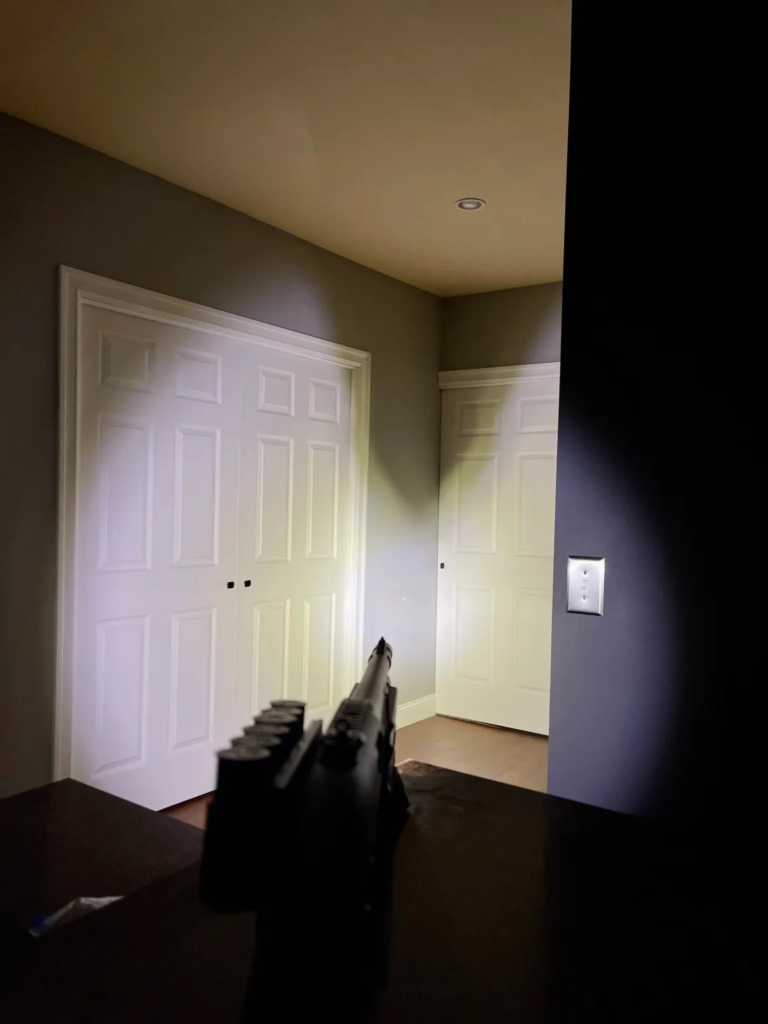 Beyond being great for target acquisition, the green laser is a fantastic deterrent to help ensure the suspect will comply without the need for violence on the user's end. If you are wondering just how effective a simple laser can be, I'll give you a quick anecdote from my days as a cop.
I was dispatched one night to a home where a man who probably was about 6'4"/240 pounds had just committed a pretty violent felony assault on his neighbor. Dispatched to the call were me and the smallest guy in the police department; I wasn't exactly thrilled about that because the suspect was a known fighter around town and he prided himself that he fought the police during his arrests and would only surrender when a K-9 was deployed. I figured that night was going to be more of the same from this fella, so I told him he was under arrest and to turn around and put his hands behind his back to get the whole thing started. Since he was both known to be violent and known to fight law enforcement every time he was arrested, I decided I'd add one additional incentive for him to comply with my verbal commands and I pointed my Taser laser at his chest. I should add that I've seen plenty of ineffective encounters with Tasers and can honestly say I deployed my Taser twice on duty and never once pulled the trigger on it, it is safe to say that the Taser was never my favorite tool. I just thought I'd give the Taser a go since we already knew what was likely to transpire during this encounter.
After I centered the Taser laser on his chest, he looked down at the laser dot on his shirt and looked back at me and said, "I've gotten pepper-sprayed about a hundred times, but I've never been tased. How bad does it hurt?" I told him it feels like getting kicked by a horse while you're being electrocuted. He said, "I think I'm good today, just come cuff me up." I walked over to him and secured his wrists with handcuffs without incident.So, my thought is that if a simple laser on a Taser elicits such a positive response, I can only assume that a laser attached to a 12-gauge shotgun would be even that much more effective. Beyond that, the visual cue the laser provides when illuminated makes sight picture almost effortless and greatly improves the speed for follow-up shots. The green laser is extremely bright and mine came sighted perfectly from the box. If you need to adjust the laser, though, it is incredibly easy and is simply done with the Allen wrench provided in the SFL's box.
The Nightstick SFL has a "Limited Lifetime Warranty" that covers any defects in workmanship and materials for the "original purchaser's lifetime." According to Nightstick's website, "The warranty includes the LEDs, housing and lenses, rechargeable batteries, chargers, switches, electronics, and included accessories." Essentially, if the SFL was purchased in your name and something goes wrong, you're covered.
Overall, the SFL is a fantastic light. Rarely do products' build quality, function, and aesthetic meet so effortlessly, but with the Nightstick SFL they form a perfect marriage. Gone are the days when your weapon light shines dimly at a max of 250 lumens. Also gone are the days in which only one or two companies dominate an industry with a near-monopoly. Today is the time when companies are judged by the merits of their products, and with Nightstick, there isn't a product they make that I've tested to date that I wouldn't wholeheartedly recommend.
ABOUT MATT HILL:  Matt is a Marine veteran, a husband and a dad. He has worked in executive protection, as a security director and was a police officer in a midwestern suburb for a number of years. Matt has a Communications degree with an emphasis in Journalism. He is also a state-certified teacher.