By MATT HILL – SOFREP
The folks over at OLIGHT were kind enough to send over a couple different weapon-light systems to test for our SOFREP members. When the lights arrived, they were well-packed and sealed up nicely from the elements.
The two lights OLIGHT sent for testing were the OLIGHT Odin Mini and the OLIGHT BALDR Mini. The Odin Mini came in a heavy-duty box that had what I would call a coffin-style opening. Whatever the name, though, it was a nice touch and a good first impression of quality. The BALDR Mini came in a small, more traditional box, but it was well-packed in a cocoon of plastic casing.
While some consumers may not pay attention to the care taken to pack products smartly (insert my dad here), some of us certainly appreciate it when companies take pride in not just their product – which is to be expected – but also in the care of product packaging to ensure the product arrives to the consumer unharmed. OLIGHT knocked this aspect out of the park
First Reaction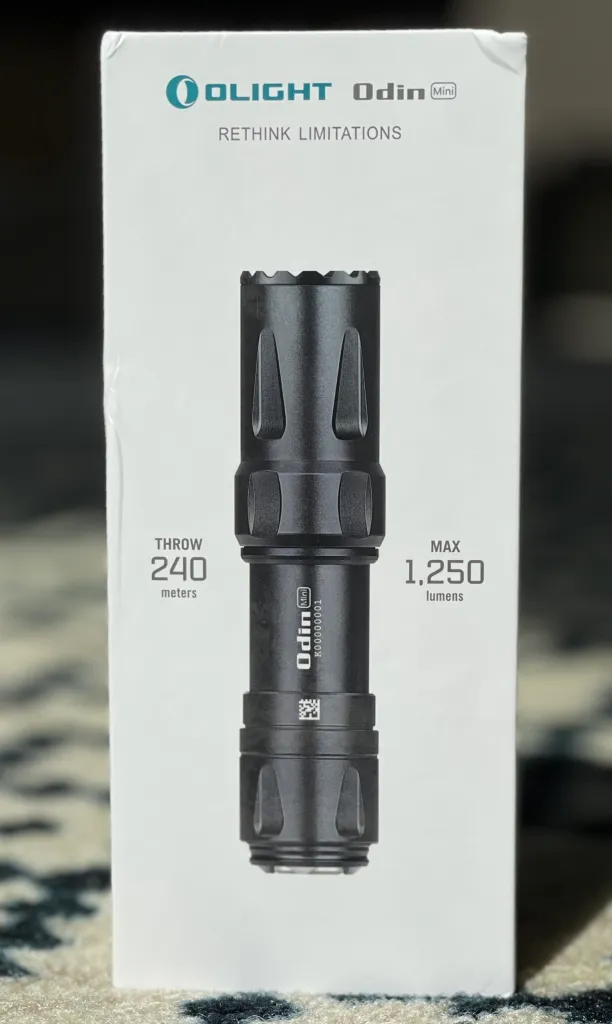 The OLIGHT Odin Mini. (Author Photo)
My first thought when I unboxed the Odin and looked at the light and played a bit with the charging cable was "okay, this is a cool magnetic charging system." By "cool" I mean that it was a noticeably stronger magnetic charging connection than many I've tested. I confirmed this first reaction when I connected the charger to the light and I could both see and hear it "snap" into place. Some products I've purchased or tested over the years had magnetic chargers that worked great unless slightly bumped, or they had issues with the charging cord not seating onto the product perfectly each time, which would sometimes cause the light to not actually charge. I didn't see any potential issue with the magnetic charging system with either the Odin Mini or the BALDR Mini, though. It was a positive physical and visual connection between the cord and the light each time I connected the two.
The second thing I noticed with these lights was that they both were fairly small in stature (hence the name Mini I guess), but that their construction felt very robust. I really appreciate items that can perform equally to larger products, but pack that same punch in a smaller package. As former Navy SEAL Rob O'Neill has said on multiple occasions regarding excess size/weight of items he used to carry, "Ounces equal pounds" and no person who has ever carried a weapon for a living (or even while hunting) has the desire to carry unneeded excess weight. Each of the OLIGHT's I tested take this message to heart and deliver a powerful, robust product that still leaves room on the weapon for additional accessories while ensuring the user of that weapon system less overall muscle strain and fatigue during its use.
Both the Odin Mini and the BALDR Mini do this well, but more on the specifics of each light's specs and performance in a bit.
Products, Features, and Materials
I said above that I was immediately impressed with the build quality of each light, but let's look a bit more in depth at the actual performance numbers of each product.
OLIGHT Odin Mini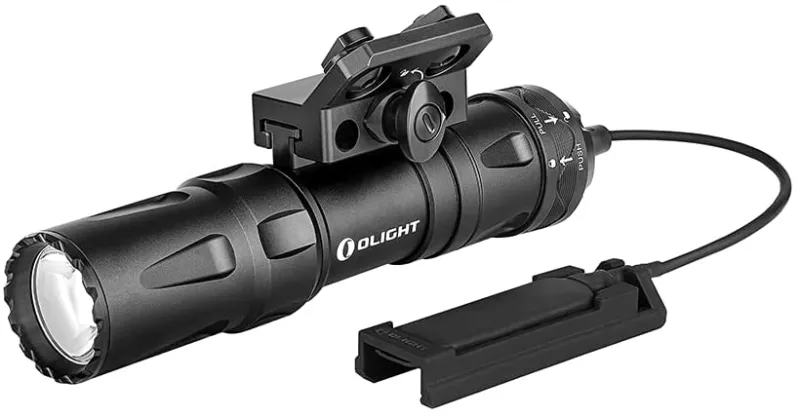 According to the OLIGHT website, the Odin Mini has the following features:
Aluminum Alloy Body
1,250 Lumens
787 Ft. (240 m) Beam Distance
MCC3 Magnetic Charging Cable
2040mAh 18500 Rechargeable Lithium Battery
14,400 candela
IP-X8 Waterproof
High/Low Options
Pressure Switch and Mount Included
Fits both M-LOK and Picatinny Rails
Length: 4.55 in (115.5 mm)
Head Diameter: 1.14 in (29 mm)
Body Diameter: 1.01 in (25.7 mm)
Weight: 6.21 oz (176 g)
As I mentioned earlier, the Odin Mini has a robust feel in-hand without having the size that can cause fitment issues on one's weapon or without so much added weight that the balance of the weapon is off. Another aspect of the Odin Mini that I appreciate is that it will function equally well as both an EDC pocket light and a weapon-mounted light with a pressure pad. The directions are easy to follow and mounting the Odin Mini on a long-gun is simple using either the M-LOK rail mount or the provided Picatinny rail attachment.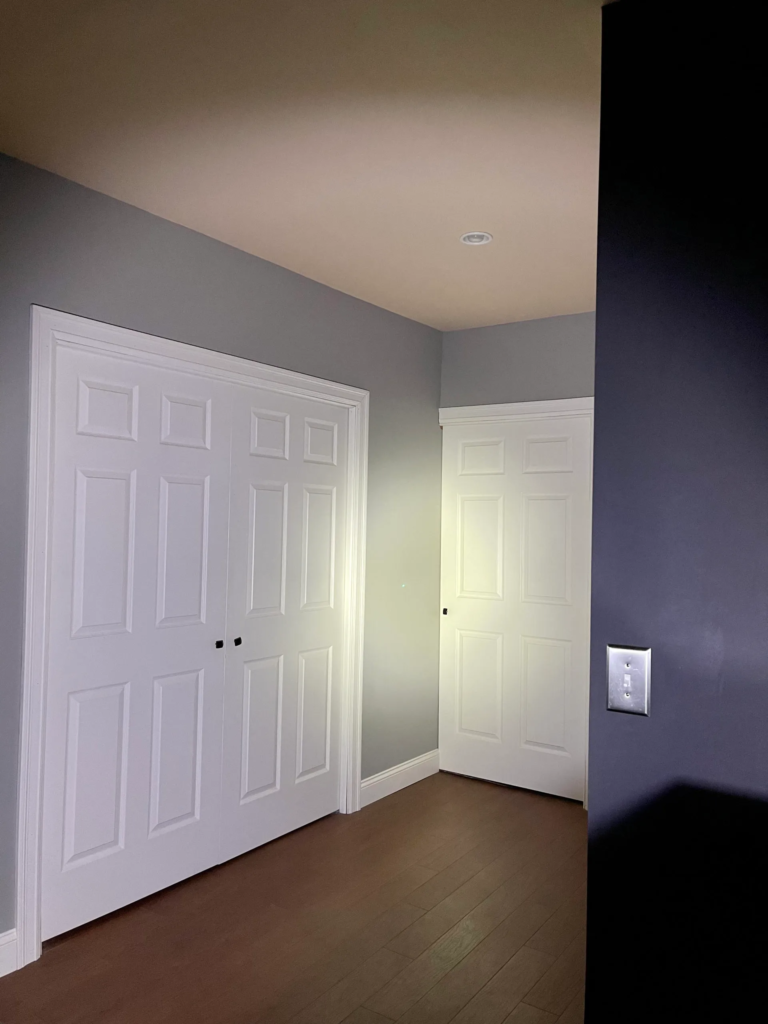 I also appreciate OLIGHT for including ALL of the necessary attachments in the Odin's box without charging extra for alternate accessories. The following items come included in the package without need for additional purchase:
Odin Mini (with battery)
MCC3 Magnetic Charging Cable
Magnetic Remote Switch
M-LOK Rail Mount
M-LOK Nut (x2)
H3.0 Allen Wrench
M-LOK Socket Screw x2
Pressure Switch Mount
Self-Locking band (x2)



The OLIGHT Odin Mini is Pocket-Sized with 1,250 Lumens of Output. (OLIGHT)

While it may seem obvious to all of us that companies SHOULD include each of the above-listed attachment with a single order, I've worked with enough products over the years to know that isn't always the case. OLIGHT could have easily stated on their site that the light system comes standard with M-LOK rail compatibility and tell consumers if they want to use it with a picatinny rail that they'll need to buy the additional attachment for $9.99 (or some other obscure price). To OLIGHT's credit, though, they didn't do this. They provided the consumer with a solidly built, quality product without any nickel and dime schemes on the back end; and props to them for making that decision.

OLIGHT BALDR Mini

                                                                                  OLIGHT BALDR Mini. (OLIGHT)

The OLIGHT BALDR Mini is an LED light and green laser weapon combo for pistols. The traditional benefit of a green laser vs. a red is that the green light spectrum illuminates better and at longer potential distances than red while in daylight or in environments with increased light.

According to the OLIGHT website, the BALDR Mini has the following features:

Aluminum Alloy Body
600 Lumens
426 Ft. (130 m) Beam Distance
Magnetic USB Charging Cable
3.7V 230mAh Rechargeable Lithium Polymer Battery
4,225 candela
IP-X4 Waterproof
Small Size (Car key / Zippo Lighter)

Length: 2.24 in (57 mm)
Width: 1.29 in (32.8 mm)
Height: 1.41 in (35.8 mm)
Weight: 3.07 oz (87 g)
The BALDR Mini boasts an ambidextrous on/off activation switch and, per the user's preference, it can be toggled between an LED white light, a green laser and the combination of the two. I tested the light and laser in a bright (indoor) environment and I could still easily see the laser at 25 yards, which should provide more than enough light throw to accommodate those using the BALDR Mini as a carry light/laser combo on a concealed weapon.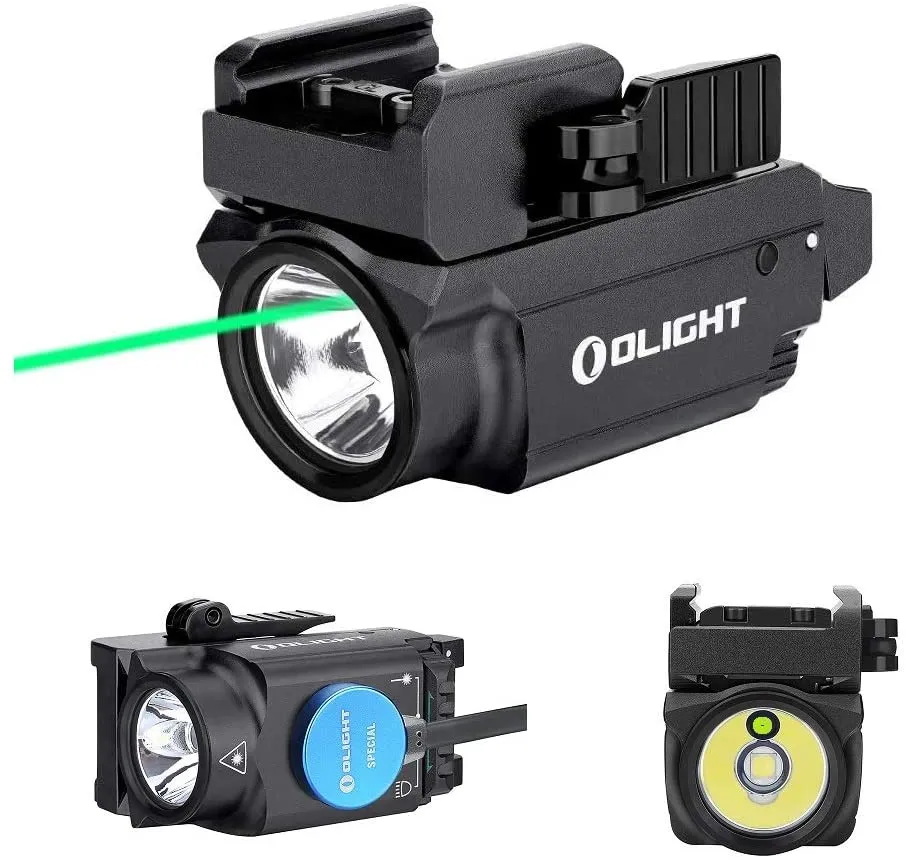 The OLIGHT BALDR Mini illuminating a pitch black deep corner with its LED/green laser combo. (Author photo)