When Sig Sauer announced their AXG line not too long ago I was very intrigued. I'm a big P320 fan, but when I saw that they also offer the AXG with their Pro-Cut Slide, I was really excited!
The P320 AXG Pro is an all metal black anodized frame with their G10 grip panels and rear insert. The detachable magwell makes for improved reloading. The Pro-Cut Nitron Slide matches seamlessly with the metal frame and allows end users to add a Romeo1PRO, ROMEO2, or a Deltapoint PRO optic. It is also outfitted with Sig Sauer's X-Ray3 day/night sights and is very bright during the day or night.
The AXG PRO comes standard with two (2) 17rd steel mags fitted with Henning Group aluminum basepads to be used with that detachable magwell. Although this is a full-sized pistol, it is still very comfortable in the hands and would make a great race/3-Gun pistol. The factory X-Series flat trigger has a nice clean break at 90 degrees and has a nice audible trigger reset. To me it's a typical P320 trigger pull.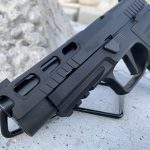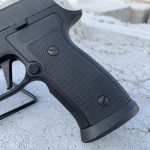 ---
SIG SAUER P320 AXG PRO
Overall Length- 8.2″ (208mm)
Overall Width- 1.6″ (40mm)
Height- 5.5″ (140mm)
Barrel Length- 4.7″ (119mm)
Barrel Material- Carbon Steel
Weight Unloaded- 35.4oz/2.2lbs (1003g)
MSRP- $1329.99
MAP- $1199.99
---
Overall, this pistol is an amazing. I am a little biased though because I do love some P320's. This P320 again would make for a great 3-Gun/IDPA/USPA matches. This pistol will fit all Full-Size P320 holsters, so finding your favorite one should be a breeze. This AXG PRO is right inline with the other SIG metal frame P-Series when it comes to weight. So if you are familiar with them, then you will be fine carrying it. At the end of the day, if you are a SIG collector, I would highly recommend purchasing one of these.
If you are in the market for a new SIG or a new Competition Pistol, then check out the SIG SAUER P320 AXG PRO and see if it's right for you!
As always ya'll be good and be safe!