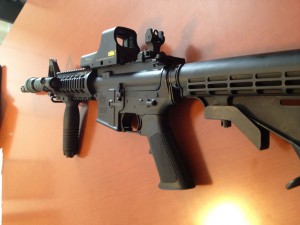 The tried and true Smith & Wesson Military & Police 15. Arguably one of the hottest selling AR-15 platforms around right now. S&W are selling them like hot cakes, which may have something to-do with the political climate currently as well, and after having mine for a few years I can tell you why!
Out of the Box
Straight from the box this gun is an all around great feeling gun. As soon as you pick it up it feels great in your hands no matter what model you decide to pick up. Mine has the pickiny rails on hand rail and the weight (before attachments) was comparable to pretty much any AR-15 platform.
Shooting
Upon first shooting the gun it was decent shooting the bolt had some drag you could feel but after about 500 or so rounds and really getting a feel for the gun it shot great and it's been great ever sense. If you are iffy about buying this gun shoot one first and let the gun (not my opinion) make up your mind.
Pros
Strong Brand
Comfortable Weight
Solid feel to the gun
Smooth trigger pull out of the box
Thousands of accessories
Cons
At the time I bought this I don't think they had piston M&P's
Attachments can add too much weight (Controllable con)
Takes about 500 rounds to break in the gun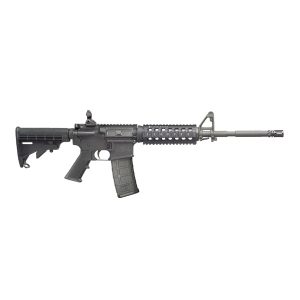 Specifications:
Caliber:
5.56 mm NATO / .223
Sights:
Iron
Length:
35″ Extended/32″ Collapsed
Weight:
6.5 lbs.
Width:
1.29″
Capacity:
30 Rounds
Barrel Length:
16″
Twist:
1 in 9″
Receiver:
7075 T6 Aluminum