"Hey, I've seen this one! It's a classic!" "What do you mean you've seen it? It's brand new." Great Scott, Smith and Wesson!
It appears that 8/17/2021 is the launch date of the new M&P12 by Smith and Wesson. The M&P12 is S&W entry into the bullpup market for 12ga shotguns. Unfortunately, it seems they are a little late to the party.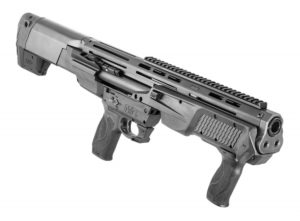 With the overall look and design of the Kel-Tec KSG, it already appears that the market is already making fun of S&W for the design steal. The KSG is by far one of the most popular bullpup shotguns to date, especially being made famous in the 2014 film John Wick.
But for you die-hard Smith and Wesson fans, lets take a look at this shotgun.
12ga (6rds of 3", 7rds of 2.75", 20rds of Mini Shells)
Dual Tube Design
4140 Chrome-Moly Vanadium Steel 19" Barrel
Interchangeable Flush Mount Choke Tubes
Overall Length- 27.8"
Weight- 132.8oz or 8.3lbs
Changeable Grip Backstraps (S, S/M, M, L)
Front Pistol Grip
Ambidextrous Safety
Push Button Tube Selector
M-Lok Rail section on Shroud
Picatinny Rail on Top
MSRP- $1,165
---
Again, this shotgun is nothing to write home about in my opinion. If S&W were going to come out with a "new design", I think a semi-auto version would have been better than a pump-action. Again, just my opinion though.