TROY, AL, Aug. 19, 2021 — Kimber Mfg., is excited to announce its entry into the polymer-framed, striker-fired pistol market with the R7 Mako, a micro-compact pistol chambered in 9mm.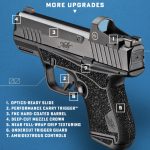 Kimber reached out to carry enthusiasts and asked what was most important in a concealed-carry pistol; the resounding response included the requirement of an outstanding trigger and ability to carry with the confidence of having sufficient ammunition capacity for any situation.
Kimber addressed the trigger request with the R7 Mako's unique flat-face Performance Carry Trigger™, which has a consistent short pull and a clean, crisp break, making the R7's factory-set 5.0 to 6.75 pound trigger pull feel much lighter. The R7 Mako boasts class-leading 12-round capacity using the flush-fit magazine and 14-round capacity using the extended magazine.
Another distinctive feature is the R7's stainless-steel slide, which wears an FNC finish, and covers the barrel hood to add rigidity, preventing debris from entering the pistol through the ejection port, and keeping the optic clean. The pistol also features ambidextrous controls for left and right-handed shooters, and the low-tilt, 3.37-inch, stainless-steel barrel mitigates recoil.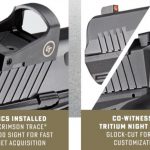 Topping off the R7 Mako is a set of TruGlo® Tritium Pro u-notch sights making target acquisition quick regardless of lighting conditions, and the slide on the R7 Mako Optics Ready (OR) model ships with a plate to protect the milled Shield-style footprint. The R7 Mako Optics Installed (OI) model includes a Crimson Trace® CTS-1500. Both R7 Mako models ship with a flush-fit 11+1 magazine as well as a 13+1 magazine, so the gun is carry-ready out of the box.  Additionally, 10+1 and 15+1 magazines will be available in the very near future.
The R7 Mako weighs in at 19.5 ounces, and measures a mere 1 inch wide, 4.3 inches tall, and 6.2 inches long overall.
For those looking to upgrade their standards, the gun is available for immediate shipment. For more information, visit R7Mako.com, and for all Kimber products, visit kimberamerica.com. MSRP: $799 (OI Model); $599 (OR Model).