By Travis Pike – SOFREP
Handheld lights are a must-have for the prepared person's everyday carry setup. You have lots of options for lights these days, but one of the all-time best is the Surefire E2D Defender Ultra.
Surefire makes the very best illumination devices on the planet. Their lights serve countless special operators, conventional military forces, police departments, and tons of concealed carriers. They produce some of the toughest weapon lights that are nearly unbeatable in power, durability, and design.
Breaking Down the E2D Defender Ultra
The Surefire E2D Defender Ultra provides the end-user with an extremely useful and versatile handheld light. It's 5.2 inches long and weighs a light 4.2 ounces. This makes the little light well suited for pocket carry. Further, it comes equipped with a nice pocket clip that makes it easy and quick to deploy.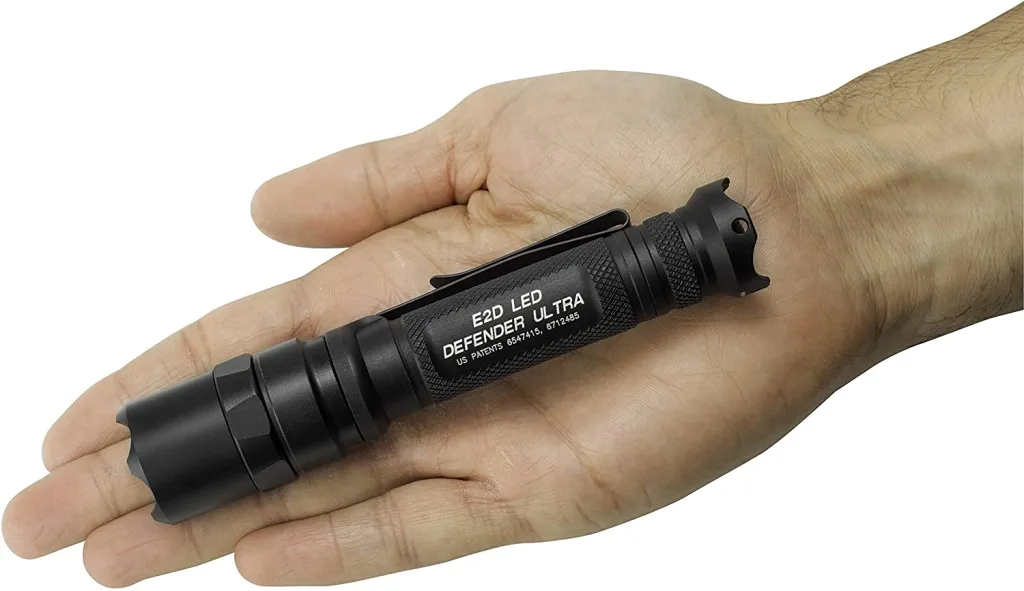 The E2D Defender Ultra comes with what Surefire calls a crenelated strike bezel. This bezel turns the E2D Defender Ultra into an impact weapon that protects the bulb and glass of the light when kicking someone's ass. The body is made from aluminum and is quite rugged. It has a hefty texturing for a sure grip. Something you'll most definitely need if you use the crenelated strike bezel against someone's face. The control comes in the form of a rear click button. It allows you to easily hold and activate the light without issue. The button provides tactile feedback and immediate response.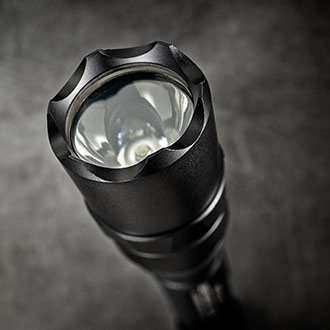 All the Power!
That response comes in the form of 1,000 lumens of bright, blinding, and potent light. It shines brightly and hits like a sunray. Those 1,000 lumens are backed by 10,600 candelas that carry those lumens nice and far. Your Surefire E2D Defender Ultra is a pocketable spotlight that will overcome photonic barriers, blind perps, and make it easy to find everything from lost keys to lost kids in a search and rescue mission. The light casts a beam out to 200 meters, making it quite efficient.
The E2D Defender Ultra has an optional low mode of a mere five lumens that reduces that blinding light to a much more controllable power level. That low mode makes it easy to take notes, search in close quarters, or conduct other similarly not-so tactical tasks.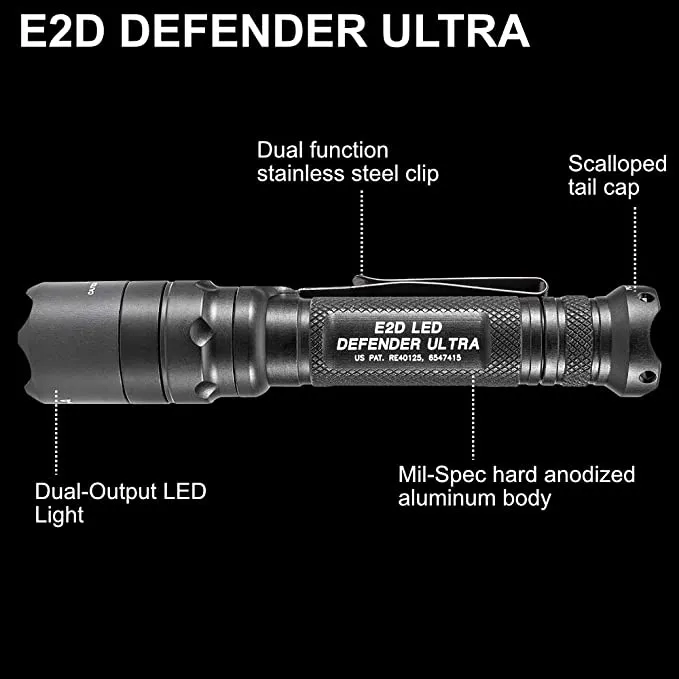 The E2D Defender Ultra uses two CR123 batteries which will power the light for 2.75 hours on high mode. On low mode, it will last a mighty 63 hours.
Ready for Combat
The Surefire E2D Defender Ultra utilizes Surefire's TIR lens. TIR stands for total internal reflection lens. This beam style is all about range and casts the beam nice and far. Much more so than most flashlights. It helps propel the beam and carries those 1,000 lumens nice and far.
The E2D Defender is made for combat. It can take some serious abuse, including total submersion into water. The light doesn't flinch when dropped, kicked, or thrown. It's as much a flashlight as it is a fighting tool. Users equipped with this light won't find themselves outgunned anytime soon.
Lights, Camera, Action
The Surefire E2D Defender kills it. As far as handheld lights go, it's tough to beat the power of the Surefire E2D Defender Ultra in such a compact package. Add in its ability to be an impact weapon, and you get a flashlight that pulls double duty. Like most Surefire lights, it's made for war and will gladly go to war and come back without complaint.
Travis Pike is a former Marine Machine gunner who served with 2nd Bn 2nd Marines for 5 years. He deployed in 2009 to Afghanistan and again in 2011 with the 22nd MEU(SOC) during a record setting 11 months at sea. He's trained with the Romanian Army, the Spanish Marines, the Emirate Marines and the Afghan National Army. He serves as an NRA certified pistol instructor and teaches concealed carry classes.