I was looking during the Black Friday Sales Ad from Cabela's and the
Vortex Diamondback 10×42 Binoculars
caught my eye. I have always liked the Vortex line of optics because they are clear and precise. So I was wondering what the binoculars would be like. So I went to Cabela's only to find out that they were selling the last one. But I looked on the shelf and found the same binoculars sitting in the spot marked 10×42 DBK, but according to the sales clerk, "those aren't the one's that are on sale." Even though in the ad flier it didn't have a SKU or Part Number listed, just Vortex Diamondback 10×42 Binoculars.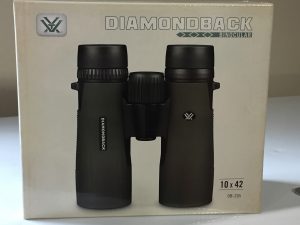 Needless to say, I asked the clerk to please get a manager so I can talk to them about how this wasn't right and unjust and false advertisement. The Manager would not even entertain meeting with me and told me flat out that they would not do the price adjustment. So I was absolutely pissed about it. So I while i Cabela's I went online and searched for the binoculars and found them on sale for the same price, $129.99, and got free shipping. I ended up saving money buying online.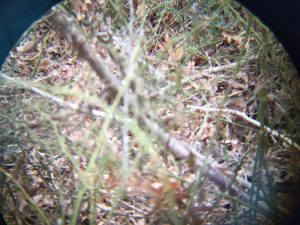 What really drew me to the Vortex binoculars is their VIP Lifetime Warranty. According to Vortex, the "VIP Lifetime Warranty is about you, not us. It's about taking care of you after the sale. VIP stands for a Very Important Promise to you, our customer. We will repair or replace your Vortex product in the event it becomes damaged or defective-at no charge to you. If we cannot repair your product, we will replace it with a product in perfect working order of equal or better physical condition." The warranty is fully transferable, no warranty cards needed to fill out, no receipt to hold on to, but The VIP Warranty does not cover loss, theft, deliberate damage or cosmetic damage that does not hinder the performance of the product.
When the binoculars came in I was very impressed. The clarity is just incredible. It comes with a nice hard carrying case with strap, a neck strap for the binoculars, cleaning wipe, rubber eye piece covers, and rubber objective covers. Here is the down and dirty of the binoculars:

| | |
| --- | --- |
| Vortex Diamondback | Binoculars D205 |
| Magnification | 10x |
| Objective Lens Diameter | 42mm |
| Eye Relief | 15mm |
| Exit Pupil | 4.2mm |
| Linear Field of View | 330ft/1000yds |
| Angular Field of View | 6.3 degrees |
| Close Focus | 6.7 ft |
| Interpupillary Distance | 55-75mm |
| Weight | 21.4oz |
| Height | 5.8″ |
| Width | 5.1″ |
| MSRP | $279.99 |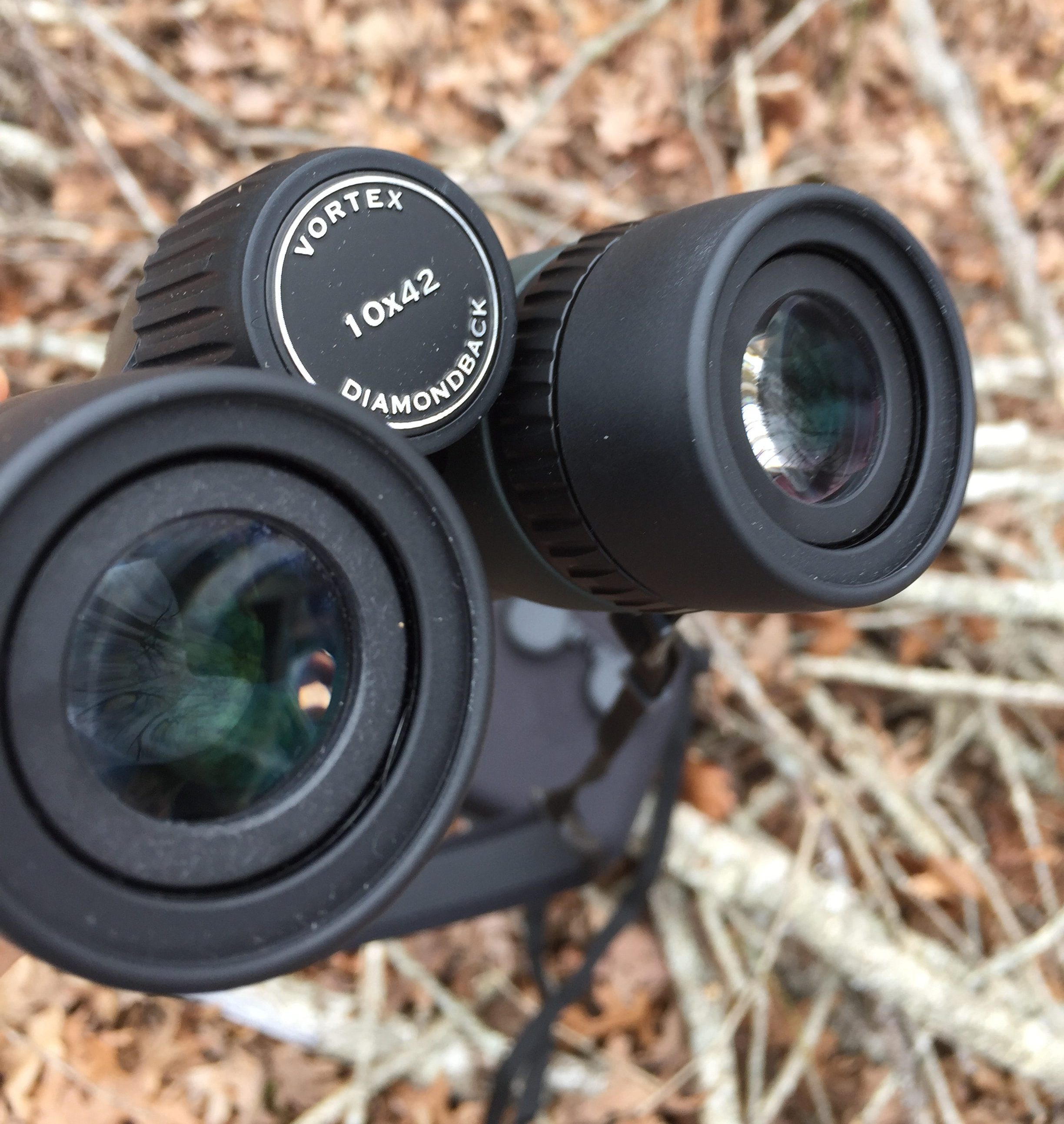 ---
According to Vortex here is the features of the binoculars:
Fully Multi-Coated to increase light transmission with multiple anti-reflective coatings on all air-to-glass surfaces.
Dielectric multi-layer prism coatings provide bright, clear, color-accurate images.
Roof Prism for greater durability and a more compact size.
Waterproof O-ring seals prevent moisture, dust and debris from penetrating the binocular for reliable performance in all environments.
Argon gas-purged and o-ring-sealed for fogproof and waterproof performance. Prevents internal fogging over a wide range of temperatures.
Rubber Armor provides a secure, non-slip grip, and durable external protection.
Adjustable Eyecup twist up and down for comfortable viewing with or without eyeglasses.
Center Focus Wheel adjusts the focus of both binocular barrels at the same time.
Diopter Adjusts for differences in a user's eyes. Located on right eyepiece.
Compatible with a tripod adapter, allowing use on a tripod or car window mount.
---
---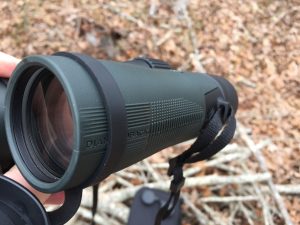 Last week I went to South Carolina to do some deer hunting with my step-dad. I brought these binoculars with me and I must say, I was glad to have them. The only downside I could find with these binoculars was first thing in the morning (temps around mid-30's deg F), I noticed that my binoculars started to fog while sitting in the ground blind. I had to wipe them off so i could look out of the blind. These binoculars are suppose to be anti-fog proof. I eventually added a coating of Rain-X Anti-Fog on the lenses and it's made a world of difference.
I was really glad I was able to get these binoculars on sale. I was highly disappointed in Cabela's for not price matching and for not recognizing their mistake, but thank goodness for internet sales! If you are looking for great binoculars that won't break the bank, then check out the Vortex Diamondback 10×42 binoculars!
As always, ya'll be good and be safe!