The big talk of 2022 has to be the new Aimpoint Duty RDS. This micro dot has the same mounting capability as the higher priced T2, but offers more affordability for the end users. Aimpoint is in a class of their own when it comes to red dots. I personally own two of their red dots (Comp M3 and ACO). I would love to own one of the T2's but my wallet says no, no, no. But with this option, I'm a little more inclined to see what the Duty RDS has to offer.
---
Duty RDS Details
The Aimpoint Duty RDS is the red dot sight solution the world has been waiting for – offering Aimpoint quality at a more accessible price point. This compact, high-grade reflex optic was designed to meet the demanding needs of the modern law enforcement officer. The Duty RDS™ (Red Dot Sight) offers a bright, crisp 2 MOA dot that's ideal for short to medium range target engagements. All new windage and elevation adjustments are flush mounted and waterproof, eliminating the need for protective caps. The turrets provide audible "clicks" when zeroing the optic.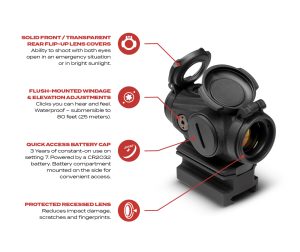 The dot brightness intensity switch is a digital keypad with intuitive buttons that can easily be manipulated while wearing gloves. The pressure forged aluminum alloy housing provides durability against extreme abuse and drastic temperature changes. The sight is vibration and shock resistant and submersible up to 80 feet. It is powered by a single CR2032 battery and ACET technology provides over 3 years of constant-on use at daylight position 7 and even longer on the night vision settings. The Duty RDS comes with a one-piece torsion nut mount and the optic features flip-up lens covers – the front is solid and the rear transparent. The sight is fully compatible with all generations of night vision devices.
---
Features
2 MOA red dot for precision and fast target acquisition
Battery life: 30,000 hours (over 3 years) of constant operation with one battery on setting 7
Battery type: CR2032 battery (included)
One-piece Torsion Nut Mount
Flip-up lens covers – front is solid, and rear is transparent
Advanced optical lenses for enhanced light transmission and ultimate dot clarity
1/2 MOA windage and elevation adjustments are flush mounted and waterproof – eliminating the need for protective caps
Hard anodized non-reflective surface
10 brightness settings: 1 off position, 4 night vision compatible settings, and 6 daylight settings
1X (non-magnifying) operationally parallax free optic
Submersible to 80 feet (25 meters)
Temperature span -49°F to +160°F
Made from High Strength Aluminum
1 MOA Dot
Weight (Sight Only): 3.8oz (108g)
Length: 2.7″ (68mm)
Width: 1.5″ (37mm)
Height: 1.7″ (43mm)
MSRP: $499.00
LEO/First Responder/Military Discount: $449.00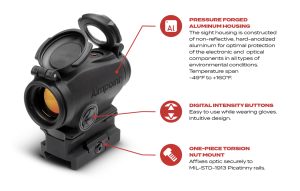 ---
Conclusion
Only time will tell if these optics will hold up. The chatter on the interwebs is comparing this optic to a Vortex Crossfire II, especially when it comes to size and battery life. I for one am ready to see what these can do. Again, I'm a big fan of Aimpoint and I feel like they really do their homework when it comes to providing outstanding optics. Once these become more readily available on the market, we will acquire one for testing and see what it does!