When I decided to do my "Budget-Friendly" AR15 rifle, I decided to get a "budget optic" as well and I wanted to stick with something under $150. So I checked out the Vortex Crossfire II Red Dot Sight along with other sights like Sig Sauer Romeo 5, Holosun HS403B, and the Bushnell TRS26. I ended up settling for the Vortex Crossfire II.
I picked up this Vortex Crossfire II for $99, shipped to the house, during a Father's Day Sale from a company called Focus Camera. I came across this deal thanks to Mrgunsngear. Nonetheless, it was the cheapest I have seen this optic and cheaper than the rest, so I went for it.
---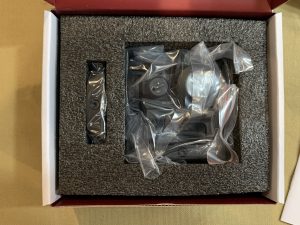 As soon as it arrived, I unboxed it and it appears to be what I expected it to be a: red dot optic for under $150 and is a very minimalist set-up and that's what I was going for. Overall the quality is there and the instillation of the CR2032 battery was quite easy. The illumination knob on the other hand is quite stiff, but moving it around back and forth a couple of times really freed it up some. This optic offers 50,000hrs battery life at the 5-6 setting and weighs in at 5.2oz.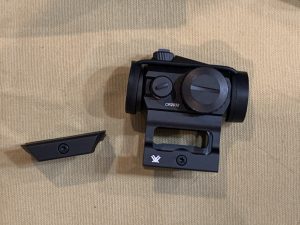 With this optic you have two mounting options, 1/3rd Co-Witness or a Low Mount. The low mount is designed for shotguns, AK's and other similar designed patterned rifles/pistols. The 1/3rd Co-Witness sits perfect on the AR and the eye relief is quite nice. I have an astigmatism in both of my eyes and honestly, this 2 MOA red dot doesn't bother it at all. There isn't much "haze" like other high-end brands out there. So, that's a win-win for this little budget optic.
One thing I didn't care for was how this optic is mounted on the rifle. I like quick disconnect style mounts in the event I need to take it off quickly or just wanted to change it out faster. The single torx screw seemed to hold up very well. Just be careful not to over-tighten them, because it could strip the screw. The option to use a quick disconnect is available as the mount holes are mirrored after the Aimpoint T1 mounting system.
Taking it out to the range, I was able to zero it in within a few shots. One thing I'm not a fan of is the 1 MOA Windage and Elevation adjustments. I wish it was a 1/2 or even 1/4 MOA adjustments, but it is what it is. For a budget optic, again, can't complain too much. This skeletonized mount holding the optic held up nice at the range and held zero after running it through its paces.
While at the range, I found that I had to set the illumination to the 8-10 setting for me to see the red dot. This is very frustrating, especially when I need to turn the knob all the way to around the 8 when it's in the off position to even see anything. With that illumination setting, the battery life should be a lot less than 50,000hrs, realistically.
Pros:
Under $150
Lifetime Warranty
2 MOA with hardly any "haze"
50,000hr Battery Life
2 Mounts included (1/3rd & Low)
5.2oz
Cons:
Made in China
1 MOA Windage and Elevation Adjustments
One Torx Screw for mounting on rifle
No Auto Shut-off/Auto-On
Dial Knob for adjusting brightness settings
Worthless Brightness from the 4-6 setting. I had to use the 8-10 at the range.
---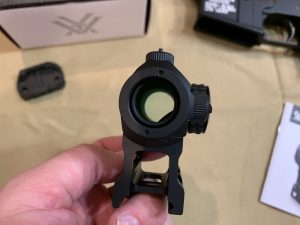 Overall, for an under $150 optic, this isn't a "bad" set up. Downside, like the other Con's mentioned above, major issue for me is it's Made in China. I'm not a big fan of that aspect, but it seems like that's the going rate for budget optics….Made in China. For example, Holosun, Sig Sauer, and this line of Vortex is all Made in China. But for someone that is conscientious about spending money or just on a budget and doesn't care about country of origin, then this optic will get the job done. Just be mindful that the illumination settings NV1 through 6 are pretty much useless. But, for a "newer" shooter or with someone on a budget, then it will do the job just fine.
As always, ya'll be good and be safe!