With keeping with our theme of being prepared for crisis' that may occur and how it would work on females, we thought about head protection. So what better way to protect your dome by with a ballistic helmet. We see a lot of video's out there showcasing ballistic helmets and they are typically shown on males. But what about the females out there? We had a few criteria's that we wanted and the number one item on the list was we wanted something that was Made in America. There are quite a lot of companies out there that are outsourcing their ballistic helmets to China, but we wanted to promote American Made Products. We reached out to Galvion and they were gracious enough to send us a Viper A3 Mission Ready Ballistic Helmet, as well as one of their Caiman Bump Helmet Systems to try out on females. We recently did a segment on Plate Carriers and how well they work on females, so why not try helmets.
For anyone not familiar with Galvion, here is a quick down and dirty little history lesson from Galvion directly, "18 years ago, we began as Revision Military, selling world-class protective eyewear. Over the years, we have expanded and diversified our portfolio of products and capabilities significantly. In 2019, we sold our protective eyewear business along with the Revision name. We continue to collaborate with Revision on projects that demand flawless lenses, but our Armor, Power and Advanced Concept divisions move forward under the new corporate name Galvion."
Galvion is located in Newport, Vermont and its facility houses all of their major armor and helmet program production. By owning their own facility, it makes them easily acceptable for customizing helmets for each customer's needs and specifications.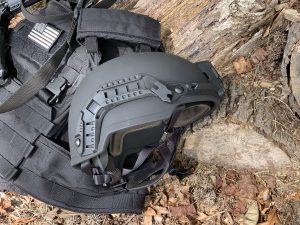 When looking at a helmet, we were really hoping to receive a High Cut version of the Viper A3 Mission Ready, but a Full Cut was sent by accident. That's okay though, we'll roll with it and see how our female subjects liked wearing it. There were a lot of mixed reviews by our subjects about even trying it on and seeing how they like it. A lot of them asked…"Why do we need ballistic helmets?" My response was, "why not have a ballistic helmet in the event something catastrophic happens and we need protection." Again their responses were a long the lines of, "we aren't going to war." I again stated you never know what could happen, especially in these uncertain times.
***Full disclosure, the subjects do not have to wear ballistic helmets for their full-time jobs and this is their first experiences with ballistic helmets in general.***
Disclaimer from Galvion:
The Nerv Centr power management product line is available to the general public, active and retired military, tactical/law enforcement users, and sports enthusiasts alike, however the products are only available for shipment within the United States.
Batlskin Viper and Caiman Helmets and Head Protection lines are available for military and law enforcement unit level buys and are available for individual civilian purchase in the U.S. and Canada only and may require approval for U.S. Export control. At this time we do not offer our Batlskin helmets or helmet accessories to individual end users internationally.
For U.S. and Canadian customers, please note that at this time, the Batlskin Caiman Ballistic Helmet System, Caiman Hybrid Helmet System, and Caiman Bump Helmet System, and Viper Standalone Long Rails are only available for federal, government, and military purchases.
---
Viper A3 Mission Ready Helmet Specs:
Weight: 3.23lbs (1465g) (Medium Size)
Viper Mount Kit includes:

Viper Front Mount
Viper Interlocking Rail System

Viper MSS Liner System
Hardware Kit
Sizes (Circumference)

S – Up to 550mm / 21¾ inches
M – 545 – 575mm / 21½ – 22¾ inches
Lg – 566 – 600mm / 22¼ – 23½ inches
XL – 593 – 625mm / 23¼ – 24½ inches

Compatible with standard face shields, Mandible Guard, Visors, NVGs, Chem/Bio Masks and communication devices
3 Cut Options – Full, Mid, High
Color Options – Tan and Black
Price – $619.99 plus Shipping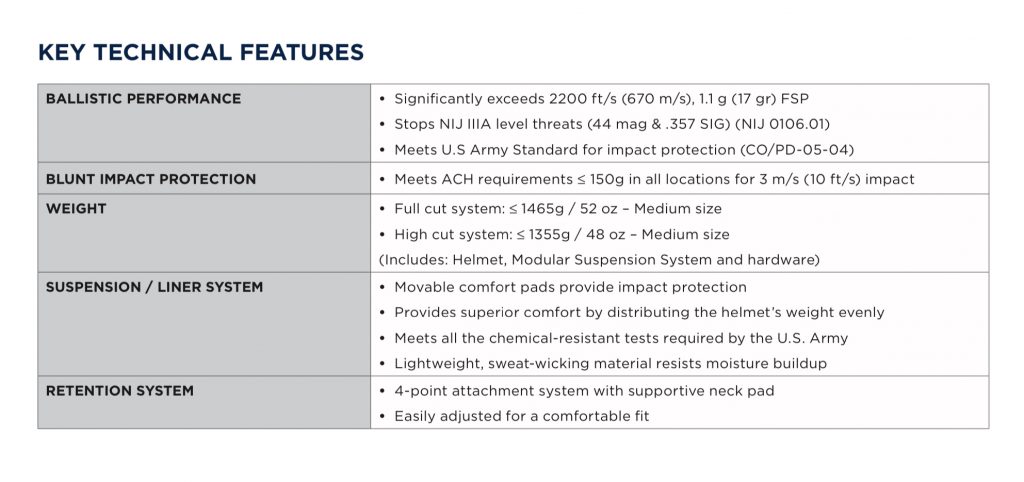 ---
Warranty Information:
Galvion warrants its products to be free of defects in material and workmanship for the following periods after the date of first sale from an authorized dealer:
Batlskin Helmet shell: 7 years
Batlskin Helmet components-non consumable (fit band, hardware, buckles): 3 years
All other Batlskin products-including consumable components (comfort layer, impact pads, retention system): 1 year
Nerv Centr Power Systems: 1 year
Only the original purchaser of a product is eligible for warranty coverage. If a product is found to be defective by Galvion, in its sole discretion, Galvion's only responsibility shall be limited to repair or replacement of the defective product. Galvion will not be responsible for any costs, losses or damages incurred as a result of loss or use of product.
Discounts:
"Galvion is committed to supporting the men and women who have served and continue to serve. We offer a 30% discount to veterans, active duty military members, law enforcement personnel, firefighters, EMT's and first responders via ID.me, a secure, easy-to-use identification verification platform—to process all military and law enforcement discounts." The process to get accredited with ID.me is really easy and takes a few minutes to sign up for it. Only thing needed is a way to upload a valid form of Departmental or Military ID and have an email that coincides with it like a departmental email address.
---
How to properly Measure for proper fitment:
When ordering your helmet, please use this chart below on how to properly measure your head for proper fitment.
---
Conclusion:
After our subjects were able to adjust the helmet to fit their heads properly, we found that most of them thought it was heavy at first, but overall wasn't terrible. Majority of the subjects said that it felt like they were drunk while wearing the helmet at first, due to it being top heavy. They did like the comfort knowing that the helmet would protect them against handgun calibers, which is the most commonly used weapons of choice of most criminals.
Pros:
Easy To Adjust – One handed adjustment system is amazing!
Could wear hair in multiple fashions (Down, Braided, Pony Tail, etc)
Can add "Shock Absorption" to make it more impact resistant.
Price Point
Cons:
Heavy compared to the Caiman Bump System Helmet
Hot over time, especially in the summer heat.
Strains neck over time as well.
Sighting of rifle a bit wonky, but does get better over time.
If ladies have longer or thick hair, you have to wear it a certain way (up) to sit properly or just wear it down.
Here are the average grades for Range of Motion (ROM), Level of Comfort, Ease of Use, Adjusting, and Overall Ranking from 1-5, 1 being the least and 5 being the best:
ROM – 3.125
Level of Comfort – 3.125
Ease of Use – 3.75
Adjusting – 5
Overall – 4.25
All-in-all, the subject's weren't totally against the idea of having some sort of ballistic helmet to protect them in a SHTF situation. So win-win!  If you are in the market for a great American Made Ballistic Helmet, then check out Galvion to see if it's right for you. Also, hopefully this will help out or females when trying to find a right helmet for them and make it a bit easier to find one for your significant other. Times are changing and there is nothing wrong with being prepared for the worst! If you think the Viper A3 Mission Ready Ballistic Helmet fits your build and wanting to purchase one or any other Galvion products, send an email to customercare@galvon.com.
Again, this ballistic helmet was liked by all reviewers and will work for most users with the appropriate sizing. The subject's reviews are just their own, so keep that in mind. Again, the female subjects do not have to wear ballistic helmets and this is the first experiences with ballistic helmets. This review is for the average female just looking for a way of protection and for something that is designed for quick deployment and be carried in their vehicles or kept at home in the event something goes down.
As always, ya'll be good and be safe!