So keeping with trying to find a good plate carrier for a female, we decided to try out RTS Tactical Plate Carrier that comes with their Ultimate Bundle. If you are unfamiliar with what we're trying to accomplish, let me refresh your memory. When looking online for plate carriers, you typically see videos on YouTube usually showing males. When trying to search specifically for female plate carriers, there wasn't anything found on YouTube or the Internet.
So it got me thinking, what is out there for females that offer protection against the evils in this world. We decided we wanted to test a variety of Plate Carriers on a few female subjects and grading each carrier on Range of Motion (ROM), Level of Comfort, Sitting, Ease of Use, Adjusting, and Overall Ranking. The subjects will be grading each category from 1-5, 1 being the least and 5 being the best. Full disclosure, the subjects do not have to wear plate carriers for their full-time jobs and this is their first experiences with plate carriers in general. Our subjects range from fit to curvy (Size 2-14).
---
RTS Tactical is a company based out of Florida that offer tactical gear at very affordable prices. This particular Ultimate Tactical Bundle was $239.99 (Multicam) when I purchased it back in April 2020. Currently at the time of this review (August 2020), the price has jumped up to $299.99 (Multicam) but are currently out-of-stock. They are offering the same Plate Carrier and Plates but as a
Level III Steel Active Shooter Kit
and selling for $229.99-$249.99. The Ultimate Tactical Bundle includes the Plate Carrier with two (2) 10″x12″ AR500 plates (Level III NIJ 0101.06 High-Velocity Rifle Ballistic Protection Single Curved SAPI Cut), Blackhawk! Elbow/Knee Pads, and Blackhawk! Gloves.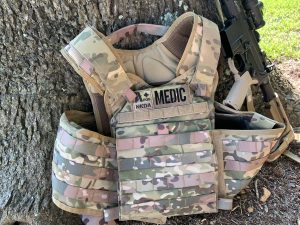 To be honest, I purchased this plate carrier for myself, but I wanted to see how it would fit on females. My wife wanted to try it on after she tried on the HRT HRAC Plate Carrier and she fell in love with this one! She really liked the support it had and felt like she was covered.
Here are the specs on the Plate Carrier.
500 Denier Cordura
Upgraded shoulder support system that improves load distribution and comfort
Fast donning platform while operating in an active shooter/first responder situation
3DX mesh sculpted internal lining, this plate carrier will breathe and offer comfort. Increased air flow = lower thermal load
Quick hook-and-loop fastener adjustments for the front, back, and shoulders
Full 360 MOLLE webbing platform allows the operator to transform from a high-speed plate carrier set up to a heavy-duty assault platform variable to the operator's needs
Allows to add 6″x8″ Side Plates (Additional Fee)
Side closure system with "pull forward" adjustment, this allows for full operation of the Plate Carrier without the need of the Heavy Duty Reinforced drag handle
Offered in Black, Coyote, and Multicam (+$20)
Weight 3.6 lbs.
Cummerbund included
---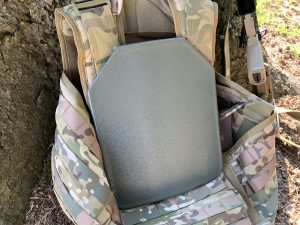 Again, full disclosure, the subjects do not have to wear plate carriers for their full-time jobs and this is their first experiences with plate carriers. We had our subjects wear the RTS Tactical Plate Carrier with the provided 10"x12" AR500 Plates (7.9lbs each) that came in the bundle around the house first to get comfortable wearing it. Then we had them jog, perform jumping jacks, forward lunges, and then pushups. We then went to the rifle range and had them fire weapons while wearing the plate carrier. In typical North Carolina summer fashion, it was hot when we had the subjects test out the carrier. The temp was 81deg F (felt like 87deg F), 45% Humidity, and 9mph W winds.
| | | | | |
| --- | --- | --- | --- | --- |
| | Subject 1 | Subject 2 | Subject 3 | Subject 4 |
| Height | 5'4″ | 5'2″ | 5'3″ | 5'7″ |
| Weight | 133lbs | 155lbs | 190lbs | 205lbs |
| Measurements (Bust & Rib Cage) | 38″ – 28″ | 36″ – 32″ | 42.5″ – 36″ | 44″ – 37.5″ |
Below are the findings from the subjects:
Pros:
Lightweight
Compact
Fit all subjects
Very Quick deployment
Very Quick user adjustment
Cummerbund feels like it adds more support
Easy to adjust Cummerbund
Multiple Plate Usage
Very easy to install plates
Cons:
Shoulder Straps too wide making ROM not great when lifting up arms (Pinches neck) or shooting
Can't remove side straps with buckles
Harder to fit petite (size 2) women due to lack of hook and loop on cummerbund
Lack of color choices (Black, Coyote, Multicam)
Here are the average grades for Range of Motion (ROM), Level of Comfort, Sitting, Ease of Use, Adjusting, and Overall Ranking from 1-5, 1 being the least and 5 being the best:
ROM – 3.375
Level of Comfort – 4.125
Sitting – 4.125
Ease of Use – 4.25
Adjusting – 4
Overall – 4.25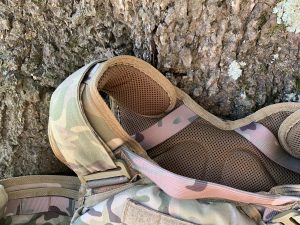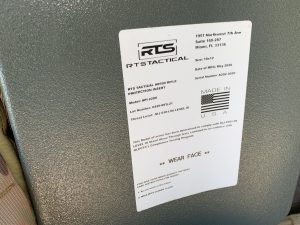 ---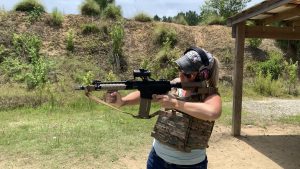 Some improvements that the subjects wanted to address and would possibly make it more tolerable would be the shoulder straps. Maybe slim them down just a bit so it isn't digging/pinching into the neck when raising arms. To be honest, when I wear this plate carrier, it pinches my neck as well when raising my arms or even drawing a weapon. Also, maybe offering more color choices like OD Green or even Gray. A lot of manufacturers are moving towards a gray color due to it being more neutral. Actually, the gray portion came about because my wife has a Gray Glock 19 and a Gray AR and wanted a plate carrier to match them. (Insert facepalm)
---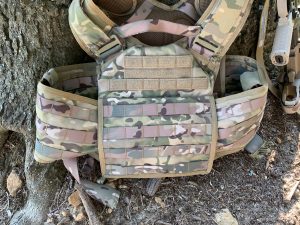 If you are interested in purchasing the RTS Tactical Ultimate Bundle or any other Plate Carriers from RTS, visit their website. If purchasing from one, be mindful that currently, at the time of this review, shipping has approx. a 30 business day lead time (Not including Holidays). I ordered this bundle at the end of April 2020 and it didn't arrive until mid-June 2020. Also, you might see a lot of negative reviews on their Facebook and on their product page about shipping, but know that the product is well worth the wait. It is also noted that RTS will bill your credit card even though the product hasn't shipped yet, so don't be alarmed. They will get it to you, just be patient with them.
Overall, this Plate Carrier was liked by all reviewers and will work for most users. The subjects reviews are just their own, so keep that in mind. Again, the female subjects do not have to wear plate carries and this is the first experiences with plate carriers. This review is for the average female just looking for a way of protection and for something that is designed for quick deployment and be carried in their vehicles.
As always, ya'll be good and be safe!