Are you stuffing your ammo and equipment in a cheap duffel bag you bought in college? Or maybe you're tired of getting to the range and realizing you forgot your ear protection or cleaning kit? You need a range bag.
Increasingly popular, a range bag can enhance your time on the range by providing a durable transport solution that can be completely customized to your liking. Whether you're looking for a bag that rolls or one that is 100% made in the United States of America, we've rounded up the best range bags on the market for 2020.
Whatever you pick, we're sure one of these bags will help make this your best year yet on the range.
—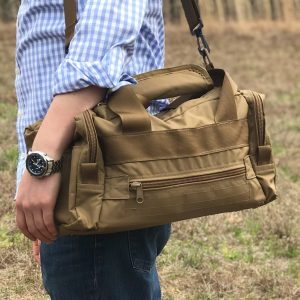 1. Lynx Defense Pistol Range Bag
Dimensions: 13" × 10" × 8"
Available in Black, Tan (FDE), Gray, Blue, Navy, and White
Lynx Defense built its pistol range bag to protect your gear, keep it organized, and withstand whatever environment you throw at it. This 100% American-made bag features durable, military-grade 500D Cordura fabric and heavy-duty zippers that won't budge in transit or get off track. Modular pistol and magazine inserts allow you to customize your bag to fit your needs at the range or on the go. Plus, it comes with a built-in cleaning mat you can roll out with ease to protect your pistol and tools while on the range or during cleaning.
Lynx Defense offers a lifetime manufacturer warranty on this bag.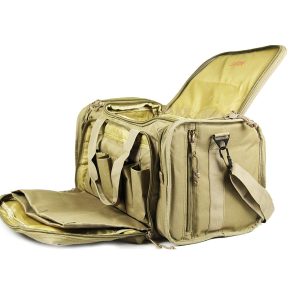 2. OSAGE RIVER Tactical Range Bag
Dimensions: 13" x 18" x 7"
Available in Black, Tan, Gray, and Green
Built for the casual sportsman, the Osage River Tactical range bag is versatile and does well at the range and as a blind bag if you're a hunter. It's made from 600D ballistic nylon and includes two pistol pouches and two large pockets to hold ammunition. If you're looking for a bag to get you started in the sport, this one will cover your basics and will hold up to everyday wear and tear.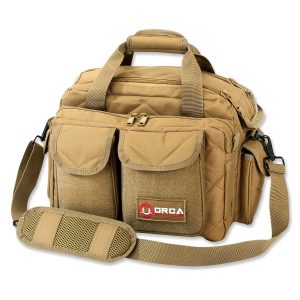 3. Orca Tactical Range Bag
Dimensions: 16″ x 11″ x 9″
Available in Black, Brown, and Green
The Orca Tactical Range Bag just plain looks tough with it's quilted fabric and rubber scuff pads. It can hold up to three handguns plus gear with plenty of extra compartments for things like ear and eye protection and cleaning tools. And it's construction makes it look deceptively small — it can hold much more than you think at first look so much so they also advertise it as a camera bag and tactical diaper bag.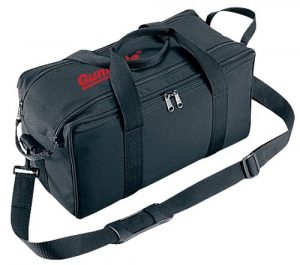 4. Gunmate 1919687
Dimensions: 16″ x 8″ x 7″
Available in Black
While this bag isn't the most decorated bag on the list, it gets the job done and has a cult following on Amazon. Its no-nonsense size will accommodate your gear without losing its shape, and the China-manufactured construction doesn't sag or slump when it is empty. It's great for shooters just getting into the sport or those who prefer a no-frills approach to their gear.
5. G.P.S. 2215RB Rolling Range Bag
Dimensions: 20" x 13" x 16"
Available in Black
For those of you who are truly on the go all of the time, a rolling range bag may be perfect for you. But this bag weighs in at 11 lbs before you've even packed up your gun and first round of ammo. There are plenty of easy to access, exterior pockets for ammo and accessories, but the bag does lack some customization features inside. However, it does boast a visual ID storage system with clearly marked pockets for ear and eye protection, targets, binoculars, tools, and more.