After receiving my Lynx Defense 36″ Double Gun Bag last year, I really wanted to try out their Pistol Range Bag. Sadly, every time I got the notification that they had the FDE version in stock, I went to place an order a few days later, and it was sold out. They had the Black version in stock, but I wanted something different. I contacted them directly, and they actually had one left. I was definitely in luck! A made in the USA range bag was on my list to pick up! They said they sell out very fast of the FDE, and I believe it. They had it shipped to me in no time, and I was out on the range with it after a couple of days of looking it over.
If you are unfamiliar with Lynx Defense, here is the down and dirty version of their company – Lynx Defense is a North Carolina-based company specializing in pistol and rifle bags, as well as field packs. Lynx Defense has been in the gun market since 2013. One key feature I really like about this company is that everything they make is 100% Made in the USA and is Berry Amendment compliant.
There's nothing better than supporting small local businesses that produce 100% Made in the USA products! There are many vendors out there that sell cheaper products but have the dreaded "Made in China" label on the inside. Not this one!
Range Bag Made in the USA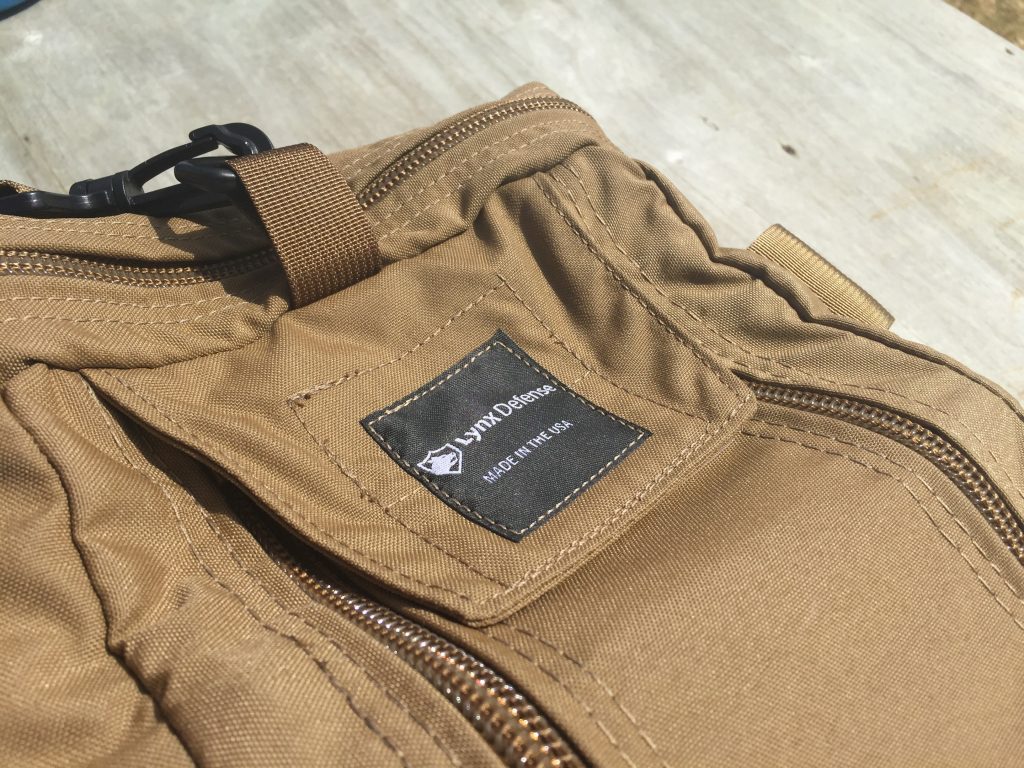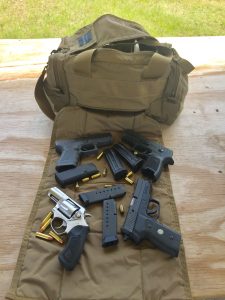 So what made me want this pistol bag? Well, I love the features that it comes with. First and foremost, it's made out of 500 Condura fabric so that it will withstand the outdoor elements. It comes with two removable/configurable inserts that feature a gun holder as well as magazine holders. I fit an array of magazines in the elastic mag holders to include double stack and single stack magazines. Each holder is made from a sturdy Kydex-style material that holds up two pistols very well. I was able to carry a Sig P320C and a Sig Sauer P225-A1 with ease. Each holder is detachable and can be moved around the inside of the bag to meet your needs using Hook and Loop Velcro.
The one main feature I love about this pistol bag is the built-in, detachable range mat. Why on Earth would anyone want to have a range mat in their bag? Well, if you think about it, some ranges don't have a safe place to clean/work on your weapons if something happens. Most ranges do not offer some material covering the wood bench where you place your firearms. According to Lynx Defense, "the mat was designed for safe placement of your firearms while at the range. The mat is also great for cleaning your firearms. The mat itself is an easy to clean fabric, so it makes clean-up of your gun cleaning a breeze."
Some shooters say, "pistol range bags do not carry a lot of stuff in them. Just get a backpack to carry everything." Actually, I was able to carry about 250rds of 9mm ammo, one box of 38 special, two handguns, and all my range gear in this bag. The dimensions of the bag are 16″ L x 12″ W x 9″ H. It's actually quite a bigger bag compared to others out on the market today. Talking with Lynx Defense, they actually designed this bag with Law Enforcement and the Military in mind. They built it because LEO's tend to carry a lot of equipment at all times and tend to abuse their bags. Lynx Defense wanted to make something that would actually hold up on duty and at the range.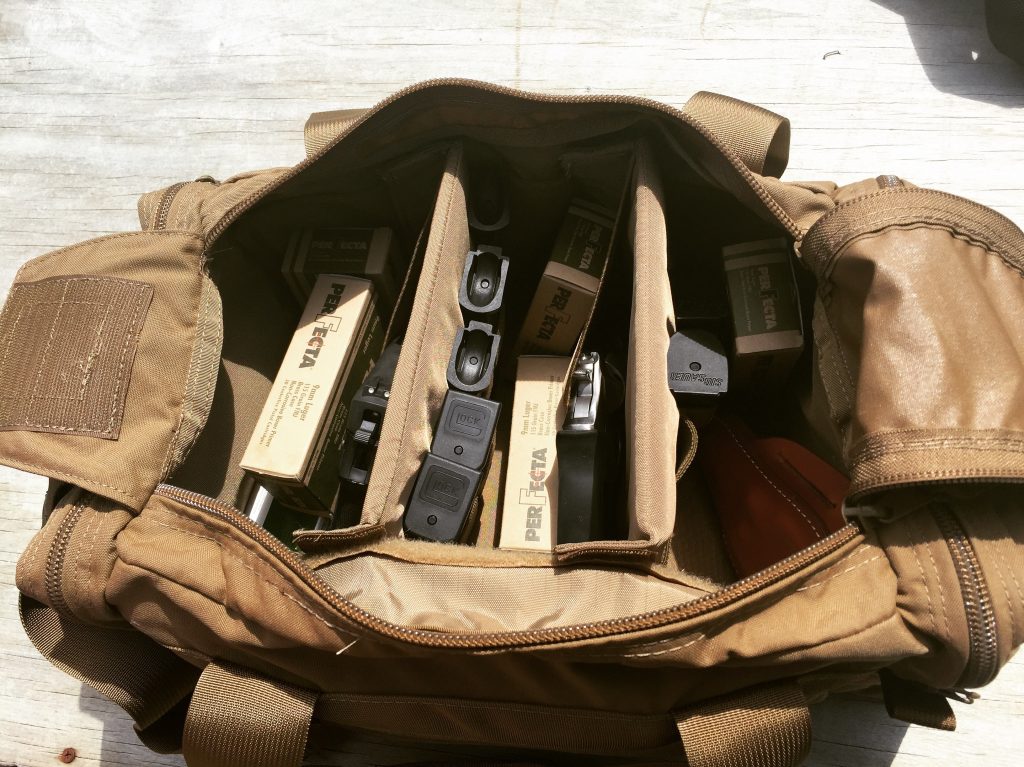 The Pistol Range Bag offers a lot of different compartments to store your smaller gear. Zipper pockets are located on each side of the bag, and a smaller velcro pocket on the outside of the bigger zipper pocket. There are two ways of carrying this bag, using the shoulder strap to sling it across your shoulder or carrying it in your hands using the carry handles. When looking at this bag, the overall quality is just amazing. Every thread, zipper, piece of velcro, and fabric are from US companies – making their products in the USA. I can't get over that it's all made in the USA, and the bags are manufactured in Sanford, NC. The stitching quality is excellent, and the divers' elastic inside seems to be holding up nicely after a few range trips.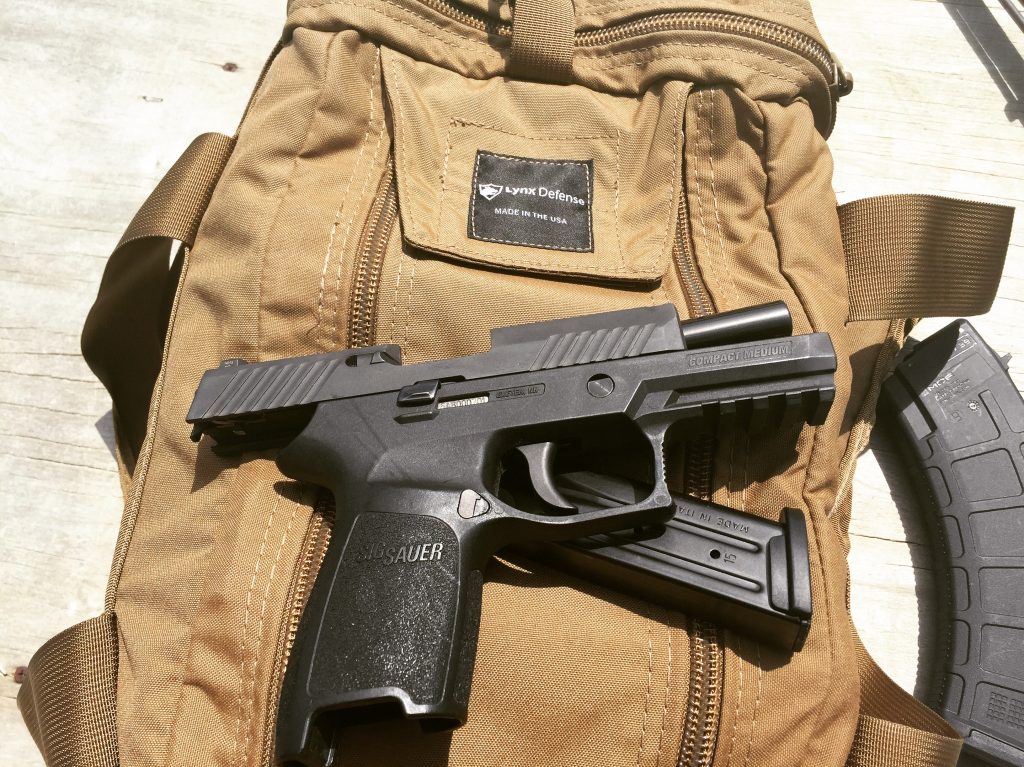 Pricing for the Lynx Defense Pistol Range Bag is a little on the higher side due to it being 100% Made in the USA and is Berry Amendment Compliant. It's coming in at $149.99. Don't let the higher price scare you off. You get a lot of bang for your buck. I really love this bag because the Limited Lifetime Manufactures Warranty against defects, not against normal wear. Most companies don't even offer that. I've purchased products (not from this company) in the past, taken said product to the range, and some stitching had come undone/frayed; and I contacted the manufacture of said product, and I was basically SOL. It's good to know that this company stands behind its products. Also, additional holders/dividers are available from Lynx Defense Directly for $28. So making this bag custom-tailored to your needs is a breeze. They offer additional gun holders and mag holders. I wish Lynx Defense would do to make this bag even better to add some MOLLE attachments to one side of the bag so I can put on my IFAK or extra pouches on it.
If you are in the market for a new Pistol Range Bag, then check out Lynx Defense and see if it's right for you. For me, it's perfect! I'm out at the range almost every two weeks, and it's been holding strong!
As always, ya'll be good and be safe!