After receiving an email from Rainier Arms showcasing their "Sales" for the weekend, I noticed that they had their 38″ Project Cordite Rifle Case on sale for $44.99, regular price is $90. It was the "right place at the right time" since I have been looking for a "budget" rifle case for our "Budget Rifle" Build. What made me decide to purchase this case was the fact that it has a harder exterior shell and almost velvet like interior.
"The Rainier Arms Project Cordite rifle case is the perfect gear for logging time at the range or for an outdoor adventure. With premium padding, functionality, and durability, this is the rifle case to own."
Features:
Padded foam material for firearm protection
Soft debossed fleece interior lining
2 interior zippered pockets
Hook and loop tie straps to secure your firearm
Size: 38″ x 12.5″ x 3″
---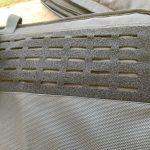 When the rifle case arrived, I honestly didn't know what to expect. I knew from looking at the pictures that it appeared to be well made and thought out. The exterior offers you a hard plastic for protection as well as velcro to put your favorite patches or name tape on, so you can easily identify it at the range. The other side always offers MOLLE, so you can put some other items on the exterior. Inside, there are two straps to hold the rifle in place and there are two zipper pockets on the opposite side, which can hold magazines or other range items.
The Bear Creek Arms 16″ Rifle fits like a glove, even with the Streamlight HL-X attached to it as well as the Vortex Crossfire II Optic. All-in-all, this rifle case is a great buy for the money, especially if you can get it on sale for $45. It is well made and didn't have any stray strings anywhere that I could see.
If you are in the market for a new rifle case for your 16″ AR15, then check out the Rainier Arms 38″ Project Cordite Rifle Case and see if it's right for you!
As always, ya'll be good and be safe!