When Memorial Day weekend came around, I knew I wanted to purchase a "Budget-Friendly" AR15 and see what it could do. I knew I wanted to support a company that is local to North Carolina and I ended up going with Bear Creek Arsenal. Now, I know in the past, Bear Creek Arsenal had a bit of trouble with ICE, but since then, things have settled down. After talking with one of my buddies, he suggested to give them a chance.
Bear Creek Arsenal (BCA) is located in Sanford, North Carolina and have been in business for quite sometime. The CEO and Navy Seabee Veteran, Eugene Moore says, "For almost a half a century, we've worked diligently to establish an exemplary reputation for delivering the highest quality of machined products in the industry. Bear Creek Arsenal develops and manufactures firearms and firearm products to a multitude of customers throughout the United States with one primary focus: providing the highest quality of firearms for the everyday American."
Their "state-of-the-art facility stretching over 340,000 sq. ft., employs over 500 employees, right in the heart of Sanford, North Carolina. With 300 of the latest industry standard CNC machines, Bear Creek Arsenal's firearm output covers a wide variety of calibers, finishes, and fluting. Our barrels are produced from 4150 Gun Barrel Quality Steel Chrome Moly or 416R Stainless Steel, our bolts are made from 9310 Grade Steel, and our receivers are forged from 7075-T6 Aluminum forgings." BCA's facility runs 24/7 and is trying to keep up with the demand of the gun market thanks to the gun owners last year buying up product so quickly. BCA is known for their affordable AR15, AR10, and AR9 Platform for rifles, pistols, barrels, and assemblies.
Their newest addition to their line of affordable AR15 platform rifles is their proprietary Side Charging Upper assembly. Although this technology for them isn't new, they have updated their Upper Receiver to make it more streamlined and not so "blocky" as their Gen 1 design. After mulling it over, I decided to just go with a standard Mil-Spec AR15 Upper Receiver. Although the idea is cool of a Side Charging AR15, I just wanted to have something that wasn't proprietary.
One thing that really drew me to BCA was their warranty. BCA offers their Bear Den Guarantee. The Bear Den Guarantee is a limited lifetime warranty, designed to give you the security of knowing that your purchase is protected, covering all defects, whether it be a flaw in the materials used or a missed step in workmanship.
What voids the Bear Den Guarantee?
Cutting, modifying, or misuse of a BCA product
Having another manufacturer work on a BCA product
Damage caused by using high velocity or high-pressure ammunition, tracer ammunition, or hand-loaded ammunition
Normal wear and tear
---
During BCA's Memorial Day sale, I found that it was cheaper to purchase the completed lower and then purchase their completed upper. The lower was $160 and the upper was $279. So for about $480 after taxes and shipping, this definitely makes for a "Budget AR15". I ended up saving about $300 by purchasing the lower and upper receiver separately (Complete rifle sells for $780 after tax and shipping). So, win win! With the savings, I was able to purchase a Vortex Optics Crossfire II, two Magazines, used Magpul MBUS sights, and a few boxes of 5.56/.223.
When the lower arrived at my LGS, I opened up the box and first thing I noticed was the engraving on the receiver. To me, it appears that they just had a lot of "mass lowers" that were already coated, and then they decided to add the product serial number and their logo after the fact. For me, it kind of takes away from the lower overall and it truly stands out, almost making it look "cheap". I wish they took the time to have the lowers engraved first, and then have them coated. Eventually I will just color fill the engraving and it will just blend in. The overall features of this lower is a no thrills AR and is standard Mil-Spec all the way around, to include the buffer tube and trigger.
For the Upper Receiver, I decided to go with their Billet Receiver sporting a 5.56 NATO 16″ 1:7 Twist Parkerized M4 profile with a Mid-Length Gas System. I chose the Mid-Length Gas System, because I wanted to try something different. All my other AR's are Carbine Length Gas Systems. One thing I really like about this upper was the factory installed 15″ M-LOK Rail. With this rail already installed, it saves me time and money later on when I start adding on the extra accessories.
Taking this rifle out to the range, I was able to zero in the rifle at 25yrds with just a few shots. It was holding relatively tight groups with different types of ammunition. I found that this rifle really liked the standard 55gr ammunition. Although, the 62gr shot nicely, but this rifle really likes the 55gr better.
---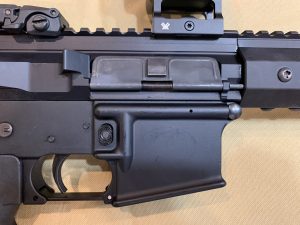 Overall, this rifle will make for a great "Truck Gun" or for the new shooter that is just wanting to go to the range to plink or potentially use this rifle to defend their homestead. With the addition of the Vortex Optics Crossfire II, two Magpul Magazines, and the used Magpul MBUS sights, the total for this rifle is sitting right at $645, which again makes for a great "Budget Friendly" Rifle. Unfortunately, a few years ago, you could have purchased an entry-level rifle from Ruger or Smith & Wesson for under $500, but with inflation and increased demand for rifles, entry level rifles are reaching the $700-$850 mark. So, for $645 this rifle isn't too bad at all with the addition of optic, magazines, sights and ammo.
Would I take this rifle into battle? More than likely not. To be honest, I haven't put enough rounds through this rifle and really put it through it's paces. But for a weekend plinking gun, hunting rifle, or something to just have around for fun…this rifle will do the job!
---
Over the course of this rifle's life, I will be using it as a base-line for testing out different "budget friendly" items to include: optics, triggers, and accessories in future reviews.
If you are in the market for a "Budget Friendly" rifle and/or new to shooting rifles and wanting to dabble into the AR market, then check out Bear Creek Arsenal and see if any of their products fit your needs. BCA offers the most common calibers to include: 5.56/.223 Wylde, 300 Blackout, 7.62×39, 6.5 Grendel, 9mm, .350 Legend, .450 Bushmaster, .458 SOCOM, and 12.7×42 (50 Beowulf). Most uppers range from $300-$400 depending on caliber and barrel length.
As always, ya'll be good and be safe!