The Savage Axis .270 caught my eye because of the price, sleek design, and function of the Axis. The Axis I picked up was the synthetic stainless steal Savage Axis, but there are a number of other options; including calibers and stocks.
Shooting
Shooting the Axis .270 was about as smooth as anyone could hope for. The fact that the Axis only weighs 6.5 lbs helps with carrying the rifle around and stabilizing it for shooting & aiming. The recoil on the gun is what one should expect from a .270 and if you are unsure of what a .270 recoil is like, it is between 30-06 and a .243. There is a decent rubber shoulder butt-plate to absorb most of the recoil and it does a decent job. So in plain English, the recoil of the Save Axis .270 is apparent but it's not going to rock your world.
I prefer the .270 but the Axis is made in the following other calibers as well: 22-250 REM, 223 REM, 243 WIN, 25-06 REM, 270 WIN, 30-06 SPFLD, 308 WIN, 7MM-08 REM
Trigger Pull
The Axis has a pretty heavy trigger pull and sadly does not come with the Savage Arms Accu Trigger. Your accuracy can be affected by having a heavy trigger pull, but don't fear finding a tutorial on how to lighten the Axis's trigger pull; it's only a click away! While there is no "quick" or "easy" swap to an accu trigger for the Axis platform, one can be modified and custom fit for the Axis.
Build
The Axis is impressively solid for a gun in the $300 price range. The bolt has no play and cycles better than its Remington competitors that I have held and cycled. While I have not run this gun through the roughness and seasons of hunting, the Axis appears to be holding up well with most of the shooting done on the range. I put a Bushnell scope on the Axis and sighted it in. I plan on doing a separate review on that scope and in that review I will note some more experiences on the Axis.
Summary
Overall, I would have to highly recommend this rifle to anyone that is looking for a budget rifle. Frankly this rifle gives the high dollar rifles a run for their money. While it doesn't have a lot of the "bells & whistles" the high dollar rifles come with, it shoots great and you can send rounds down range reliably. As always if you have any other questions about the Savage Axis that we did not cover feel free to leave a comment or email us.
Also we gladly accept criticism!
[expand title="See specifications and photos"]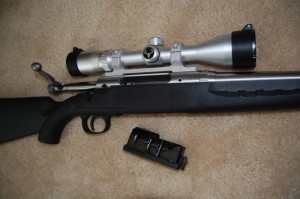 Specifications:
Caliber:
.270
Sights:
None/Drilled and tapped for scope mounts
Length:
43.875″ Overall /22″ Barrel
Weight:
6.5 lbs
Capacity:
4+1 Rounds
Stock:
Synthetic
Receiver:
Stainless Steal
MSRP:
$375
[/expand]