This spring and summer has brought a ton of great gear to the market. Epic Tactical went through all of the new releases in order to showcase the hottest new survival gear of 2014. From guns and knives to coolers and stoves there were innovative, interesting, and useful products being released. Everyone from old survival standbys Gerber and YETI to upstart Biolite had something to show off. To top it all off, we're also looking at a few new pistols and VG6's brand new AR-15 muzzle brake.
[expand title="Check out the full article"]
YETI Hopper 30 Cooler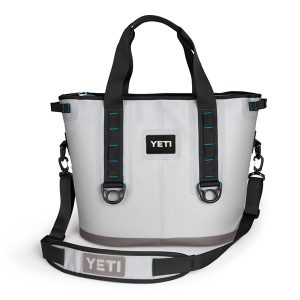 Anyone who knows coolers knows that YETI is the best in the business. They're known for their big, durable, and premium-quality hard coolers that keep cold for days, and even up to a week. Until now, YETI really hasn't had much in the way of portable chill chests, but as of October that's set to change.
The YETI Hopper 30 is a mid-sized soft cooler that's completely leakproof and features YETI's patented insulation. Although it hasn't hit the market yet, it's already getting great reviews from the few sites that have managed to get their hands on one.
Although this is one expensive cooler, with a MSRP of $300, if YETI can deliver on their promises it might just be worth the investment. Being able to keep your food ice cold for 3 days in the forest makes this an attractive option for hikers and hunters.
Gerber's Breaching Tool and Knives
The popular American knife manufacturer Gerber showed us a lot of top-notch gear this year, including a couple of new blades and a tactical entry tool. The Ding Dong Breacher combines a pry bar and sledgehammer in order to make getting through just about any door a breeze. At slightly over 12lbs and 10 1/2" it's surprisingly portable, and Gerber has made it even easier to carry by including a MOLLE-compatible fiberglass sheath.
Among other knives, they put out a beautiful tactical folder as well as the Ghostrike, a lethal 2 1/2" punch knife that's ideal for close quarters combat and self defense. Their new Edict tactical folder is everything you could want in an EDC knife, with a tough composite nylon handle, buttery smooth action, and a ceramic-coated 154CM corrosion-resistant tanto blade.
Check out the Gerber's Breaching Tool on Amazon
Check out the Gerber Gostrike Punch Knife on Amazon
VG6's Gamma 556 Muzzle Brake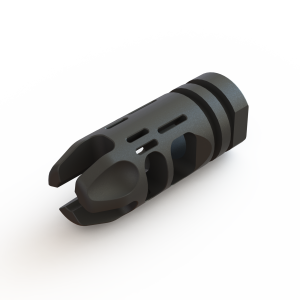 When it comes to brakes and compensators for AR-15s, VG6 has a long history of producing quality products. Their new Gamma 556 brake is no exception. It features a gas port on top, flash hiders, and noise-reducing acoustic redirection. All of these features make this exactly the sort of brake you need for your rifle if you're firing it in a self defense situation.
Walker Armory took a look at the Gamma 556 and their results speak for themselves. According to their demo, the porting entirely eliminates recoil in semi-auto mode and their full-auto tests show that there is no muzzle rise whatsoever with this brake installed. Muzzle brakes are something of an overlooked accessory for many AR owners, but the VG6 is an excellent upgrade if you're in the market for one.
BioLite BaseCamp Stove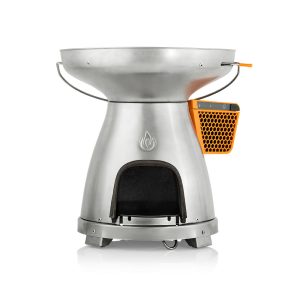 Everyone was talking about this compact camp stove when it first hit the market in late 2012, but BioLite has an updated model out this year billed as the BaseCamp. The reviews are finally in and the BaseCamp performs just as well as the original. If you haven't seen this big rocket stove yet, it generates DC electricity using the heat from your campfire, and can recharge a smartphone, GPS receiver, MP3 player, vaporizer, or just about anything else with a USB power cord.
It's been getting rave reviews, not just for its ability to charge your devices, but also for its exceptional performance as a stove. All it takes is a handful of sticks or small branches and you can keep warm, grill up a meal, and top off your batteries all at once. It's a bit large for ultralight hikers but, if you're car camping or taking a frame pack, then you're going to want to bring a Biolite with you.
Check out the BioLite BaseCamp Stove on Amazon
Handguns
A lot of great handguns debuted at SHOT Show early this year, but three in particular caught our eye. The first, an ultra-compact SIG P290RS 380, is made for concealed carry. It's got a lightweight polymer frame with a stainless steel slide and a crisp, clean trigger that's perfect for snappy .380. SIG delivers everything you could want in a small pistol, keeping the weight down to just over 1lb fully loaded. The P290RS 380 holds 8+1 rounds, has a 3-inch barrel, comes in double-action only, and is compatible with their 290-TGL 1-ounce laser module.
Browning also debuted a .22LR plinker based on their compact 1911 frame. The 1911-22 A1 is a lot of fun to shoot, combining the lines of a classic 1911 with the affordability and accuracy of .22LR. The 1911-22 A1 comes with either an aircraft aluminum or polymer frame in your choice of three colors. It has a 10+1 capacity, an optional rail, and 4 1/4" barrel.
Finally, Italian manufacturer EMF showed off their new revolver, the Great Western II "Liberty." The Liberty is a 6-shooter that looks like it came out of a Western, thanks to the dramatic scroll-work and ivory lookalike grips. The Liberty comes in both .357 Mag and .45 Long Colt, and in both 5 1/2" and 4 3/4" barrels. It's well-made, with a crisp trigger, smooth action, and just enough weight to keep it from jumping around in your hand. [/expand]