With it's taunting picture that was posted on Geissele Instagram on December 30, 2016, we've all been wondering what Abe and Moe is all about? Then on January 3, 2017, Geissele posted on their Instagram that Abe and Moe stands for Abraham and Moses and this sister company will be specializing in Survival Products. What kind of Survival Products will they be specializing in? Well, we stopped by the Geissele Automatics Booth to get the scoop after seeing on Facebook the launch of their new knives!
---
---
Their introductory knife the "Lou Goodman- Special Operations Combat Knife" was designed with Operators in mind. Lou Goodman is a retired Army Special Operations operator and has been in the market of making knives for quite sometime and this one was especially designed by him for Geissele. This knife is a PD1 (Punch and Die 1) Steel knife that is 60 Rockwell. The steel is triple tempered and the blade is between 60-62 Rockwell and then is tempered another three times, for a total of six times tempered.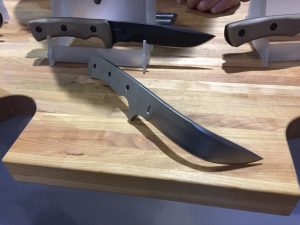 The sheath is made out of 7075-T6 aluminum and is offered with a friction lock or a push button lock. It also comes with two carry options: carrying on a Chest Rig via MOLLE Attachments or you can carry it on your belt. These knives have been tested using a 100ft/lb bar and turning the handle 90deg and the blade still retained its form and it did not break or crack! MSRP is coming at $750 and will be available Spring 2017.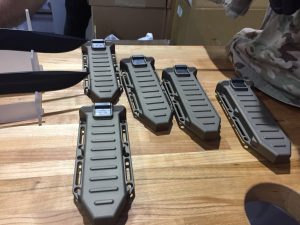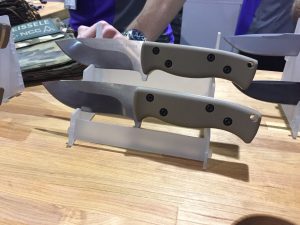 Another knife available from Abe and Moe is the AM-1. It is a G10 Handle, full-tang knife (lightened due to cut outs) and is made out of PD1 steel (Just like the Lou Goodman knife). It comes with a leather sheath and is designed for hunting. This knife was designed by Bill Geissele and his sons. MSRP for the AM-1 is coming in at $300 and will be available in Spring 2017 as well.
These knives feel really good in the hand and have great balance. I'm hoping these knives will always be made in America and not abroad. But If they decide to be made abroad, it will more than likely lower the cost of these knives, but only time will tell. I am looking forward to see how they do in a knife market already saturated with hunting style knives.