After seeing a lot of ads on Facebook, Instagram, and viewing them "On Sale" online, it got me thinking…are these "Boots" worth the $80-$100 price-tag?
Well, while visiting my local military surplus store, GI Joe's Army Surplus, I noticed on the back wall the Altama OTB Maritime Assault Boots, and with the price tag of $80, I thought it was a good buy. So, after purchasing them, I thought I would put them through the paces to see if they are worth it.
---
First and foremost, these boots are made in Puerto Rico and manufactured by Original Footwear Company. Original Footwear Company was established in 1999, and they are also the parent company of Original S.W.A.T Boots and Smith and Wesson Footwear. Altama Boots, on the other hand, has been making boots for Militaries around the world for over 50 years.
Altama OTB Maritime Assault – Mid Specs:
Maritime Assault Boot for all tactical water operations.
Air mesh linings help wick away sweat and other moisture quickly from your foot.
Fin friendly fit; fits just about any dive fins used by Military Forces Worldwide.
Full length one piece ABS shank provides stability and support when climbing a caving ladder.
Non-shine rust-proof lace hardware.
Low Profile Lacing
Flat laces
Ultron Polyurethane contoured insole will not absorb water.
High abrasion quick drying 1000D Cordura quarter panels offered on both solid colors and Multicam.
Front non-metallic drain ports allow for water to drain easily when flexing the boot.
Offered in Regular and Wide Sizes
60 Day Comfort Guarantee
1 Year Manufacturer Warranty
13.5oz. (385g
---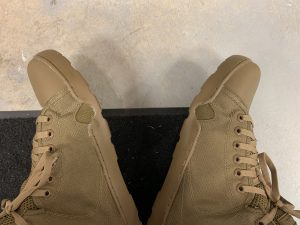 So what makes Altama OTB Maritime Assault Boots so popular? These boots have been heavily mirrored after the infamous Chuck Taylor shoes by Converse. One thing that makes these boots popular is the side drain for water. These boots are meant to be worn in the water with majority of main stream fins. I honestly, can't say that these are boots. I feel like these are more sneakers than boots. Boots in my opinion are suppose to have support for the ankles and be rugged. With that being said, these "boots" do not offer any ankle support and are quite frankly not comfortable. The Re-enforced Ultron Polyurethane cloth-less insole feels like rubber and is a non-slip material, but they are very firm and water-resistant.
Honestly, these boots do not offer any shock absorption and you can feel everything under your feet. For some, this would work, but for me, this lack of shock absorption, made my ankles hurt. I have flat feet and have problems with my ankles if I do not have support. One piece I see that is a "weak point" would be where the mesh lining is on the sides towards the toe, which they call the drain ports. Unfortunately, you can see were they are glued together at the sole and see the glue all around the sole where it attaches. While wearing, I recommend wearing a thicker sock, like a boot sock.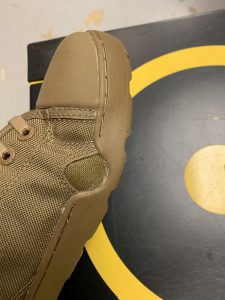 ---
If you are a fan and can wear Chuck Taylor's, I would suggest getting these. If you can't wear Chuck's, I wouldn't recommend these. For me, they just weren't working for me. Luckily, my friend wears the same size shoe as me, so he has just acquired a pair of Altama OTB Maritime Assault. For sizing, these run slightly smaller than Chuck Taylor's. Also, if you are a half size, go up the next whole size. I guess before I give him the boots, I could potentially take out the PU insole and change it out for like a Dr. Scholl's insert, but I feel like that would defeat the purpose of these boots.
As always, ya'll be good and be safe!