When Amend2 debuted their S300 at SHOT Show 2020, I was quite intrigued. It finally hit the market in 2021, I knew I wanted to try one. But is this Hybrid Grip Module just a gimmick or is it good-to-go? Let's dive right into it!
**First things first, I want to make a disclaimer.** Amend2 did send this to us to review and this is my honest review of it. No paid advertisement spokesperson here. Just my honest opinion about the S300.
So why would someone really need to have a Sig P320C that accepts Sig's P365 Magazines? Well, for starters, there are some folks that want a good form of concealability without breaking the bank. Others may want to have something smaller for their tiny hands to fit. But for most of us, it's the idea err…notion, that this is just another option for shooters. Well that's what I thought anyways.
I am a big Sig P320 fan, and I own several. When the P365's came to fruition, I was impressed, but wasn't quite sold. I'm not a big fan of the single stack pistols that are about the size of the Ruger LC9 series of pistols. They tend to have a lot snap, and the P365 was right up there with that snappiness.
---
Specs
So now enter in Amend2 with their S300 Hybrid Grip Module. This module has the following features:
The Amend2 S300 Hybrid Grip Module is a grip module designed to function with Sig Sauer P320 Style Fire Control Units and Complete Slides, while allowing use of Sig Sauer P365 Style Magazines. The result is an easily convertible concealed carry firearm, that can transition back to a full size duty gun in seconds.
Compatible with Sig Sauer P320 Style compact and full size slides (Sub compact compatible with use of compensator)
Compatible with Sig Sauer P365 Style 10, 12, and 15 round magazines
Compatible with all Sig Sauer P320 Style holsters
Full size accessory rail allows attachment of full size lights and lasers
Utilizing P320 style slides allows for use of full size optics.
Stippling on the grip and accelerator cut on the right side only.
Covered by the Amend2 Lifetime Warranty
MSRP: $59.99
---
Installation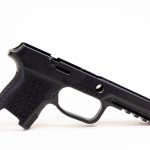 First things first, you have to own a P320 to be able to shoot with this grip module. So take down your P320 like you normally would and remove your Fire Control Unit (FCU) and you'll also need your take down lever as well. Install your FCU into the S300 Grip Module, making sure to seat it properly. We found that it's a tight fit when installing the FCU and we had to make sure it sat back far enough and locked into place. Then insert in your take down lever, and install the completed slide. Just that simple. Then check for function.
We did notice that if you have a Gen 1 FCU that it will not work with this grip module. It will have a dead trigger. If you have the Gen 2 version and up, it will work just fine. The Gen 1 was the extended slide release and doesn't have the drop safety installed. The Gen 2 has the smaller slide release and same trigger as the Gen 1. The Gen 3 (Current Version) has the smaller slide release, drop safety installed, and can come with a Flat Trigger. Again, the Gen 2 and up will work just fine in this module. Just keep that in mind if you purchase this module.
---
Ease of Use
When taking this module out at the range we did find in this configuration, that this pistol is very top heavy. Sig's P320's already have a high bore-axis, and adding a smaller grip module is somewhat cumbersome to get a good comfortable grip. I wear Medium Size gloves and this module just didn't fit in my hands well. I was using one P365 12rd and 15rd magazine.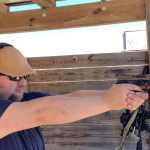 I was finding that the 12rd magazine worked just fine and cycled flawlessly. The 15rd magazine, not so much. It would jam up on the third round. After some quick diagnostic work, I found that the magazine was "walking" inside the magwell and just wouldn't seat tightly. It locked into place, but it would move around causing the jam. The 12rd magazine didn't have any play whatsoever inside the magwell. But that 15rd magazine did.
Make sure to check your magazine fitment and if they "walk" or have some "play" then be mindful that you may have some reliability issues.
---
Conclusion
In the end, would I spend the $59.99 on this grip module? The short answer to that question is no. I probably would not. Here is why. First off, the grip. If the grip was a tad bit longer, say the size of the P365X or P365XL, then it would fit better in my hand. Second, Sig P365 magazines can be quite expensive, between $40-$60. Third, the stippling is nice and has good texture, but for the right handed shooters, the accelerator cut is on the right side of the pistol, not the left. Why not do it on both sides?
So is it worth spending almost $100 for a grip module and magazine? Again, for me, no. But if I were on a tight budget, already had a Sig P320C, and wanted something that was a bit slimmer in the grip and still wanted that 12rd or 15rd capacity, then I would look into this module.
If you are in the market for something new to add to your P320 Module Collection, then check out the S300 by Amend2 and see if it's right for you.
As always, ya'll be good and be safe!