It's safe to say that hunters have used lever action rifles to put food on the table or protect themselves for over one hundred and thirty years. No fancy optics, limited capacity, and reloading, but none of that stopped lever actions from getting the job done back in the day.
From the Winchester Repeating Rifle model 1873, dubbed "The Gun That Won the West," to the Marlin 1892, the first lever action rifle with a side ejection receiver, this simple rifle with effective action continues to serve the various needs of even modern-day firearm enthusiasts.
For the modern-day user, lever action rifles have been given the tactical upgrade. This means swapping out classic metal on wood styling, with aluminum M-LOK handguards, synthetic stocks, and modern optics
Quite frankly, tactical lever action rifles look cool and function better in the role of a gun that you could use tactically for home defense or for some fun running and gunning on the flat range.
The main reason for owning a lever action rifle, is that they offer exceptional accuracy at close to mid ranges and their simple operation lends itself to reliability. Also, many support multiple caliber choices and, much like the Marlin 336, have become legends among the deer hunting community.
And there is something about a hard wood stock contrasted with the metal, using those buck horn sights, and cranking that lever that makes you feel a connection to the past, plus it's just plain fun to shoot.
Whatever your reason for getting into lever action rifles, these different styles are often a top choice among the hunting and sporting community.
Henry Repeating Arms Big Boy
The Big Boy features all the finish and styles Henry offers, each offering a classic Henry Repeating rifle look.
Their motto is "Made in America, Or Not Made At All" which simultaneously lets you know they're patriotic and value quality above all else.
The Henry Repeating Arms Big Boy rifle comes in multiple barrel lengths and calibers, with traditional designs such as a slender action lever that permits a positive grip of the stock and intuitive lever movement to case-hardened gates and big lever loops.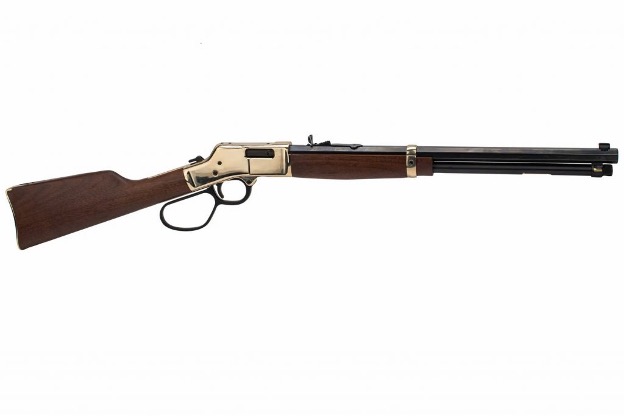 Whether you prefer the accuracy of the .45 caliber Colt caliber or .357/38 Special or even the more powerful 44 Magnum and .44 Special, there's a Henry Repeating Arms Big Boy in today's market for it.
Featuring an iconic octagonal barrel and sporting a ten-round capacity tube, multiple barrel lengths, and finishes, the Big Boy remains a significant player in the lever action line of rifles.
Regardless of what model you pick, one thing you can count on is a Henry Repeating Arms Rifle built to stringent Henry manufacturing standards that can handle even the most challenging conditions.
Winchester Model 1892
For over one hundred and twenty years, the model 1892 from Winchester has been the go-to rifle for firearm enthusiasts and some of the biggest names in history and the preferred rifle in classic western movies on the big screen.
Often seen in many modern-day Western Cowboy Action shooting events, the Winchester 1892 features easy and quick handling and promotes probably the lowest recoil of any lever action rifle on the market.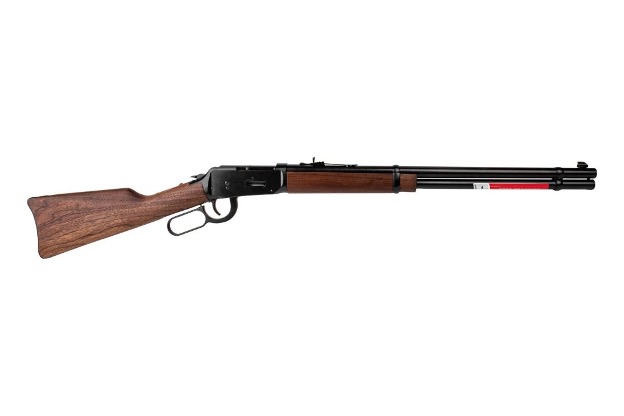 If you're a fan of western movies, you've probably seen at least one where The Duke, John Wayne, or Chuck Connors as the Rifleman operates this lever action rifle with deadly accuracy.
One thing about the Winchester 1892 that will take you back in time is it was the preferred rifle of choice for that noted sharpshooter belle of Buffalo Bill's Wild West Show, Annie Oakley.
The Winchester 1892 is one of the lighter lever action rifles you're likely to find and supports multiple pistol caliber ammunition and six different styles making it a truly affordable choice.
Whatever requirement you have, the Winchester 1892 lever action rifle will satisfy the mission while offering a sense of throwback nostalgia to historical western days.
Marlin Model 1895
When it comes to western nostalgia, the Marlin Model 1895 offers a remarkable historical tribute to the past with a few attributes of modern technology to make it a preferred lever action rifle.
Blending historic rifle technology with modern-day features, the Marlin Model 1895 features adjustable front and rear sights and comes with either a tapered or big loop lever of smooth 416 steel that's easy on the hand and as durable as they come.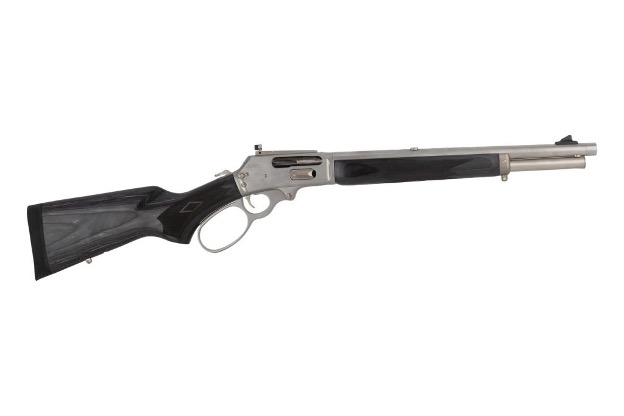 For any hunter that needs to stop a bigger game in a hurry, the Marlin Model 1895 features a chamber to support the decisive .45-70 Government round of ammunition. Boasting adequate power for almost any type of game and a six-plus-one capacity and side load receiver, this 1895 from Marlin represents one lever action rifle you'll want to include in your arsenal.
Browning BLR
This lever action rifle isn't a tribute to the rifles that won the West, but it's one of the best lever action rifles you'll want to have on your next hunting trip in the field.
Offering varying barrel lengths, the Browning BLR supports big game calibers of .300 WSM or Winchester Short Magnum, Remington 7mm-08, and the .270 Winchester ammunition.
An exciting feature of the Browning BLR is the detachable box magazine instead of a traditional tube mag. The Browning BLR detachable magazine allows you to use pointed tip ammunition for more precise shots at extended ranges and far superior stopping power.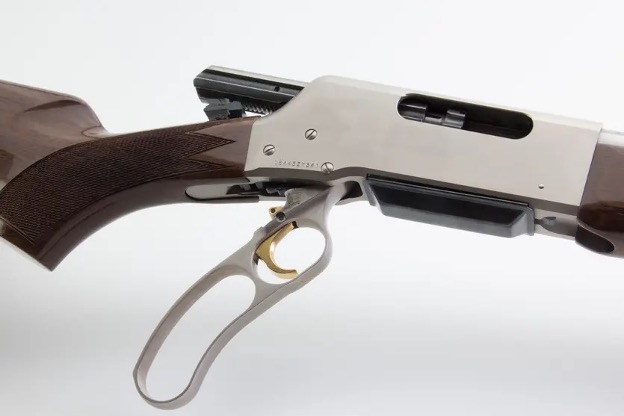 Image Credit: www.brownells.com
These higher-pressure calibers are made possible by the BLR's unique lever and bolt design, and the trigger moves with each action of the lever to prevent trigger-finger pinch when the lever is closed.
With the Browning BLR, you get a lightweight lever action rifle that delivers rapid-fire use of hard-hitting big game cartridges.
Citadel LevTac 92
This last lever action rifle represents a combination of age-old rifle technology and modern industry-standard updates. While the LevTac 92 doesn't offer a tribute to historical nostalgia, it does feature all the best tactical features you can get at a more affordable price.
For less than one thousand dollars, the Citadel LevTac 92 features either a 16.5-Inch or 18-Inch barrel and supports .357, 44 Magnum, and 454 Casull ammunition.
The Citadel LevTac 92 includes an extended M-LOK Picatinny rail system for tactical deployment of many accessories and even an optic rail for red dots or more comprehensive eye-relief optical solutions.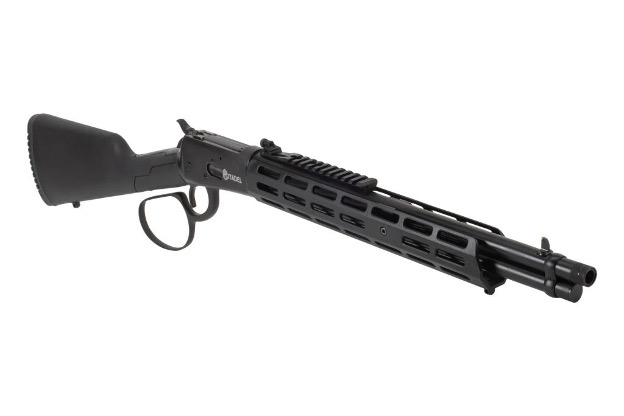 The Citadel LevTac 92 also sports an eight-round capacity and features a rear peep and standard front sight.
Although the Citadel company is not as well-known a brand as Winchester, Henry, Marlin, and other lever action rifle manufacturers, this rifle offers many of today's tactical modern-day features you'll likely need when in the field.
Nostalgia-free, the Citadel LevTac 92 is still built around 1892 lever action technology that's proven its reliability for over one hundred years.
Choosing a Lever Action Rifle
Any one of these five lever action rifles will allow you ample opportunity to relive historic firearm technology as you cycle through rounds at the range or during a hunt.
They are also highly adaptable, so you can decide to turn it into a tactical lever action with aftermarket parts.
Your reasoning for choosing a lever action rifle may be because you enjoy how it operates each time you fire. Or you may want a gun using technology that's survived years of unique history.
It's also worth noting that if you live in a place that restricts your right to bear arms and doesn't want you owning a semi-automatic action gun, then a lever action rifle would theoretically not violate the law but that all depends on your location.
Regardless of the need, a lever action rifle is one sure way to compliment your collection and is certainly something you'll want to include in your gun case.