Well, recently my wife and I found out we were expecting our first child…which turned into twins after our first appointment and it really got me thinking. Are Baby Go Bag's a thing? Like a Bug Out Bag for the baby or even a Get Home Bag? So it got me wondering…is it even worth it? I know for the parents out there already that may be reading this will say, " Well yeah, it's called a diaper bag, ya dummy." But what if in the event that you are stuck out and trying to get home with your little one, what will you do?
For starters, something to think about if you were stuck and trying to get home in civil unrest, one must become a "Gray Man". But with having a youngin' it may be a bit difficult per-say, but I feel like it could still work. Depending on your area you could blend in or duck in somewhere and lay low until the civil unrest calms down a bit. Having a child with you, I feel, may change your mindset and retreating will be first and foremost than going head first into the situation.
I feel as a new parent in the 21st Century, things have changed since being born in the late-80's and my parents are very "old school" when it comes to certain things. But with modern technology and advancements on how things are made, I feel like we are evolving and moving forward. It's not just moms rearing the children, it's both parents rearing the children. I apologize for the rambling, but I feel like it's important we shed some light on this subject before we move on to the topic at hand.
Go Bags, are very much a thing and can hold a lot of necessities that can potentially save your life and the lives of others. But what about baby? As a medical professional, I feel like there are certain things that are needed when it comes to babies and that includes keeping baby Pink, Sweet, and Warm.
These three words were always drilled into our minds in Paramedic class and it has stuck with me from then on, and I've been a Paramedic since 2013. Pink, because a blue baby is an hypoxic baby. Sweet because if the sugar drops, then problems will occur. Warm because they need to keep up their temps because they have a hard time with keeping their temps regulated.
So it made me think of what items I'll need in my Go Bag, specifically for baby. Here is a little list of things that I find may be helpful for the parents out there. Now, with this being said, I could be way off since I'm going to be a new father, but I have made these same bags for my friends who were expecting. I gave them to my buddies at the baby shower, because I feel like the dads get left out a bit.
Full Disclaimer, there are companies out there that market diaper bags like from Tactical Baby Gear. Although they are great in concept, I feel like paying $149 for just the bag is a bit excessive, especially when there are other alternatives out there.
---
Bags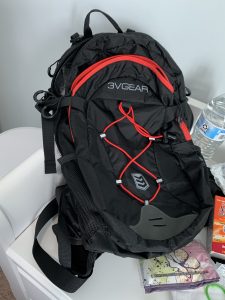 First and foremost, the bag is very important. I feel like a two shoulder strap bag would work best, especially when trying to carry the baby in one hand or walking with the stroller. It will evenly distribute the weight and make things a bit more comfortable. In the past, I have given the 3V Gear Outlaw II Sling Pack as the primary bag for my friends, but for this go around, I feel like the 3V Gear Surge Redline Hydration Backpack would be better suited. It comes with a lot of features that are really great that include:
Heavy-duty ripstop construction
YKK zippers and rubber zipper pulls
Elastic bungee system and pocket for external carry
2 side water bottle/stash pockets
Waist belt with 2 zippered stash pockets
Small sunglasses/accessories pocket
Zippered Waist Belt Pockets
Separate hydration reservoir pocket
2L Hydration reservoir included
Adjustable sternum strap
Reflective panels keep you visible at night
Dimensions 18″h x 9″w x 7.5″d
20 Liters
Total Weight 1.8 lbs.
Limited Lifetime Warranty
We like this bag because of the fact it can expand a bit more, and more items can be store on the outside that can be grabbed easily. We also like the fact that it comes with water bottle/stash pockets on each side of the bag. Another feature we like is 3v Gears Lifetime Warranty. The pack itself was designed for hiking, scouting, biking, jogging, and just an everyday backpacker. It is very flexible and pliable which makes great for packing items. We also like the fact that it comes with a 2L Hydration Bladder, and it can support a 3L Hydration Bladder as well. Although, you may not need this for the baby, but it is always nice to have water for yourself.
It has one deep zipper pocket in the middle and the outside zipper pocket has two elastic mesh pockets that you could store some items that you need organized.
---
Items
When it comes to items inside your pack, this is going to be specific for you. If your baby has certain needs, then you'll definitely need those specific items. But for general items here is some things that we recommend. Again, I have a medical background, so a lot of my items will be geared towards that aspect.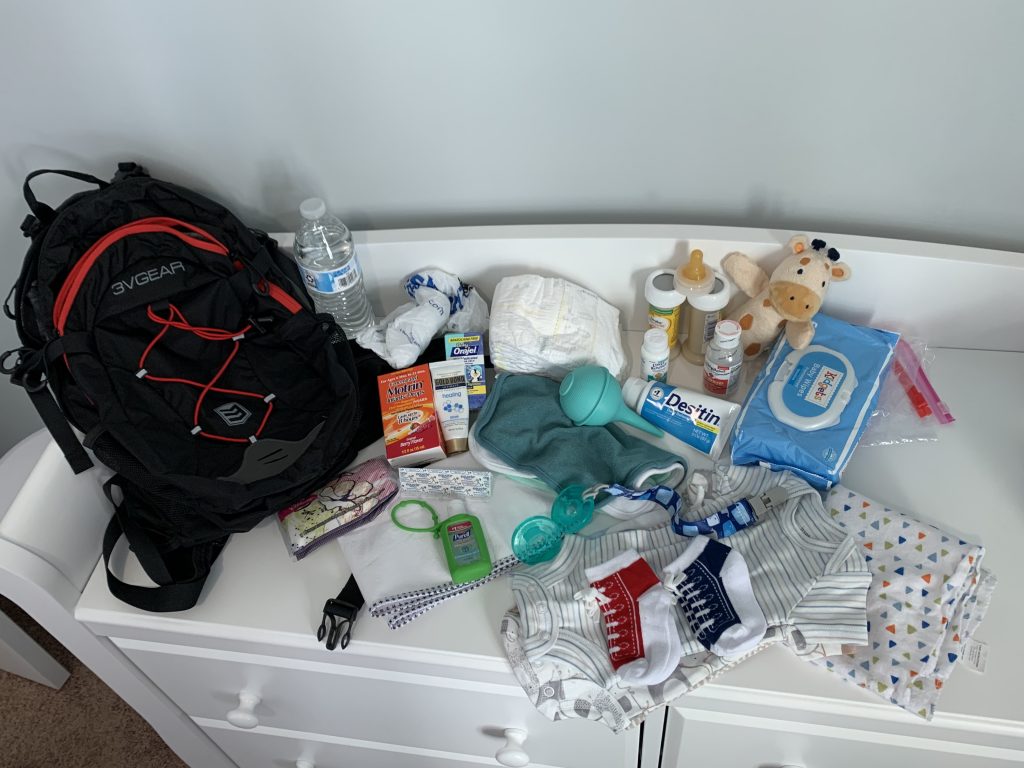 Bulb Syringe
Travel Sized Baby Tylenol
Travel Sized Baby Motrin
Thermometer
Gas Drops
Band-aids
Baby Wipes (Placed in Zip-lock Bag)
Pacifiers (x2)
Baby Blanket
Change of clothes including Socks (x2 and placed in Zip-lock bags.)
Hand Mitts (for newborn)
Burping Cloth (x2)
Hat for Baby
Portable Changing Pad
Diapers (1-2 per hour you're planning on being out.)
Dog Disposable Bags (for used diapers)
Diaper Rash Ointment
Travel Sized Baby Sunblock
Travel Sized Baby Lotion
Kleenex
Hand-sanitizer
Wet Wipes
Clean Bottle
Formula/Breast milk
Food/Snacks (Toddler Age and/or for Parent)
Water Bottle
Bibs (x2)
Toy/Entertainment
Portable Charger
---
Again, this list could be way off and quite frankly possibly unnecessary to some. But I feel like these items are what would be best suited for a Go Bag (Minus the breast milk because formula would be okay for long term storage). Now with that being said, some of these items could be placed in your Get-Home Bag or Go Bag that you carry as an adult.
Actually, a lot of the items can go hand-in-hand that you may already carry, but the ones that are specific for the baby is what's best. Now when the kiddo's get older and they can carry their own bags, think about having a few of these items that they can carry and a few items that you carry on you.
I am quite nervous as this will be our first pregnancy, but I have many experiences dealing with children on the ambulance. I know some children have certain allergies and need certain medication like an inhaler or EpiPen. So make sure you have those items on hand as well if need be. One thing that I truly recommend for new parents is becoming BLS (CPR) Certified and First Aid Certified. This may come in handy in the event that baby chokes, or god forbid, something worse happens.
If your items are different than mine, please post them up below!
As always, ya'll be good and be safe!