By Dana Benner
Knives are tools; just as firearms, hammers and saws are tools.  I don't collect any of them, but I have my fair share and use them all.  I probably use knives more often than any other tool.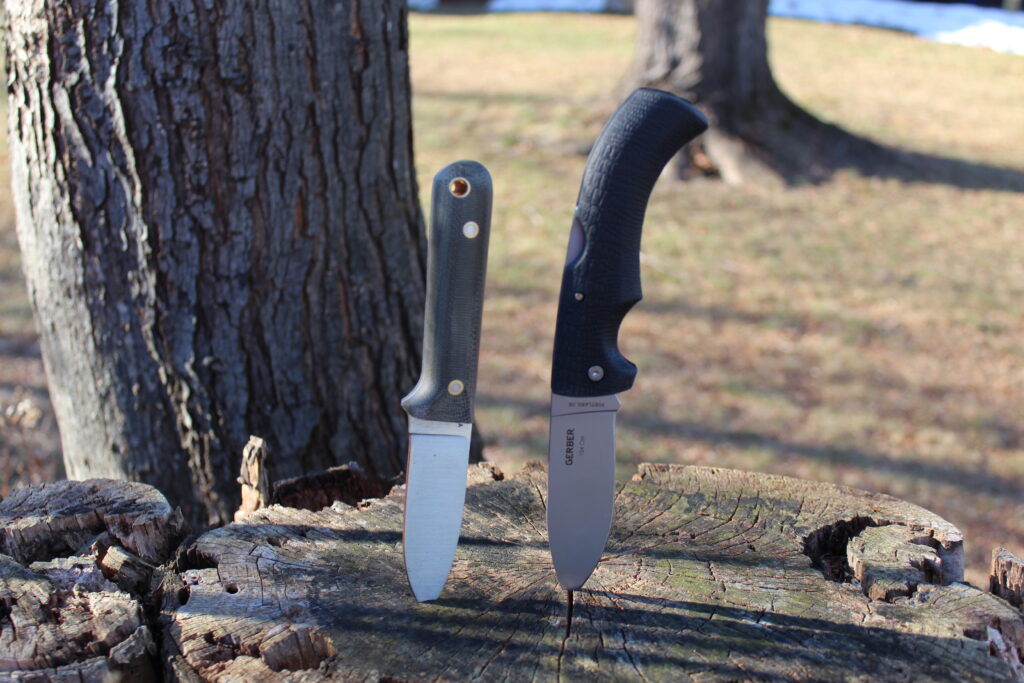 Next Gen (L) and Gator Drop Point (R).  Both are high quality knives and are worth every penny spent.
Knives are the most basic of all survival tools.  In my mind they are much more important than firearms.  With knives you can start fire, clean game and fish, help prepare shelter, make snares and use them for self-defense.  We often talk about high carbon steel, serrated blades, folders and fixed blades; we talk about bush knives, machetes and more, but what does all of that mean?  It can all be a bit overwhelming.  There are the so-called "survival" knives and "combat" knives.  Stay away from the gimmicks and fancy names.  Good knives don't need catchy phrases.
Every Adventure Starts with a First Step:
Whether it is for outdoor adventure or survival, I believe that a good quality knife should be the first investment you make.  Don't cheap out when it comes to your knife.  When other gear breaks and wears out, a good knife will last you a lifetime.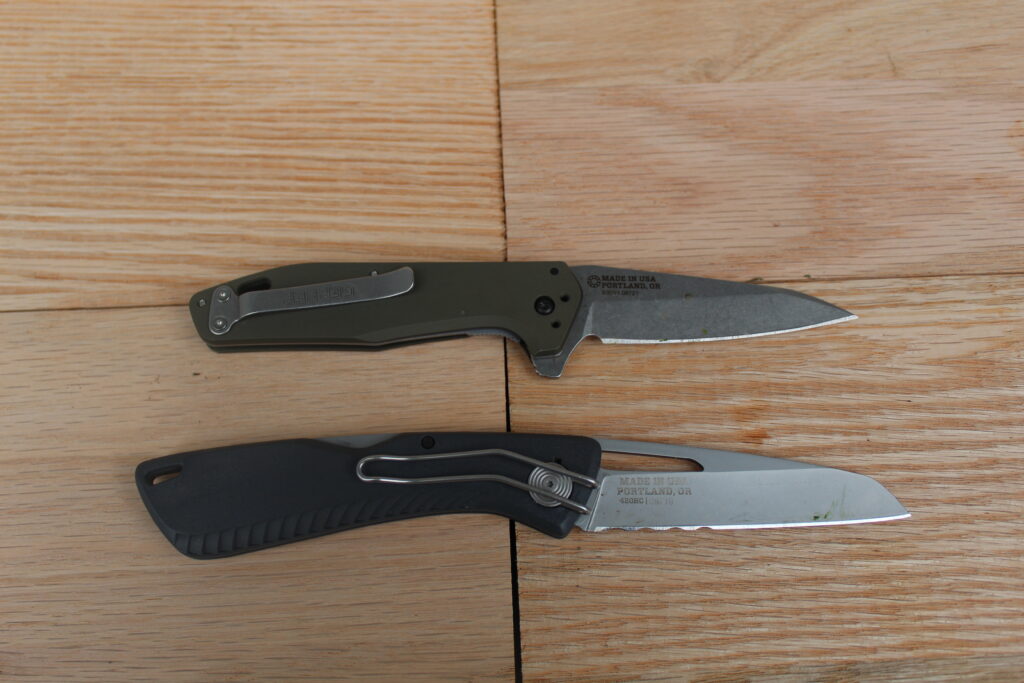 Gerber Fastball (top) and Sharkbelly (bottom).  Good quality folding knives for the beginner.
What Knife to Start With:
Fancy doesn't cut it in the outdoors.  I want a knife that is a no frills work tool.  It doesn't matter to me the brand as long as it does the job, and then some.  I want a knife that I can depend on to possibly save my life.  So should you.  A good knife is one that will take and keep an edge no matter what you put it through.  A dull knife is a dangerous knife.  I carried the same knife for over 10 years of military service and it always held an edge no matter what I put it through.  That knife has been retired to a special place in my office.  It has earned the rest.
The next question is "Do you need a fixed-blade or a folder?"   The simple answer is "yes".  I recommend both as each has their place in your gear. 
Folders: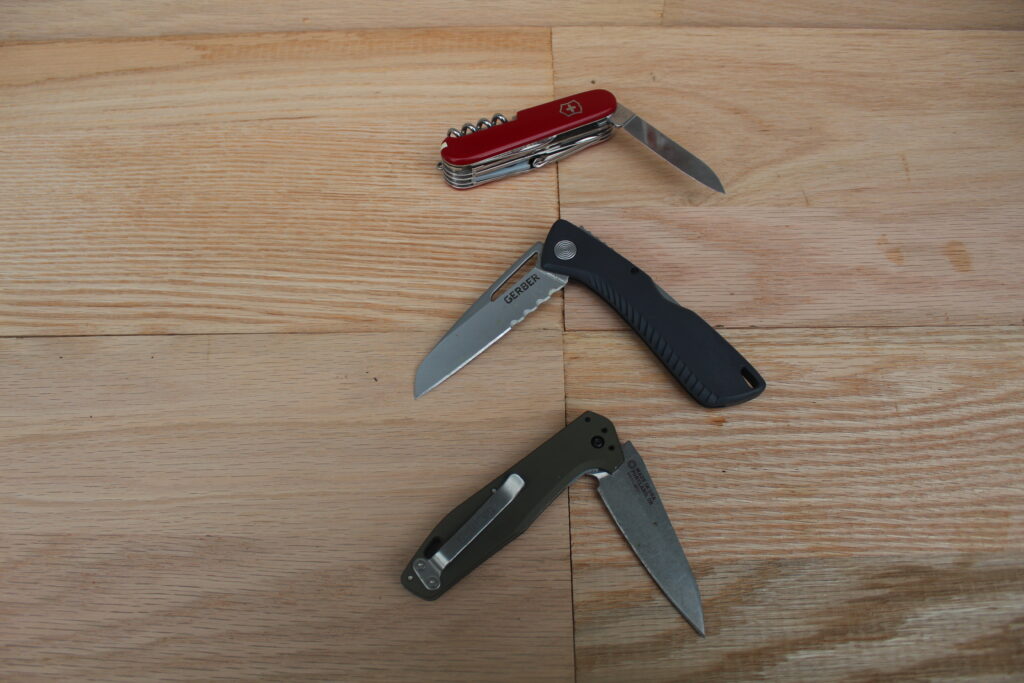 Three of my folders:  Swiss Army (top), Sharkbelly (middle) and Fastball (bottom)
When I was growing up every kid worth their salt carried a pocketknife (folder), and I still do.  Folders in general are easy to carry and are there when you need them.  The problem with old school pocketknives is that when the blade was open, it never was truly locked into place.  This meant it could be easily closed using the heal of your hand and that was never an issue unless your fingers in the way.  Take it from someone who has been there and done that, a blade closing on your fingers is never fun.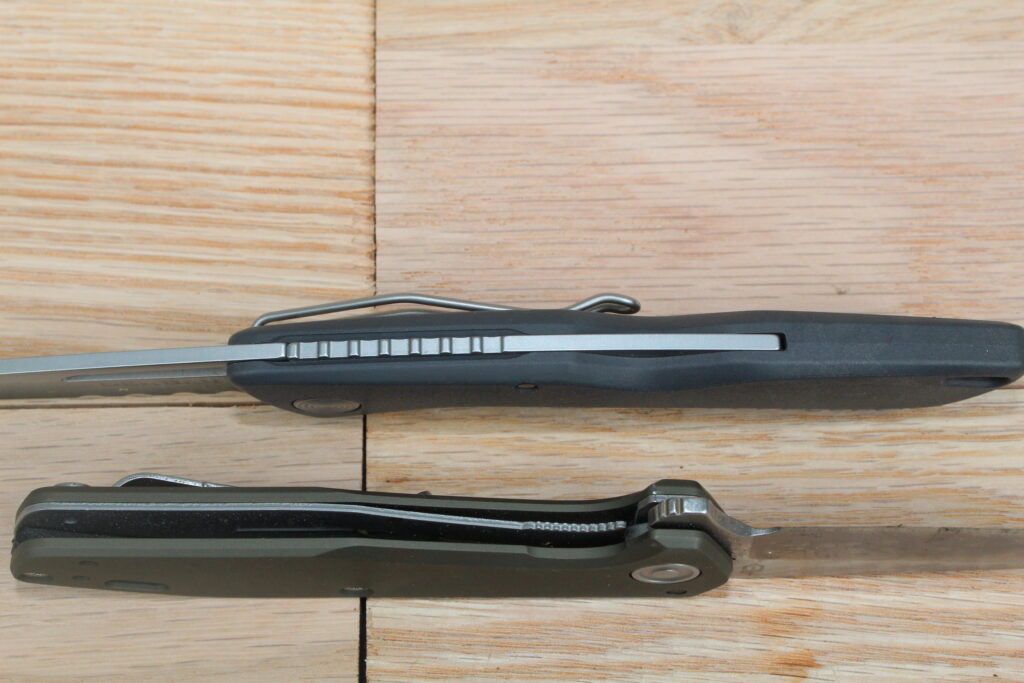 One of my favorite folding knives is the Victorinox Swiss Army Knife.  I have had this knife for over 20 years and it is one of the older styles of folding knives; the ones without the blade lock.  Like many Swiss Army Knives, this particular knife has a ton of other tools.
The good news is that most modern folders have locking blades, which mean they are designed not to close unless you press the lock release.  When you purchase a folder for the first time make sure it has a locking blade.  By far most of my folding knives have locking mechanisms.  My three favorite all happen to be American made by Gerber (I mention this because not all Gerber knives are made in America).  Those knives are the Gator Drop Point, Fireball and Sharkbelly.  The Fastball and the Sharkbelly, while small enough to fit into your pocket, come with pocket clips.  The Gator Drop Point is a bit larger and is carried in a nylon belt sheath.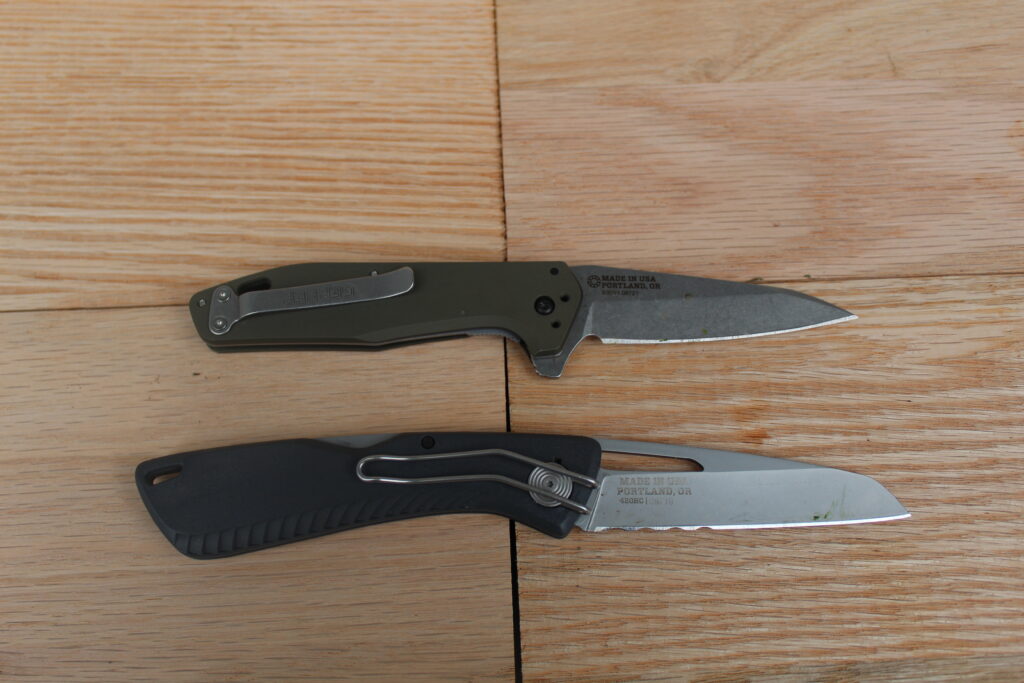 Gerber Fastball (top) and Sharkbelly (bottom).  Good quality folding knives for the beginner.
While folders can do many things, there are some chores that they are not designed to do; one of which is batoning wood for a fire.  The blades of many folders are not "beefy" enough to take the beating.  This is where a good fixed-blade comes into play. 
Fixed-blade Knives: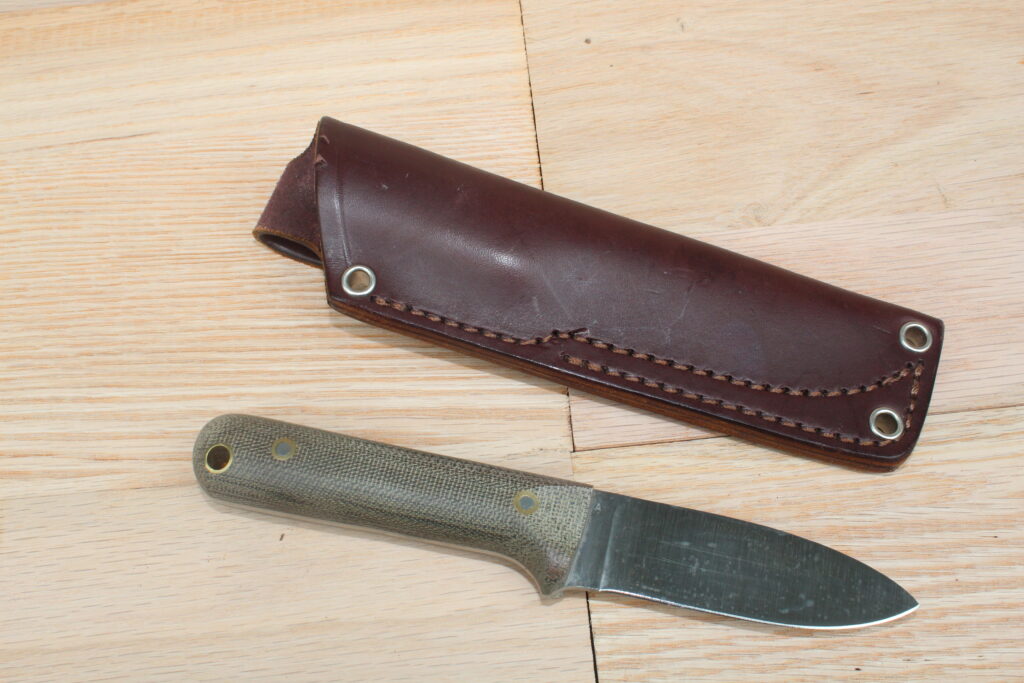 Next Gen with sheath.  This is the perfect fixed-blade knife for the beginner and it is a knife you will have for a long time.
Like with folders, there are a multitude of fixed-blade knives on the market.  Many are specialty knives such as fillet knives, skinning knives, combat related knives, etc.  Your first fixed-blade knife should be a knife capable of doing many jobs well; not just one job perfectly.  Many first timers get caught up in the "bigger is better" way of thinking and end up purchasing more knife than they really need.  If you mainly hike established trails there really is no need to carry a heavy bush knife.  On that same type of trail a smaller knife, that is easier to handle, will normally fit the bill.  A good one can easily help you gather the supplies to make a hasty splint, help you gather material for an emergency shelter or it can be batoned to split small pieces of wood for a fire.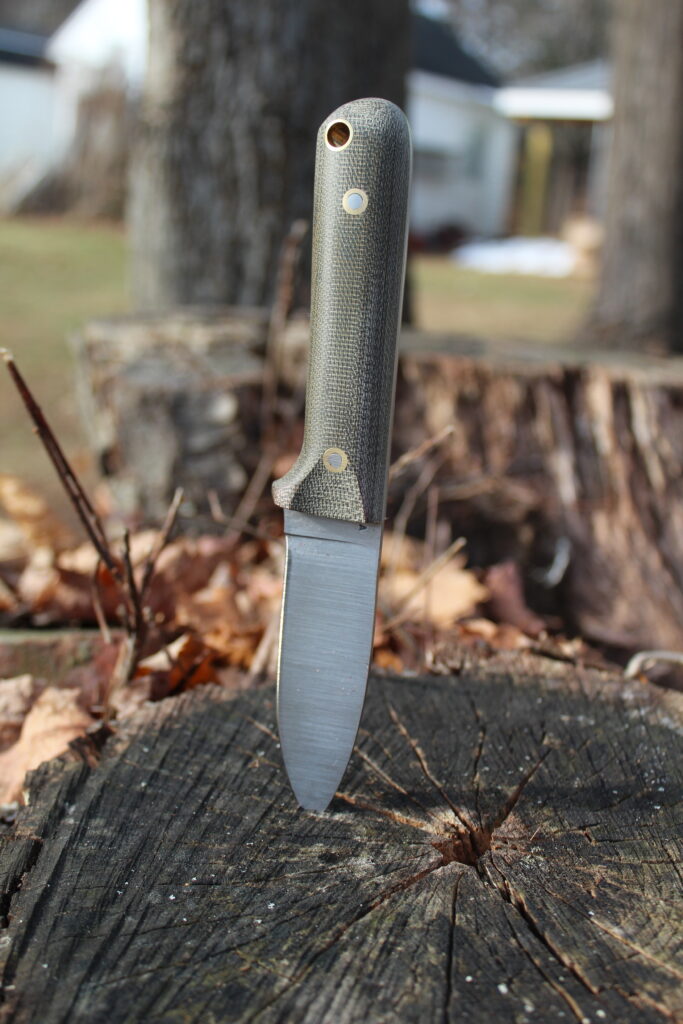 LT Wright Next Gen
When picking a "first time" fixed-blade knife don't focus on brands.   I recommend looking for two things; the thickness of the blade's spine and the knife's ability to take and hold an edge.  I also tend to shy away from stainless steel as I have found that stainless is hard to keep sharp.  Good blades normally are not the ones you find in discount stores or flea markets.
Of the fixed-blade knives that I have there is one that I would highly recommend to the first timer.  That knife is the Next Gen made by LT Wright.  This is a great all-purpose fixed-blade knife being fully capable for most chores found along the trail.  It has its place in the camp kitchen, processing small game and fish.  It is capable of cutting cordage and batoning small pieces of wood for the fire.  It is light and easy to use.
Style vs. Function: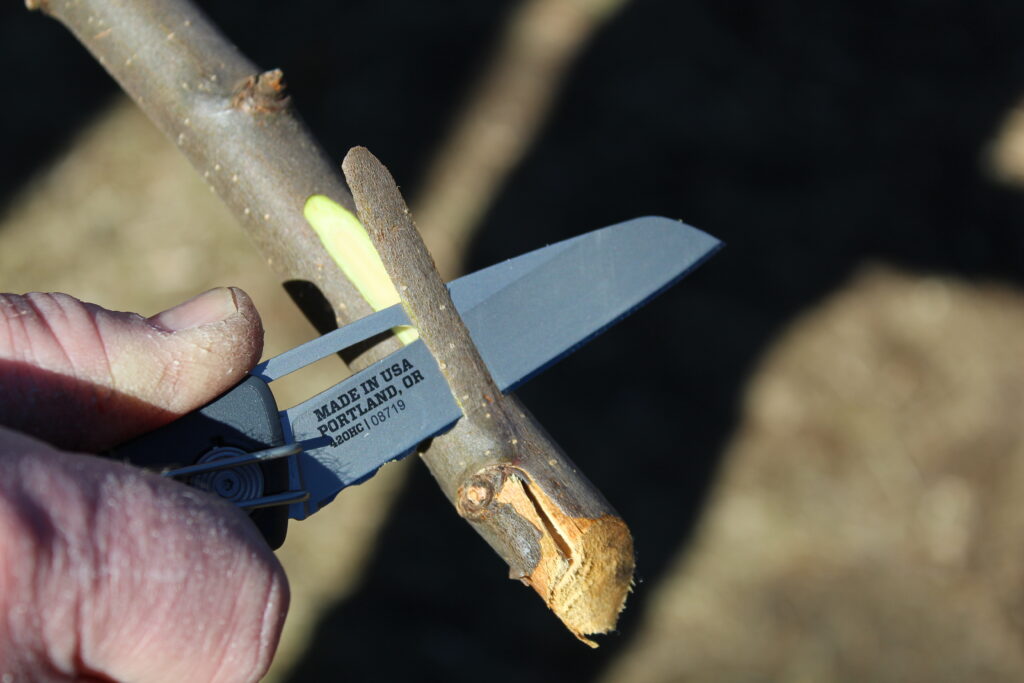 Sharkbelly folding knife
While the style of the knife is not as important to me as is its functionality, it is important to get the right one for the job.  All knives will clean a fish, but if you want to fillet it, then you need a knife that is made for that job.  The same goes for hunting and work around camp.  Your first knife should be one that can accomplish most of the jobs you are likely to face.  Will it do all things equally well?  Of course not, but it will do all things well enough to get you out of trouble.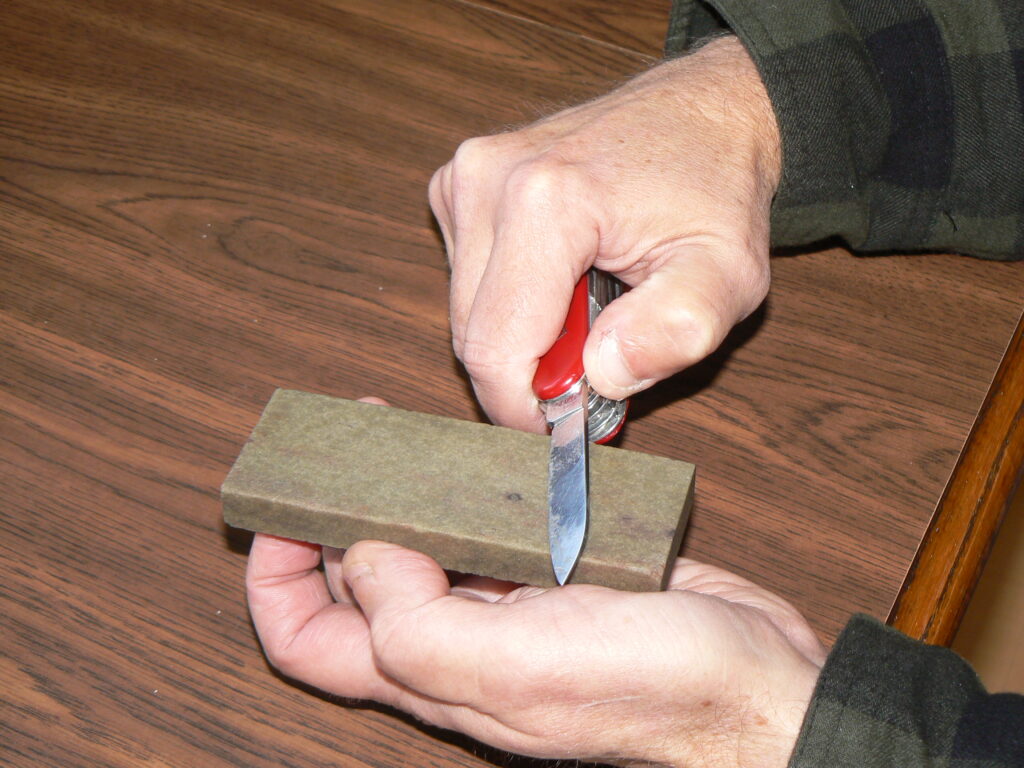 Sharpening Swiss Army knife
Conclusion:
It is impossible to provide you with all the information you will need in one small article.  Often getting the right outdoor gear, including knives, is a trial and error process.  My goal here was to give you some pointers that will help you find the right knife for you.  Over the years I have gone through many knives before I settled on the ones I use today.  Remember to get the very best knife that fits your needs and that you can afford.  Money spent now will pay off in the long run.  No matter what you do in the outdoors, your knife is the one constant so make sure you get a good one.