Every one knows that Media Day here at SHOT Show is always the Monday before the show, but what if you weren't able to go? Well, some of the top gun companies decided to come together and provide a relaxed and stress-free atmosphere to answer questions without the need for hearing protection and away from the crowds of SHOT Show!
We were invited to the 3rd Annual Burgers and Bullets private shooting event this year, held at The Range 702. The burgers, bullets, and refreshments were free and fun was had by all. The Range 702 is located off of Dean Martin Dr, here in Las Vegas, and specializes in machine guns, classes, and other VIP experiences. This place is pretty cool and had a great feel to it. We were able to test out quite a lot of the high-end rifles, sub-machine guns, and SBR's.
---
---
We were lucky enough to get in before the big crowds came, which transportation was provided by free shuttle buses from the Palazzo to The Range 702. The event started at 6pm and ended at 11pm. When we walked in, we were met with smiling faces and signed in. We picked up our earplugs, shooting glasses, and went straight to the back to the firing range. They had four rooms available with 4 lanes in each room. Their were manufacturers from Faxon, Cobalt Kinetics, Desert Tech, Lancer, Fostech, Quarter Circle 10, Trigger Tech, Lasermax, Lone Wolf, and Freedom Munitions.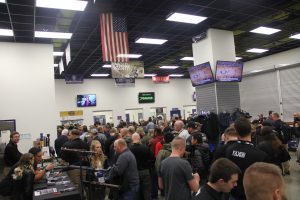 The bullets were flying with and without suppressors and there were different calibers to choose from to included: 9mm, 5.56, .308, 10mm, 12ga, and 458 SOCOM. It was nice to be able to handle some of the rifles that were out during Media Day and still get a chance to see these weapons in action.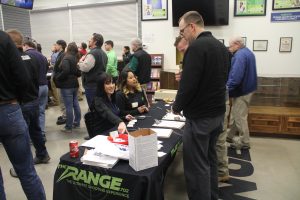 We were really impressed with the Origin 12ga Semi-Auto by Fostech and the MDR by Desert Tech chambered in .308 and both shot phenomenal. We were also impressed with Cobalt Kinetics Dual Drop Button Release and their C.A.R.S. (Cobalt Advantage Reload System). Cobalt Kinetics C.A.R.S. is pretty awesome. I liked how when you inserted in the magazine, the bolt slammed forward and the magazine dropped as the last round went into battery. The Fostech Echo Triggers are amazing and had us grinning big after shooting it, and we're use to shooting full-auto rifles and SBR's. Trigger Tech's drop-in triggers were crisp and had great reset. I found myself enjoying the flat trigger on the demo AR. But the talk of the show was the 458 SOCOM that was showcasing their new line of Big Grain Bullets. Man was it a dream to shoot suppressed.
After shooting, you were able to go out in the lobby and talk to the representatives of the companies present and have the questions answered. In the parking lot of Range 702 was the food truck, Dragon Grille, and was serving up burgers and french fries. We were very excited that we were able to attend this 3rd Annual Event and look forward to attending it next year, if it happens…which I foresee no problems with that!