So I was checking my email's the other week, I saw one come across from CAA. I clicked on it and low and behold, it was $100 off their Micro Conversion Kit. Hot Damn! After looking at their website, I decided to purchase one of the Black Polymer Rail Version for my SIG P320. I literally couldn't pass up owning one of their Gen 2 Stabilizing braced version for $169…and FREE Shipping!
---
In case you haven't heard about CAA, here's a quick blip from their website.
"CAA USA is a designer, developer and distributor of modern tactical accessories, optics and handgun conversion kits targeting the Armed Forces, Law Enforcement and firearm enthusiasts across the globe.CAA USA outfits firearms for maximum performance in any environment. Our innovative products improve your accuracy, grip, aim, and enhance balance and performance. When equipping your firearm with our range of accessories, the user's daily operations will become fluid and consistent.
CAA USA's famous conversion kit, MCK/Micro Conversion Kit, has taken the country by storm with models for the Glocks, Sig Sauer, Smith & Wesson, as well as the upcoming Springfield, H&K and CZ. This made for end-user conversion kit allows you to increase your accuracy and is an overall fun range tool. Our stabilizer brace is patented by SB Tactical and is a non-NFA item, meaning no tax stamp and no wait. It ships directly to your home."
---
So why would one need a CAA MCK? Well for starters, the idea of having a PCC with my preexisting pistol is great. This saves money in the long run. I also like the idea that I can add a full-size RDS. There is nothing wrong with an RMR or Pistol Mounted Optic, but man, they are small to see for me and my astigmatism.
Another reason for purchasing the MCK, is the fact that I can deploy a PCC out of a backpack and still have the ability to maneuver around.
---
Specs:
No pistol disassembly required – Just place pistol into the kit, lock, and go
Allows for multiple handgun models into one platform (Compact, Carry, Full-Size)
Ergonomic Finger Groove Grip for more stability
Top Picatinny rail in Polymer or Aluminum (add $35), allowing a combination of sights and/or optics
Side Picatinny rails for mounting additional accessories
Ambidextrous, fast and easy handling
Right-folding stock/arm brace for easy concealment and carry
Front spare magazine holder
Built-in charging handle allowing for quicker assembly/disassembly
Exposed slide release for direct contact and easier use
Width: 2.48″
Height: 5.70″
Length: 13.70″
Weight w/ No Pistol: 1.14lbs
Weight w/ Vortex Crossfire II: 2lbs 2.4oz
weight w/ Optic, Pistol (loaded), loaded Extra Mag (15rds): 4.02lbs
Colors: Black, FDE, OD Green White, Tungsten Grey, and Clear (Add $25)
Brace/Stock: Stabilizer, Stock (NFA), Short Stabilizer, Gen 2 Stabilizer (add $20)
Price: $249-$329
---
It arrived in NC from Florida via FedEx in just two days. I felt like a kid at Christmas time! Putting in the P320 was quite easy with the included instructions. Since reviewing the Vortex Crossfire II on our Budget Rifle Build, I have since replaced it with a different optic. So I had this spare optic laying around, why not put it to use? I mounted the optic on top, did a quick sight in using the Sightmark Bore Sight to get it close to target.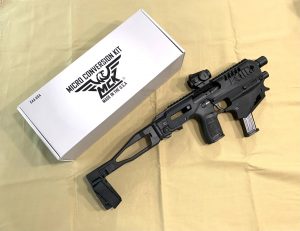 Going to the range, I had to do slight adjustment but the bore sight got me on paper. I decided to sight in the MCK at 25yds. I was making pretty tight groups considering this is the first time I've ever really messed with an MCK. Running this little MCK at the range was fun. Shooting steel target were a breeze due to the fast target acquisitions. Luckily, no malfunctions occurred at the range. Honestly, I was curious as to how to clear a stove pipe, but this pistol is well broken in.
One thing I did notice when at the range was the top of my thumb started feeling raw. It started getting raw because I like to hold my grip high, and the rear loading door is right in the way.
Pros:
Competitively Priced (Especially on sale!)
Accepts variety of P320 options (9mm/.40cal)
Easy Install
Ambidextrous Charging Handle included
Great Color Options
Compact for a backpack
Cons:
Slightly bulky
Stabilizer Brace opens easily w/o much force
Only accepts factory SIG P320 Grip Modules (Won't accept the Wilson Combat Grip Module)
Top of thumb rubbing raw when shooting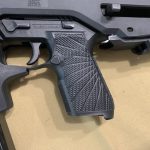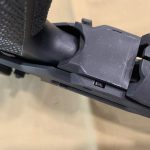 ---
Overall, the MCK by CAA is great buy for someone wanting to have a defensive pistol in the house or even a as a "truck gun". For the price point of $169, it made for a great buy! Would I have bought one if it wasn't on sale, probably not. CAA often has sales, so be on the look-out. Join their mail-list so you can get those deals.
If you are wanting to add a twist to your current pistol, then check out CAA and see if they make one for your Make and model. CAA offers MCK's for the most popular brand's to include Glock, Sig Sauer, CZ, Smith and Wesson, Springfield, and Polymer80.
CAA also offers their Advance Upgrade Kit that includes: Flashlight, BUIS, Push Button Swivel, Sling, and pair of Polymer Side Thumb Rests. Is the Advance Upgrade Kit worth the extra $200? I would say no. The only thing I would nab would be the flashlight. I feel like you can get by without the thumb rests, and you can pick up some cheaper BUIS from Trinity Force and a Single Point Sling from like Primary Arms or Blackhawk.
Again, if you are in the market for changing things up and adding a PCC to your line up with your existing pistol, then check out CAA and their MCK or their Micro RONI line!
As always, ya'll be good and be safe!