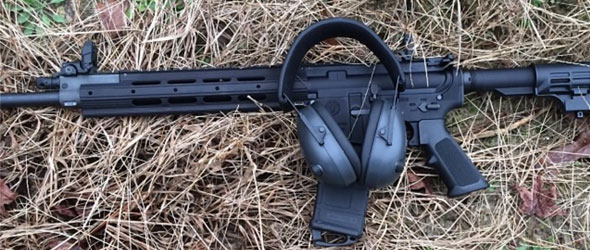 My number one most forgotten item when going out to shoot is ever important ear protection. I picked up this set a few months back and have been giving them the run through and figured I would share my experience with our viewers.
Design
The design of the Champions are excellent and can go from a full size set of hearing protection to a compact easy to store and carry ear protection. The headband of the ear protection will actually adjust to the size you need and retract to bundle up in a small easy to carry ball.
Microphone
The Champion ear protection has a built-in electronic microphone on both sides which will pick up voices and sound to make it easy to hear when you are not actively shooting at the range. However, when you shoot the microphones immediately turn off and the hearing protection goes back to its normal function. The Microphone is powered by four AAA batteries, with two batteries going in each side of the headset. Each microphone volume can be adjusted by using the small dial on either side. It's also wroth nothing that the two sides can be used independently of each other.
Final Thoughts
These are probably one of the best hearing protection I have used in recent years. I have used a number of similar hear protection devices and for the price, under $30, these work great! Check out the link below to see the Champion Electronic Ear Muffs on Amazon.