With Call of Duty: Modern Warfare's huge cult following and gigantic success all around the world, I noticed that a few characters are rocking an Abdominal Pouch on their plate carrier. So, it got me thinking, are abdominal pouches really useful on your Plate Carrier Setup?
---
I found a wide variety of different manufacturers that make abdominal pouches to include: Ferro Concepts (The Dangler), Spiritus Systems (Sack Pouch), Grey Ghost Gear (Gut Hider Pouch), AR500 (ABS Pouch), Crye Precision (Abdomen Pouch) and Haley Strategic (Multi-Mission Hanger v2). The one that caught my attention that offered a good price point and appeared to be very durable was the one made by Chase Tactical, The Joey Utility Pouch.
If you never heard of Chase Tactical, here is a little bit about them. Chase Tactical is a veteran-owned, service disabled small business and manufacturer of premium tactical military gear, specifically tactical nylon products. Chase Tactical has extensive background in military, law enforcement, and paramedic operations. Their field experience plays a critical role in our manufacturing process; therefore, enabling them to produce quality tactical military gear that works and can endure the most demanding missions.
According to Chase Tactical website, "Chase Tactical was founded with the purpose to produce exceptional tactical military gear that outlasts any mission. We take pride in our work and our products, especially knowing that brave men and women depend on our gear to do their job. Our Mission: Performance & Durability. Our Vision: Challenge the Status Quo."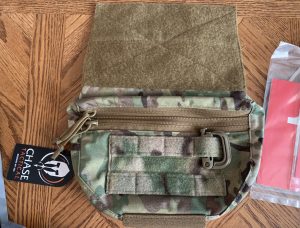 What are abdominal pouches made for? Well, it's honestly an additional piece of gear that can hold equipment that needs to be easily attainable or could be used for extra magazines, admin supplies, or extra medical equipment. I decided to go with Chase Tactical mainly because of the price point, had three zippers on it, and has the option to add Level IIIA Soft Armor. With my background in EMS, I wanted to utilize this pouch as sort of a medical pouch/mass causality pouch. I already have a tourniquet and IFAK on my plate carrier, but I wanted something a bit more that was compact and I could utilize quickly in a mass causality scenario.
---
The Chase Tactical features:
500D Cordura
2 Zipper Pockets in the Front
1 Zipper pocket in the rear which will accept Level IIIA Soft Armor
2 Elastic Loops on the bottom for Chem Lights
Attaches securely to place carriers with Velcro Flap
Hook & Loop MOLLE webbing on front
US Mil-Spec IR Tested Material (All Fabrics, Webbing, and Plastic Hardware are treated at source to deliver the lowest IR Signature possible)
Available in Black, Coyote, M81 Woodland Camo, Multicam, Multicam Black, Ranger Green
Weight- 5.6oz
MSRP- $49.95
So what does an extra medical kit look like. Most kits include: tourniquet, gloves, TCCC Cards, trauma sheers, chest seals, NPA, combat gauze, trauma dressing, and other odds and ends. Here's the load-out of equipment I'll be carrying in the Joey Utility Pouch:
Nitrile Gloves
SMART Triage Cards
Sharpie Marker
Trauma Sheers
Large Tagederm (x2)
CAT Tourniquet (x2)
4″ Cling
2″ Cling
Needle Decompression Needle (x2)
Chest Seals
28fr NPA
Solar Blanket
Ace Bandage
Triangle Bandage
---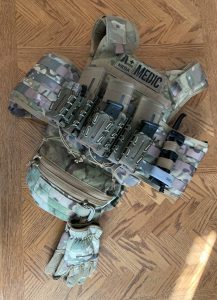 So the question still remains, are Abdominal Pouches really worth it? In my opinion, yes. Although, it appears that it may be cumbersome and may get in the way, we found it was quite the opposite. Adding the Joey Pouch to my RTS Tactical Plate Carrier was quite simple. The Hook and Loop on the Joey Pouch makes it compatible with my Plate Carrier and had it installed in seconds. Donning the plate carrier with the Joey Pouch was very simple. Moving with the Joey Pouch on the plate carrier was very comfortable and it didn't get in the way at all. Even though, I am a bit on the heavier side, I was still able to sit down, bend over, and move around with ease.
With the price point of $49.95, it makes for a great buy. Chase Tactical offers discounts on their website all the time. I was able to snag the Joey Utility Pouch with a 15% discount code. One downside I did find about using Chase Tactical is they offer shipping with FedEx only. I am not really a big fan of FedEx because they often have shipping problems, luckily, my package arrived safe and sound and on time. If you are in the market for an Abdominal Pouch for your Plate Carrier Setup, then check out Chase Tactical and see if it'll be right for you.
As always, ya'll be good and be safe!