The "Legend", Chris Kyle is a very common name in the military community, as well as the general public. With the release of the movie, American Sniper in 2014, the Chris Kyle Frog Foundation has really taken off! According to the Chris Kyle Frog Foundation website, "The mission of the Chris Kyle Frog Foundation (CKFF) is to Honor God, Country, and Families Who Serve by providing experiences that strengthen military and first responder marriages and families. CKFF's signature program started with the launch of CKFF Revitalization Retreats, which are focused directly on supporting military and first responder marriages. CKFF Revitalization Retreats provide service couples with experiences that provide new common ground, and then additional support resources designed to empower married couples with practical tools that improve communication and reduce conflict."
---
---
So where does Cobalt Kinetics fit into all of this? Well, Cobalt Kinetics has teamed up with the Chris Kyle Frog Foundation to manufacturer four Custom Rifles honoring Chris Kyle. They will be available in 6.8 SPC, 300 Blackout and 223 Wylde. These rifles are absolutely beautiful and the detail is just incredible. If you are wanting these rifles, you have to purchase the entire set at the tune of around $17,500. Now, that is a lot of money, but these will be a limited production. Cobalt Kinetics will only be making 250 of each rifle.
The "Glory" is their B.A.M.F.  style rifle that features their OE equipment but is custom cerakoted to have a "battle worn" look and is chambered in 223 Wylde.
---
The "Chief" is a commemoration of his name to those who served with him. Cobalt Kinetics decided to make the Chief in 6.8SPC and comes with a stainless 14.5″ fluted match barrel that has a pinned and welded CK brake. It includes a single stage trigger and is in a subdued tiger stripe finish.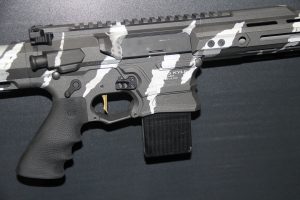 ---
The "300 Blackout" is exactly what the name says it is, it's a 14.5″ 300 Blackout that has a pinned and welded linear compensator. This is an all billet rifle that has a very aggressive look.
---
The "Signature Series" rifle is a beautiful rifle. It is an 18″ 223 Wylde stainless fluted button rifled barrel, ATC Gold Trigger, Cobalt Kinetics adjustable stock that has the CKFF Logo on the top of the stock, premium nickel boron bcg, Vortex flash-hider, custom cerakoting and offers stainless and polished details through-out the rifle. This rifle also has Chris Kyle signature laser etched from the grip to the lower receiver.
---
Taya Kyle was on hand at the Cobalt Kinetics booth here at SHOT Show. She arrived a little after 12pm and the line was already formed. We were lucky enough to be able to snap a photo with her and she was much obliged to sign a copy of the American Sniper book. She was super nice and really easy going.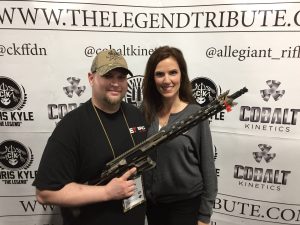 You can purchase these rifles through the Legend Tribute. These rifles were hand selected by Taya and based on the calibers that Chris liked to use. If you are an avid collector, then these rifles are for you!