Unless you've been living under a rock for the last almost 60+ years, then you should know that Colt was once famous for their "snake" revolvers (Python, Cobra, King Cobra, Anaconda, Diamondback, Boa, and Viper). When Colt discontinued their popular smaller frame revolver, the Cobra, in 1981, prices for this particular revolver shot up! In 2017, Colt decided to bring back the Cobra chambered in .38 Special and return to its double-action roots, and it's been showing a lot of buzz in the gun industry.
---
---
I was fortunate enough to be at my local gun shop,
Clayton Guns
, when their first Cobra arrived. I have to be really honest with you, the owner pulled out his original Cobra right before we opened the box up, and the original is just beautiful. He has a nickel Cobra and it's stunning for its age. When we un-boxed the new Cobra, I honestly couldn't say the same thing. I really wanted to like this revolver and when I heard it was being released I wanted to add it to my collection, but I'm starting to second guess myself.
---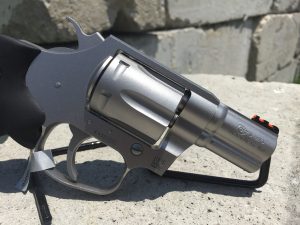 The overall fit of the gun is amazing. This stainless steel frame revolver feels good in the hand and has good balance. Looking at the overall finish of the gun, I was a little disappointed and so were other customers that looked at it. The matte stainless wasn't impressive. Looking at a Smith and Wesson 642-1, that was sitting on the same table, I was more drawn to that one in the finish department than the Cobra. I would have respected Colt more if they would had finished this Cobra in Nickel or even Blued.
---
The cylinder is tight and has a good trigger for a revolver. The DA is averaging 8.6lbs and in SA, it's averaging 2.7lbs. It's very smooth and has a clean break. The smooth trigger is due to Colt's new Linear Leaf Mainspring design trigger. The unloaded weight of this revolver is a little on the heavier side, coming in at 25oz (1.56lbs), compared to the original Cobra at 16oz (1lbs). This new Cobra comes with a Hogue over-molded rubber grip, instead of a wooden grip like in years past. I wish it almost had wooden grips from the factory to give it that "old school" feel, but the rubber grip with finger grooves feels really good.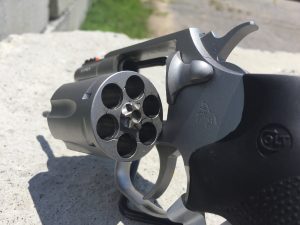 Looking at the frame and the cylinder, it almost looked like the barrel was sleeved. With further inspection, you can clearly see where the barrel had been screwed into the frame and you could see the tooling marks inside the upper part of the frame where the cylinder locks up. I almost wonder where this revolver is being made, because in years past, the QC use to be high, but looking at this revolver, it almost looks rushed. All satire aside, the Colt Cobra is currently manufactured in Hartford, CT.
---
This revolver is being kept in its roots by having a rearward cylinder release and the cylinder goes clockwise, like the other Colt revolvers of the day. Having a rearward cylinder release is a little different, especially if you are use to the revolvers that are out on the market with cylinder releases moving forward. Being brand new, the release is a little tight and slightly cumbersome to move. I have to re-position my shooting hand to release the cylinder, unlike the forward moving revolvers out on the market today.
---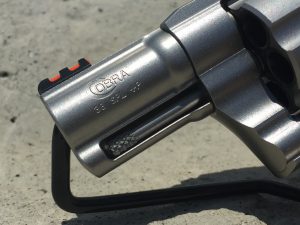 The Cobra comes with a nice fiber optic front sight and a trench style rear sight (frame cut-out). With the front sight being fiber optic, the shooter can acquire a target pretty fast. Downside to a fiber optic front sight, it's not ideal for a night time encounter, but it's better than the original blade style front sight. Colt will be offering a front Tritium Night Sight for this model. Currently, there is no price or when these sights will be available to the public from Colt.
---
This six-shot, 2″ barrel .38 Special revolver is rated for +P ammunition, so that's a win. I honestly wished it was chambered in .357 Magnum – and who knows, Colt might chamber this revolver in .357 Magnum before it's all said and done. The original Cobra's were chambered in .38 Special, .32 Colt New Police, and .22LR. Also, the original Cobra's came in 2″, 3″, 4″, and 5″ Barrels. I wonder if Colt will decide to bring back these longer length barrels if this 2″ takes off.
Holsters are available for this revolver from Galco, Cal38 Leather, DeSantis, Blackhawk, Gould and Goodrich, Bianchi, Safariland, as well as custom Kydex manufacturers. Also, speed loaders are available from HKS.
I really wanted to like this revolver. I honestly had high hopes for it and after looking it over, I'm honestly probably going to add the Kimber K6S to my collection instead – and I'm a huge fan of a hammer on a revolver. To the die-hard Colt collectors, I'm sure you will be purchasing one of these new Cobras. But if you have an original, I'd just admire that one and shoot/carry this one. With the MSRP coming in at $699 and selling locally for around $650, it's not too badly priced – considering it's a Colt.
---

---
At the end of the day, it's what makes you, the consumer, happy. I personally think that Colt could have done a better job with this revolver, and who knows, they might change it up and bring out a stainless or a blued model. It's still a Colt and a popular "snake" revolver. I'm seriously thinking that Colt might be releasing this model in .357 magnum, but it might be awhile until that happens.
If you are looking to add a "snake" revolver to your collection and want it at a reasonable price, then check out the Colt Cobra to see if it's right for you!
As always, ya'll be good and be safe!