When all the civil unrest running amuck stemming from COVID-19, I decided to use my government stimulus check on building a very nice AR. Having an SBR is nice, but traveling with it across state lines is atrocious. So what's the next best thing….a pistol.
After doing a lot of research on the best AR Barrel Length, I decided to go with a 12.5" barrel. I chose the 12.5″ length because it was the best choice for size, ballistics, and velocity. So which brand would I choose? I knew I wanted a barrel that was chrome-lined and I wanted a name brand barrel. I have always used BCM upper receivers in my AR Builds and other various BCM parts, but when looking for a 12.5" BCM barrel, they would always be sold out…everywhere! So I'm assuming everyone had the same idea I did and was building a 12.5" AR. So after more research on 12.5" AR barrels, I came across Criterion Barrels. After doing more research about this company, the more I was excited about trying out one of their barrels.
---

Criterion manufactures to match grade tolerances for the 3-Gun, PRS, and other range of shooting disciplines. Criterion offers barrels in a wide variety of different calibers, contours, and sizes to include: M1 Carbine, M1 Garand, Enfield's, Ruger Precision, M1903, 308win, 6.5CR, 300BO, 6.5 Grendel and many more. After scouring their website for a bit and looking at all the pros and cons of each barrel, I decided on the SBR Hybrid Contour Barrel.
The Criterion SBR Hybrid Contour Barrel is a carbine gas-length, mid-weight barrel that offers a balance between weight and distribution of material. It was designed to handle extreme use with high rates of fire and still be reliable. Criterion highly recommends that "headspace must be checked for optimal performance and reliability. Proper headspace produces consistent chamber pressures and seating depths which results in increased accuracy and reliability, while reducing wear and tear on internal parts and components."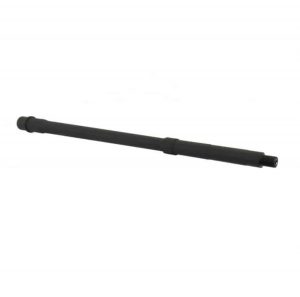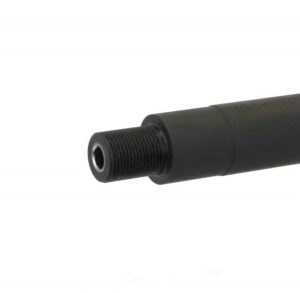 ---
SBR Hybrid Contour Barrel Features:
Chrome-lined
Chambered in .223 Wylde
Honed and hand-lapped rifling
Polished Chambers
Carbine Length Gas System
Gas Port sized for suppressed and unsuppressed applications
750" Gas Block dimpled
1/2×28 TPI muzzle threads
M4 Feed Ramps
6 Groove 1-8 Twist
4150 CrMoV Material
Phosphate Finish
1.65lbs Weight
MSRP $289.99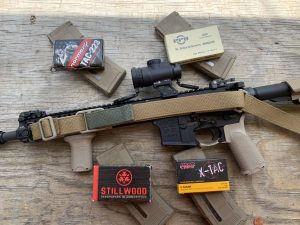 Criterion recommends anything less than 14.5" barrel length should utilize an H3 Buffer. I decided to use a Geissele Super 42 Braided Wire Buffer Spring and H3 Buffer. I went with Geissele because I knew I wanted something reliable that can handle shooting suppressed and unsuppressed. Coming from Criterion, they set their gas ports appropriately and aren't over-gassed, so they recommend a standard fixed gas block. But what about an adjustable gas block? Criterion states that if the system is set up properly, then you won't need an adjustable gas block or adjustable carrier. But with that being said, you can use one if you prefer. I have found that running the BCM gas block is working just fine.
Criterion states that their head-space tolerances are well within the SAAMI Specifications and afford a 0.003" tolerance gap with their barrels. When head-spacing a bolt to the barrel, they look for a 0.001" clearance and that gives the most consistent seating depth and most consistent chamber pressures. They recommend a gas ring seal as well so gasses aren't blowing past gas rings, thus giving more consistent pressures and lock times.
Criterion also recommends a Mil-Spec Bolt Carrier Group with their AR barrels. I went with the BCM M16 Bolt Carrier Group and found that it works just fine. I did install the crane O-Ring, which BCM recommends if you are running a short barrel. As far as muzzle device, we went with the SilencerCo ASR Flash Hider instead of their ASR Muzzle Brake. Either one would work just fine, but shooting unsuppressed with a Muzzle Brake is quite annoying for the other shooters around you. I didn't want to be "that guy" at the range shooting. Also, the muzzle flash is pretty much none existent with the Flash Hider and more prevalent with a Muzzle Brake. That Muzzle Flash is no joke with a Brake and I don't necessarily like seeing a ball of fire coming out of the muzzle that stretches out on each side.
---
Now how does the Criterion Hybrid SBR Barrel perform in the field? We tested out this barrel with several different types of .223/5.56 ammunition to include NormaMax Tac-223 55gr FMJ Match, PPU M855 62gr Green Tip, PMC X-TAC 62gr LAP, and Steadfast 77gr TMK Match. With typical North Carolina summer fashion, it was hot and humid at the range when we were testing. The temp was 90deg F (felt like 97deg F), humidity at 55% with 12mph W winds. We were shooting at approx. 15 meters and the following results are with a Trijicon MRO Patrol Optic. It appears that this barrel eats everything that was thrown at it and then some. In a surprising victory, the PPU M855 had the best grouping, with second going to the NormaMax Tac-223 55gr FMJ Match, third to the 77gr Steadfast TMK Match, and finally fourth going to the PMC X-TAC 62gr LAP.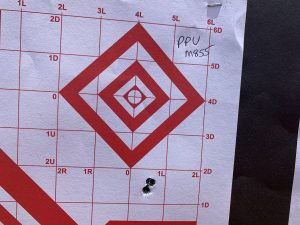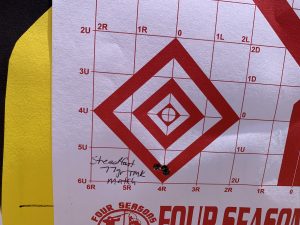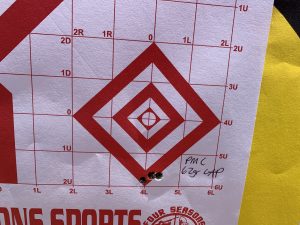 ---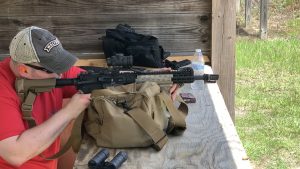 All-in-all, this barrel is fantastic. I had no problems to report suppressed or unsuppressed. I was shooting this rifle with the Trijicon MRO Patrol with their 1/3rd Co-Witness quick detach mount. This barrel really impressed me and we had some really great groups. We were shooting at approx. 50yds through-out the day and we couldn't be happier. If you wanted more precise shots, then a suggestion would be swapping for a precision rifle style trigger and an LPVO, then it would probably be a bit better. But with a 2MOA red dot and a Geissele Rapid Fire Trigger, it handles just fine for our needs. We aren't planning on shooting far distances (< 200yds), but if we had to stretch it out, I'm sure it wouldn't be a problem at all.
If you are in the market for an outstanding new barrel for your next AR Project or even just a new barrel for your C&R Rifle, then check out Criterion Barrels and see if it's right for you. As always, ya'll be good and be safe!