The CZ (Česká zbrojovka) P-01 is a forged aluminum compact DA/SA pistol, designed for LEO and Military Duty and is coming in at 1.75lbs. The P-01 was designed in 2001 and was NATO-Approved in 2003. To achieve the NATO-Approved Rating, a firearm must have a Mean Rounds Before Failure of 495 to be eligible. While testing out the CZ P-01 at the factory, the average number of stoppages was only 7 per 15,000rds fired. This is a 0.05% failure rate, or a mean rounds before failure of 2142! For many years, the P-01 had the NSN engraved on the side of the frame, making it the first NATO-Spec pistol ever available to the public. Due to such high demand of this pistol, some CZ P-01's could have the NSN number and some not. I lucked out and received one with the NSN number on the frame.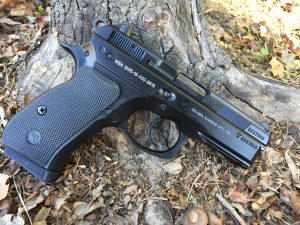 With its overall length of 7.2", overall height of 5.03", overall width of 1.38", and 3.8" barrel length, this pistol will be great for EDC! The P-01 is now the primary sidearm of the Czech National Police and used with many NATO forces. The P-01 is offered in 9mm only, but the P-06 is offered in the 40 S&W. The P-01 and P-06 components are completely interchangeable, so parts are readily available.
---
---
There are many different variants of the compact CZ 75 to include: CZ 75 Compact D PCR, CZ 75 Compact, P-01, Omega, and Omega Suppressor Ready. The Compact 75 and Compact D PCR does not have the integrated 1913 rail, but the rest do. The P-01 comes with two 14rd double stack magazines, cleaning rod, and hard case. This particular model came with Night Sights, which are kind of small, but still visible. If you did get one with the night sights, CZ recommends you "charge" the sights by placing a flashlight on the sights. Unfortunately, I do not care for these sights and will be changing them out to the TruGlo TFX Pro Tritium/Fiber Optic Sights really soon.
This pistol is a dream to shoot and is incredibly accurate. The accuracy comes from the slide riding in the frame. Most pistols slide rides on the outside of the frame. The only thing I do not like, er, or I had to get used to with this pistol is not having a lot of meat to grab on to when racking back the slide. My wife has the same problem, but she loves shooting this pistol. The safety for the CZ P-01/Compacts vary from: a de-cocker lever, safety stop on the hammer, and offering a firing pin block safety.
Holsters are readily available from BlackHawk, Fobus, BladeTech, Safariland, Alien Gear, and Custom Kydex Holsters are available as well. From the weight and feel of this pistol and with the rubber grips, it's just an all-around great pistol. Some people may not like the rubber grips and they can be changed out to aluminum or even G10 grips of your choice.
---
So is this pistol the best compact pistol out on the market today? Let's take a look at it compared to the most popular compact pistol that every one seems to know, the Glock 19 Gen 4.
Here's some side-by-side Specs:
| | |
| --- | --- |
| Glock 19 Gen 4 | CZ P-01 |
| Unloaded Weight: 1.48lbs | Unloaded Weight: 1.75lbs |
| Rd Capacity: 10/15rds | Rd Capacity: 14 |
| Overall Length: 7.28″ | Overall Length: 7.2″ |
| Overall Height: 4.99″ | Overall Height: 5.03″ |
| Overall Width: 1.18″ | Overall Width: 1.38″ |
| Barrel Length: 4.1″ | Barrel Length: 3.8 |
| Trigger Pull: 5.5lbs Avg | Trigger Pull: DA-10lbs/SA-5lbs |
---
So in my opinion, this pistol is way better than the Glock 19 Gen 4. Yes, I said it! It is better than a Glock 19 Gen 4, and here is why. When in an EDC situation, in my opinion, a DA/SA pistol is way better than a striker fire. I know that people will come unglued by what I just said, but here's why I say that. If you are carrying a striker fired pistol in an appendix holster and you accidentally discharge the weapon what will it hit? Femoral artery, groin, thigh, femur? Those are all major items that could potentially be harmed, especially if you installed a "hair trigger" in your pistol. If you carried a DA/SA pistol, you will be less likely to discharge the weapon due to the longer trigger pull in DA. Plus, when you carry appendix, you tend to be a little bit slower when re-holstering a striker-fired pistol vs. a DA/SA, again, due to you be conscious about not accidentally discharging the weapon.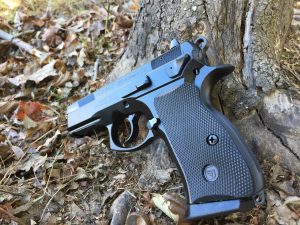 Also for me, again, I do not like the grip angle of the G19 smashing my middle finger. I love how the P-01 fits my hand and just shoots so accurately. With the P-01's sleek lines and snag free design, it makes carrying a breeze and drawing even better. Some may not like the factory rubber grips, but I like them. But if you are a Glock fan, then I know you have seen all the tricked out Glock 19's out there with the custom stippling jobs and deep serration cuts in the slide that many people carry. So if you are used to that, then rubber isn't much different.
Now, people are going to say the longer trigger pull makes the CZ P-01 not a great pistol or a bore to shoot. Well, for all you fans of the lighter trigger, you can get trigger kits that includes a short reset trigger from Cajun Gun Works for $180.
---
With the MSRP coming in at $627 and retailing for around $575, the CZ P-01 makes for a really good buy. There are quite a lot of CZ75 clones out on the market that are coming in way cheaper and some more expensive. Some of those manufacturers include: Canik (Tri-Star), Tanfoglio (TZ-75), IMI (Jericho 941), EAA (Witness), Sphinx (SDP), Sarsilmaz ( SAR BP6). The SAR B6P from EAA is coming in for under $300, while the Sphinx is coming in around $800. There is a reason why the CZ75's are being cloned, it's an amazing pistol. If you have never held one of these beauties, try it. You may be surprised. CZ started making firearms in 1936 and have been producing quality firearms ever since. So what are you waiting for?!
As always, ya'll be good and be safe!