While walking the lower floor of SHOT Show, we stumbled across a booth that had some AR Stocks that really caught our eye, and lets be honest, the logo is pretty badass (I mean who doesn't like a skull logo?). But I digress, Dead Foot Arms launched their Modified Cycle System with Folding Stock at the 2016 SHOT Show and went live with sales on May 1, 2016, selling only the rifle caliber, right side folding stock. Then on December 15, 2016, Dead Foot Arms introduced their 9mm Caliber, Rifle Caliber Pistol, and their Left-Side Folding Stock.
According to their website, "Dead Foot Arms, LLC designs, develops, assembles, and markets innovative firearm parts of the highest quality for demanding applications in the commercial, law enforcement, and defense markets. Our core value is to provide innovative cutting edge products to our customers through quality processes and continuous improvement initiatives. Dead Foot Arms is named after a World War II Navy Veteran, who had his leg amputated after it turned black because he would not be bothered by a little pain. The company was founded by Dead Foot's Grandson, a US Army Veteran who served in Operation Iraqi Freedom. Our team includes Veterans from The Vietnam War, Operation Iraqi Freedom, and Operation Enduring Freedom. Our products are and always will be proudly MADE IN THE USA."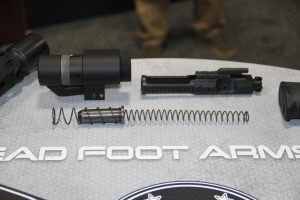 Dead Foot Arms offers the first and only drop-in folding stock adaptor for the AR-15 platform that supports sustained fire with the stock folded or deployed. This buffer-free style system lets the shooter feel a reduced bolt bounce and their stock feels really good when shouldering. The Buffer Tube w/ Folding Block is coming at 10.9oz. and the Dead Foot Arms Bolt Carrier Group w/ Cycle System (Springs/Buffer) is coming in at 9.9oz. Their are different variants of bolt carriers to pick from when ordering: Black Nitrided, MicroSlick, or a Modified BCG. If you choose modified BCG, you can send them your BCG and they will modify it to accept their cycle system and they'll ship it back to you. Dead Foot Arms uses only the best material in their products: 7075 Aluminum, D2 and A2 Steel, and finish all aluminum components with Type III Hard anodizing and case harden their steel components with a black oxide finish for wear resistance that will last. The Buffer Tube w/ Folding Block will accept Mil-Spec and Commercial Tubes so you can add your favorite stock of your choosing.
---
---
The Dead Foot Arms system was designed for 5.56, but can be shot with 300 Blackout. If you are wanting to shoot subsonic 220gr ammunition, you'll have to change the springs so you won't short stroke. If you currently own one of their Systems and want to shoot 300 Blackout subsonic, just contact them and they will send you the new springs free of charge.
Dead Foot Arms offers a NO BS Lifetime Warranty! According to their website on the warranty, "YOU BREAK IT, WE FIX IT, NO MATTER WHAT! Our warranty is lifetime and it is transferable. No matter what the circumstance, if you break a Dead Foot Arms Product, we will replace it or repair it, no questions asked. Accidentally blew it up with dynamite? No problem. Fired it over a million times and experienced spring wear? We'll replace them- FOR FREE.  No matter what you do, you have our promise that your investment is forever safe."
Talking with these guys at the Show, they are planning on releasing in the near future a couple of different caliber options to include: 45ACP, 40S&W, and the growing popular 10mm. For you suppressor guys out there, their systems are suppressor ready and their BCG's are Full-Auto Rated. MSRP is starting out at $399 for the Modified BCG, all the way up to $525 for their MicroSlick BCG.
For the standard Nitrided BCG, MSRP is $499 and can be bought directly from Dead Foot Arms. Recently, Dead Foot Arms has teamed up with Big Rock, so you will be able to find their products at your local gun shops if they deal with Big Rock. We are hoping to test out one of their stocks and BCG in the very near future and see how it holds up to Full-Auto and Suppressed.
As always, ya'll be good and be safe!