Decibullz was created after founder, Kyle Kilpatrick, found a need for a better earbud to work out with. Being an Olympic Level Gymnastics Coach and an extreme athlete, he had a hard time working out to his favorite tunes with headphones that are hurtful to the ears and just uncomfortable in general. So being a tech nerd, he decided to take it upon himself to design an earbud that can conform to the user and have a proper fit. In February 2012, the worlds first thermo-fit custom earbud was made and Decibullz was born. Decibullz is the first and only earbud that can be remolded.
---

---
The Decibullz Earpieces are made of a unique thermo-plastic that softens in hot water. Once soft, the earpieces lose temperature rapidly while remaining moldable. This allows them to be safely placed into the ear and shaped with your finger. Shaping the earpieces is easy and they can even be re-molded if necessary.
Once heated and allowed to cool for 30 seconds, the Decibullz earpieces are ready for shaping. Just insert the mold into your ear and use your finger to shape the earpiece. The mold will be warm and pliable, it feels really nice. Note: Do not place the earpieces into your ear if it is hot. Wait until it is warm and soft.
Because Decibullz products are custom fit to your ears, they can do things other earplugs and earphones can only dream of. Finally products that can keep up with you no matter what you are up to. From jumping out of an airplane to relaxing at the local coffee shop Decibullz will stay put and stay comfortable.
---
---
Decibullz are Made in the USA and offer a wide variety of earbud/earphone options. They offer Wire and Wireless earphones, and now earplugs. Yes, Decibullz has ventured out into earplugs for shooters alike. Decibullz was kind enough to offer a set of their Custom Molded Percussive Shooting Filters. At first, to be honest, I was kind of skeptical about these earplugs. But after following the instructions on how to mold the earplugs, and placing them in my ears, I was really impressed. I have been using Howard Leight IMPACT earmuffs, but have found that they are somewhat cumbersome when shooting my AK47 and other rifles. It's refreshing to go out to the range and be able to shoot my AK properly and have the confidence that I won't have tinnitus due to improper check placement. The Decibullz Custom Molded Percussive Filters Kit includes: 2 Sets of Thermo-fit Earpieces, 2 Percussive Filters, Foam Tips (Small, Medium, Large), Triple Flange Tips (Small, Medium, Large), Premium Carrying Case, and Instructions.
---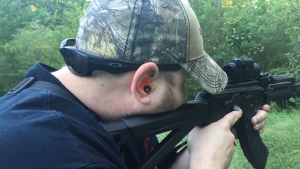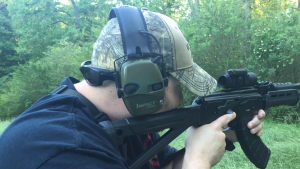 ---
These earplugs were easy to manipulate and easy to mold to my ear. I can attest that these earplugs are the real deal and make shooting even more enjoyable. With a price tag of $74.99, it's actually not bad considering other electronic hearing devices can be upwards of around $60-$80 and will have to have battery replacement every so often. With Decibullz Percussive Shooting Filters, there is no need for battery replacement. From the weekend shooter to the Law Enforcement Officer decked out in full gear, these earplugs are a must.
I'm glad these earplugs are now in my range bag and I'll be getting an extra pair for the misses and for my Go Bag! Just be mindful to not keep these earplugs in a hot vehicle because it will change the shape of the earplugs.
If you are in the market for some new ear protection and want something that is custom tailored for you without breaking the bank, then check out Decibullz and see if they are right for you. Honestly, you won't be disappointed.
As always, ya'll be good and be safe!