Viridian Weapon Technologies is known for their laser mounted systems and flashlights, but with everything going digital and Law Enforcement incidents are at an all-time high, they decided to come out with something new for 2017, the FACT Weapon-Mounted Camera System.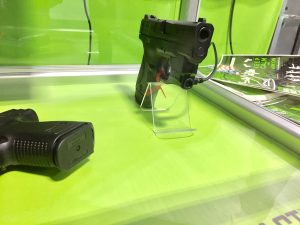 This little camera system has an INSTANT-ON Activation technology with a state-of-the-art, weapon-mounted HD Camera + Audio, which now closes the gap between fact and perception. In the event of an Officer Involved Shooting, or self-defense scenario, body cams/dash often miss the critical video footage when the trigger is pulled. The new FACT Cameras record whatever is at the end of the muzzle. So when the dust settles and you're back safe and sound, simply plug in the HDMI Cable and click "play."
This little gem was designed with Law Enforcement in mind, but with all the competitive shooters out there, this camera will be great when trying to master your game. The FACT Weapon-Mounted Camera system comes in three different models: FACT Duty (Law Enforcement Specific model for Full-Size duty weapons and for LEO Only), FACT COMPACT (Concealed Carry Model for Picatinny rail mount only), and FACT MICRO (Concealed Carry Model with no rail).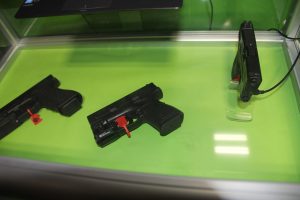 ---
---
The length of video recording is 8hrs and after that, it will record over the oldest time frame. The Duty is only for Law Enforcement and will come with software that is tamper-proof and will have a passcode to access the footage. Also, each weapon can be assigned a badge number, so there will be no questions. In England, the London Metro already wants this little product. For the Compact and Micro, they will be marketed for civilian and everyday use.
On the side of the Camera System there are three LED's: Red, Yellow, and Green. Viridian recommends that you charge the camera when the Yellow LED is showing. This system does feature a flashlight and camera, so you can turn on/off the flashlight and camera for the civilian models. Again, the LEO camera will always turn on when the weapon is drawn due the CPU using a magnet in the holster, which makes it turn on when the weapon is drawn. But the officer can toggle the on/off for the flashlight.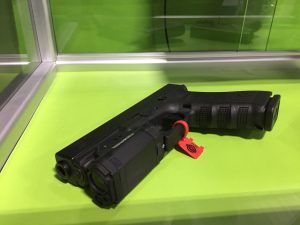 I'm really looking forward to the FACT Weapon-Mounted Camera to hit the market. Viridian will have holster available from them for this system, so no worries. Also, they will offer the 2-3 Point Retention holsters for LEO. MSRP for the FACT Weapon-Mounted Camera is determined by the size: Micro- $249, Compact- $299, and the Duty is TBD.