With all the societal uncertainty happening around the globe currently, it got me thinking about making sure we're prepared here on the home front. When trying to search specifically for female plate carriers, there wasn't anything found on YouTube or the internet. When looking online, you typically see videos on YouTube showing males wearing carriers only.
So it got me thinking, what is out there for females that offer protection against the evils in this world. We had this idea to try and find some companies out there that produce plate carriers to test on a few female subjects and then grade each carrier on Range of Motion (ROM), Level of Comfort, Sitting, Ease of Use, Adjusting, and Overall Ranking. The subjects will be grading each category from 1-5, 1 being the least and 5 being the best. Full disclosure, the subjects do not have to wear plate carriers for their full-time jobs and this is their first experiences with plate carriers in general. Our subjects range from fit to curvy (Size 2-14).
---
One company that wanted to participate in this endeavor was High Risk Training (HRT). Here's a little bit of history of this company if you are unfamiliar with them. "High Risk Training was started in 2008 with a simple mission: offer a higher level of professional tactical training to Law Enforcement, Military and Civilians. Our instructors and staff are handpicked for their background and experience in these fields, providing students with the best possible learning environment. Fast-forward to today, HRT has evolved from a tactical training-only company to a tactical gear company. HRT is committed to delivering high quality, mission adaptable tactical and lifestyle gear that won't let you down when you need it the most. Our core principles of quality, workmanship and innovation will not be compromised. This is the cornerstone of HRT."
HRT offers two plate carriers, the HRAC Adaptive Plate Carrier and the RAC. The biggest differences between the two carriers are the rear plate pockets. The HRAC features PALS webbing externally on the rear plate pocket while the RAC carrier features their Multi-Zip attachment system for all of their back panels. HRT was kind enough to send us the HRAC, Cummerbund, and a MOLLE Front Placard to test out.
Here are the specifications of this plate carrier.
500 Denier Cordura
Double Stitched Outer Carrier
Ultra light-weight, yet comfortable base system for every day deployment
Secured easily by adjustable shoulder and waist straps
Air flow channels
Velcro pillows or spacers can further extend comfort for long period of use
Weight- 3lbs
Dimensions- 12"x10"x8"
Colors- Black, Ranger Green, Coyote Brown, and Multicam
Medium Carrier fits 10"x12.5" Plates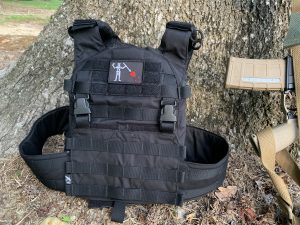 The HRAC is designed for the user to add placards for each specific mission. The front placard can be changed out with the Duraflex Buckle attachment system. This particular placard features 6×3 PALS webbing and measures 9.25"x7". The back face of the placard is a Hook face to mate with a Loop face of the front of a carrier or vest to keep it securely in place. Other placards are available to include a Maximus Placard (3 AR Mags Holders, 2 Pistol Mag Holders w/ Polymer Inserts, and 2 General Pouches), Response Placard (2 AR and 2 Pistol Mag Holders), Triple AR Placard, and Shotgun Placard (Holds 21rds). All placards are of the same 500D Cordura as all the plate carriers.
The Cummerbund is made of the same 500D Cordura as the plate carrier. It is fully adjustable with a rear bungee lacing system to accommodate most sizes and offers two rows of PALS webbing on each exterior side to customize your kit with MOLLE pouches. The HRT Cummerbund fits all HRT plate carriers and most other plate carriers on the market with rear pass through pockets.
The HRAC Plate Carrier is being sold at $139.95 for Black, Ranger Green, and Coyote Brown with the Multicam at $159.95. The Cummerbund is sold separately for $49.95 for the Black, Ranger Green, and Coyote Brown with the Multicam and Multicam Black coming ins $54.95. The front MOLLE Placard is $39.95 for all colors (Black, Ranger Green, and Coyote Brown with the Multicam and Multicam Black). The other various front placards range from $39.95 to $104.95.
---
Again, full disclosure, the subjects do not have to wear plate carriers for their full-time jobs and this is their first experiences with plate carriers. We had our subjects wear the HRAC Plate Carrier with 10"x12" HESCO Model 4400-SH-SC-L Level IV plates around the house to get comfortable wearing it. Then we had them jog, perform jumping jacks, forward lunges, and then pushups. We then went to the rifle range and had them fire weapons while wearing the plate carrier. In typical North Carolina summer fashion, it was hot when we had the subjects test out the carrier. The temp was 81deg F (felt like 87deg F), 45% Humidity, and 9mph W winds.
| | | | | |
| --- | --- | --- | --- | --- |
| | Subject 1 | Subject 2 | Subject 3 | Subject 4 |
| Height | 5'4″ | 5'2″ | 5'3″ | 5'7″ |
| Weight | 133lbs | 155lbs | 190lbs | 205lbs |
| Measurements Bust & Rib Cage | 38″ – 28″ | 36″ – 32″ | 42.5″ – 36″ | 44″ – 37.5″ |
Below are the findings from the subjects:
Pros:
Narrow Shoulder Straps making ROM good
Lightweight
Compact
Better for smaller frame/smaller bust women
Once adjusted properly, quick deployment
Multiple plate usage
Good weight distribution
Modular Placard System
Cons:
Hard to adjust without help (Not easy for one person adjustment)
Not designed for women in mind (pushes on the bust/chest and pushes the bust around the sides of the carrier)
For some subjects, when taking a deep breath the back plate would dig into the sides/back
Side straps were removed due to the subjects not liking it (liked cummerbund better)
Not designed for busty women
Not comfortable for long period of use/wear, more minimalist/quick use (less than an hour)
Velcro Shoulder Straps sometimes folds under and rubs on shoulders (from adjusting them)
Drag Handle is quite small. Can't get a good hand under it, but can drag from the shoulders.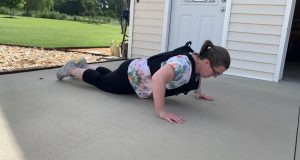 Here are the average grades for Range of Motion (ROM), Level of Comfort, Sitting, Ease of Use, Adjusting, and Overall Ranking from 1-5:
ROM – 3.875
Level of Comfort – 2.875
Sitting – 3.25
Ease of Use – 3
Adjusting – 1.75
Overall – 3.125
---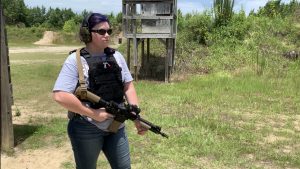 Some improvements that the subjects wanted to address and would possibly make it more tolerable would be suggesting multiple curved plates in the front instead of a concave plate. With a multiple curved plate, it could possibly make the HRAC a bit more comfortable due to the bust. Also, having a flat plate in the rear would be best because a concave plate gives pinch points on the outer sides of the back. It was a pain in the ass to try and self-adjust this plate carrier. The shoulder straps were difficult to adjust without help due to the shoulder covers having to be undone and then moved, and then re-cinched down. Also, the cummerbund is difficult to loop through the PALS webbing in the rear and then having to tie it together using the provided two elastic bands. Maybe add just one long elastic cord and then add two plastic spring cord locks to keep the cords in place and easier to adjust for different users.
---
Overall, this plate carrier will work for most users and the subjects reviews are just their own, so keep that in mind. Again, the female subjects do not have to wear plate carries and this is the first experiences with plate carriers. If you are interested in purchasing the HRAC Plate Carrier or any other HRT products, visit HRT online. This review is for the average female just looking for a way of protection and for something that is designed for quick deployment and be carried in their vehicles.
As always, ya'll be good and be safe!