First off, I think everyone should know that this is my first experience with an FN so I'm coming at it with no bias toward the brand or past experiences to judge by.
First off I must say that the visual appeal of this gun was outstanding; I think that is what drew me towards this gun in the first place as I'm not really a huge fan of guns with hammers. The stainless steel on this gun is remarkable and flawless. The gun's weight isn't too bad; as far as the trigger pull it is rather heavy in both single and double action but over all a good feel to the pull
Pros
Changeable back strips
Great gun for open carry and recreational shooting
De-cocking lever (While they make me nervous they are nice!)
Cons
Depending on your view it does have a hammer
Not a very concealable firearm
My vote
I must say I highly recommend this gun for pretty much anything except concealed carry. But make sure you like the feel of the gun first before you take my word for it and purchase.
Video Review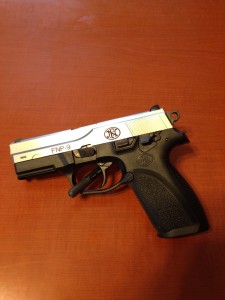 Specifications:
Caliber:
9mm
Operation:
DA/SA with Decocker
Length:
7.4″
Weight:
24.7 oz. empty
Width:
1.55"
Capacity:
16- or 10-round magazines
Barrel Length:
4"
Frame:
Interchangeable arched and flat backstrap inserts
MSRP:
$650.00