Recently I have been looking at various options to IWB carry. I've never been a big fan of IWB carry for a number of reasons but I still wanted to find the perfect holster for when carrying in the waistband is the only option for concealment. After searching around and talking with a number of people I landed on Harry's Holsters. What really grabbed me about Harry's Holsters design was how many different clips and options a single holster had. Since I wasn't sure what clip or configuration I liked best I went for the Executive Infiltrator.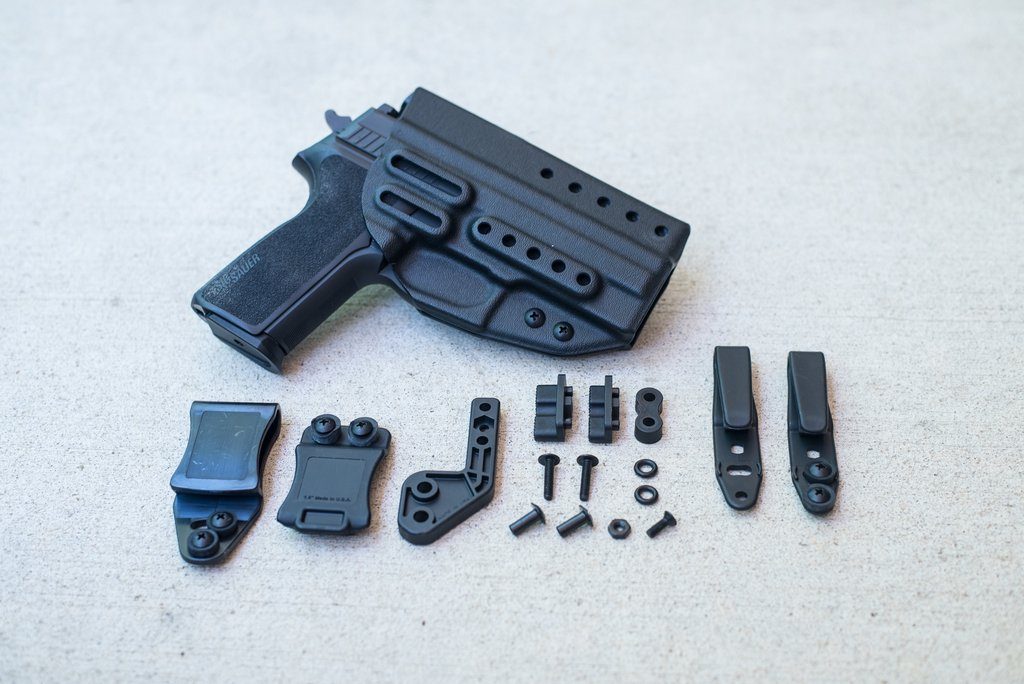 First Impressions
Upon receiving the holster I immediately became overwhelmed with all of the clips and flair that it came with. However, after a quick search, I found that Harry's Holsters had a YouTube channel that explained the setup and all of the configuration possibilities.
Here is what all the Harry's Holsters starter kit includes:
Holster Shell
2 Overhooks or 2 Softloops and Struts(+$14) (Executive/Overlord Configurations)
1 Quick Clip (KIS Configuration)
1 Tacware Clip (Defender Configuration)
1 Claw
1 Spacer
Mounting Hardware
Comfort and Concealment
While Kydex holsters aren't known for their comfort I will say that the IWB holster from Harry's isn't bad. Once you get the holster configured and have time to wear it a few times to find the "sweet spot" you start to forget it's there.
Concealment with these holsters is unprecedented. These are the cream of the crop of holsters when it comes to business or business casual attire. These holsters give you the ability to tuck in your shirt going to work, church, or other dress-up function.
Overall Thoughts
For the price point of $84.99 you really can't beat this holster. At first glance, I thought that price was a bit high but after doing a bit of research and realizing I don't know what configuration would work best for me without trying it. No matter what holster brand I was going to choose I still wouldn't know if I'd like it until I tried it so the customizing ability of this holster really drew me in, that and the excellent return policy were a no-brainer for me. I highly recommend you check out Harry's Holsters and grab one of these for your every day carry firearm.
Check out the overview video for the Harry's Holster Starter Kit.
Save 10%! 
Enter the coupon code epictactical at checkout to save 10%.