Review: Henry Repeating Arms Co. Classic Lever Action .22LR Shotshell
A Smoothbore Solution to Pest Control and More!
Well we all know that big guns are sexy, but hey, small guns can have a spot on the range as well, just depends which ones catch your eye right? So a few weeks ago, I received a Henry Garden Gun Model H001 to test and evaluate.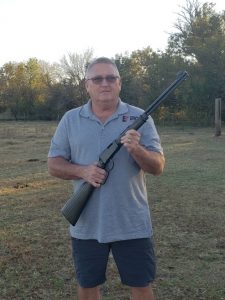 The black ash color stock and forearm make this gun look classy and rugged. This smoothbore rifle weighs just slightly over 5LBS. and 36.5" in length which makes it easy to grab and go. The quality of this gun felt excellent, holds 15 rounds and shoots shotshell projectiles in a tight pattern. We were using CCI's 22LR Shotshells for this evaluation and standard paper targets.

This rifle was taken right out of the box without adjusting the sights and tested at approximately 15 yards on a target and the pattern had approximately a 12" diameter. This garden gun is very easy to load and has no recoil, making this gun fun and practical for everyone to shoot. It's easy to look at this rifle as a tool for removing unwanted pests around the garden. However, after using the rifle for a bit, what I found was that this is an excellent training tool for first time shooters, teaching the kids the fundamentals of rifle marksmanship to the snowflake Millennial that's scared about recoil. Hell guys, Henry has been in business for many years and is well known for their quality and craftsmanship.


If you are in the market for a .22 caliber rifle, you will not be sorry with the quality of the Henry Lever Action (Made in America).
Now go getcha one and remember Henry honored our Military Veterans and Law Enforcement at an NRA Banquet in April of 2019. Being former Law Enforcement myself, I greatly appreciate the kindness and generosity.
Be sure to check out their website to learn more about Henry Repeating Arms and the products they have to offer: https://www.henryusa.com