With an Epic Tactical Exclusive here at SHOT show, we were at the Hexmag Booth and talking with Aaron Schefter, Owner and Co-Founder of Hexmag, and he has decided to release for us their new Glock Hexmag and Clear AR-15 Mag! They are projecting the Glock 17 Magazine release between Q2-Q3 and selling for around the $15 mark and the Clear AR-15 Magazine MSRP is TBD! Along with these brand new exclusive to SHOT Show, they are releasing four new items this year to include: AR10 .308 Magazines, Series 2 of their AR-15 Magazines, Low-Profile Rail Covers, and two Hexmag Tactical Grips.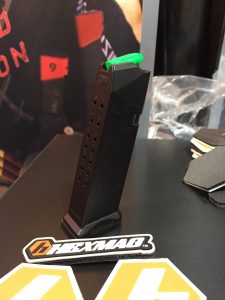 With all these different manufacturers making AR10's and the custom builders out there, it was only a matter of time that Hexmag got into the AR10 game. It seemed like Magpul has been in the leader in the AR10 magazine department, so what makes these different? This AR10 magazine includes a firm seat with a self-lubricating anti-tilt follower, Patented HexID Color Identification System, and a robust PolyHex Advanced Composite construction. This magazine has their standard tool-less floorplate, making it possible to disassemble the magazine in a couple seconds. You are also able to add the Hexmag grips on the side of the magazine to make stripping easier. MSRP is coming in at $18.99 and will be able to shoot 45-70 Govt and they are working/developing the a magazine to work on the 6.5 Creedmoor platform!
The Series 2 AR-15 magazines will be able to chamber not only 5.56, but also 300 Blackout, 458 SOCOM, and the growing popular 50 Beowulf. The Series 2 is a lightweight, high-durability magazine with a revised catch pocket and improved magazine stabilization, providing greater retention for any situation and environments. Additional changes were made to the feed lips, and a new stripper clip guide was added to increase efficiency in charging the magazine. The standard Hexmag colors will be available and will function in any Mil-Spec AR. MSRP is $14.99.
---
---
For those who run the Key-Mod or M-Lok rails, Hexmag is introducing some Low-Profile Covers that just snap right in. These are low-profile, high-traction, non-slip rubber covers and includes the Hexmag "honeycomb" design. Not only will these covers protect your hands, but it will protect your rail from nicks and dings. The rail covers come in 3 or 4 packs and are available in 7 or 18-slot versions, depending on model of rail and come in either Black or FDE. MSRP is from $21.79-$33.99 depending on rail, length, and quantity.
And last but not least, Hexmag is introducing two new AR Tactical Grip. This grip is an over-molded soft rubber grip with the finger grooves and has rounded back strap swell similar to many 1911 pistols. According to Hexmag, this grip comes with an innovative Gapper which fills the space between the trigger guard and grip for increased comfort. This grip is hollow which allows you to store items like batteries, ear plugs, and other aftermarket accessories. Just like all of Hexmag products, this grip is covered in their signature "honeycomb" design indents, which some like and some don't. MSRP is $34.99.
The Hexmag Advanced Tactical Grip was designed for competition and shooters with special needs/requirements. One thing I do like about this grip is it can be changed from a 17, 21, and 33 degrees within seconds. All you'll have to is loosen the screw and readjust it to your liking. MSRP is $27.99.
All of Hexmags grips, magazines, and accessories are made in USA and comes with Hexmag's Lifetime Warranty.