Are you currently looking for a new B.O.B. axe or hatchet? How about a tool that is an axe, claw hammer, nail puller, crow bar, wire twist, spanner wrench, grapple hook, tire chain hook, and much more? Well look no further – here is a great and handy tool from Innovation Factory called the Truckers Friend. Innovation factory has been in business since 2001.
---
According to Innovation Factory's website,  "(we) have been focused on giving our customers serious tools for serious jobs.  We are meticulous in creating leading edge products that put the power of ergonomically correct solutions into the hands of the people that need them.  Whether it is a multi-purpose trucker's tool, a rescue tool, an ice scraper, a snow mover, we've created products that help people get the job done right quickly and effectively." You can keep this small tool in your vehicle, garage, go bag, tool box. This tool can be used for defense, or use every day on the job site if need be.
The Truckers Friend is Made in the USA and was invented by Gys Jansen van Beek. According to Innovation Factory's website, "Gys invented this multi-purpose tool to meet the needs of professional long-haul truckers. But the Trucker's Friend has now attracted a broad (and vocal) following among fire and rescue workers, outdoor enthusiasts, survivalists and preppers, as well as truck drivers and other motorists." The Truckers Friend is backed by a lifetime no-hassle guarantee.
Specs:Specs:
Dimensions: 19.25" x 5" x 1.25"
Weight: 2.24lbs
Warranty: Lifetime
Handle: Fiberglass
Blade: Heat Treated Cast Alloy Steel
Shank: Heat Treated Cast Alloy Steel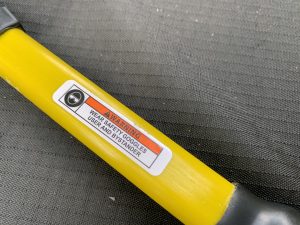 Care and Handle Tips from Innovation Factory:
To prevent rust, keep the tool stored in a dry environment. Apply a thin covering of light machine oil to the head of the tool with a cotton cloth, giving it time to be absorbed by the finish. Wipe off any excess. Apply new oil when needed.
If rust occurs on the surface of the tool, it can be removed with fine steel wool and light machine oil.
For both safety and utility, it is important to maintain the sharp edge of the Trucker's Friend. After repeated heavy use, the blade may begin to dull. If this happens, use a metal file to re-sharpen.
Safety Goggles are Highly Recommended when using the Truckers Friend
---
This little tool is great for truckers, campers, emergency workers, and for your go-bag or bug-out camp. MSRP is coming in at $79.95 and you can purchase from Amazon for close to the $60 mark.

I must say, when I initially reached out to Innovation Factory I was a little skeptical about this tool. It looked rather large and I have never seen one in person. When it came in, I was really impressed. The weight is well balanced and use is really easy. I've been using this little tool for a few months now on odds and ends like clearing the old camp site out and just putting it through some paces in general.

I would like to point out that Safety Goggles are a must when using this tool, especially if you are using it to cut through wood or what have-you's, because the debris tends to fly when in use. If you are in the market for a great tool for the campsite or for your B.O.B., then check out the Truckers Friend. Needing something a bit smaller? Innovation Factory also has another axe called the Lil' Trucker. The Lil' Trucker MSRP is $69.99 and can be found for $45 on Amazon.

As always, ya'll be good and be safe!