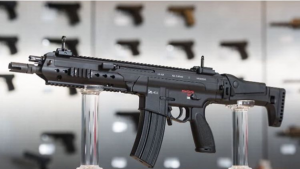 Well it seems that a lot of things are changing all around the world, and HK is there to deliver some of these changes. HK has introduced it's new Military Assault-Weapon, called the HK 433. The HK 433 is going to be chambered in the NATO 5.56x45mm and will include different length barrels, to include: 11″, 12.5″, 14.5″, 16.5″, 18.9″, and 20″. The HK 433 appears to be an almost, dare I say, "SCAR-16 clone" – with the folding collapsible-buttstock, gas-piston system, ambidextrous charging handle, ambidextrous controls, and picatinny rails. Like most of these "SCAR clones" out on the market, I hope there will be different caliber variant options for HK. It looks like it could be the growing popular 300 Blackout, 7.62×39, and possibly a 7.62 NATO. In typical HK fashion, I'm sure these variants will be called different names when changing calibers.
---
---
It is unclear when this new assault-weapon will be coming to various armies around the world. I would almost like to see it being used in the US. I know that today's US Military units are using HK rifles, to include the 416 and 417. I think it would be a great addition to the fighting forces abroad. I know that many units around the world are still using the obsolete G36, and the HK 433 would make a great, refreshing, new weapon for these units.
Now HK will have four variants of assault rifles in their arsenal chambered in 5.56×45, to include: G36, G36K, HK 416, and now the HK 433. I am curious to see if this will make it to the civilian market (semi-auto) in the near future. I know that a lot of the HK fans are happy to see something new from HK. I personally am digging this rifle. I have seen a lot of negativity towards this rifle being compared to a SCAR-16 seen on social media (Facebook, Instagram, Twitter). And we did that comparison here, because a lot of people are familiar with the SCAR-16. But I know that HK has high standards and I'm sure a lot of R&D has been put into this rifle. I know they have incorporated the popular G36 mechanics with the HK 416 style and grace.
Stay tuned for more details when they become available.